Dorian Mode writes a feature about exploring Norfolk Island
Mutiny of the Budget

Jazz pianist by night, culture vulture by day, AT's Dorian Mode takes his shoestring approach to travel (and his feebly protesting family) to Norfolk Island to fish, play music and rub shoulders with the friendly decedents of the Bounty mutineers.
"That's an awfully small trombone, champion," the Norfolk Island customs official says, scratching his belly. "Fishing rods," I smile. For when not penning this Cultural Traveller column for yorlyi (that's Norfolk patois for "you all"), I am a working pianist (with a "t") – and I'm here to perform at the annual Jazz in the Pines Festival and eat my own weight in fried seafood. But really I'm here for the fishing.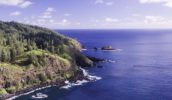 Upon arriving at the Governor's Lodge Resort, the kids immediately dive into the heated pool while my wife and I unpack in our bungalow, which has cable TV and limited cooking facilities (ie, a microwave). This is fortuitous, as we can't afford to eat in the restaurant every night. The resort also offers free snorkelling gear for poking around the breathtaking coral reef at Emily Bay (another free activity for the sprogs). It's protected from sharks by a finger of reef. Snorkelling on Norfolk is dazzling and is like flippering your way into the film Finding Nemo. The spectacular coral and tropical fish entrance the kids, one exotic specimen looking like an aquatic king parrot. (Tip: take some bread with you and feed the fish by hand. They come from everywhere.)
As we're staying at the resort because I'm playing there, we can't afford to stay post-gig, so we eventually shuffle over to View Rest, a budget apartment charmingly framed by sweet-scented frangipanis. Accommodation is inexpensive on Norfolk if you know where to look, and our landlord proves to be a lovely bloke. With his three-day-growth and thongs, he hands us the key and introduces himself by his nickname. "Hi, I'm Rough."
"You certainly are," I reply but it comes out as: "Nice to meet you, Rough." Norfolk Islanders are renowned for their nicknames. The local White Pages is replete with islanders listed by their eccentric monikers. It's an entertainment simply to read through the book.
Directly across from View Rest is a free Putt Putt course, complete with smoking volcano on the first hole. The course chronicles the intriguing history of the island, so the kids suffer a history lesson by default. Later I ask them what they learned. "He cheats," one snaps. "He took three shots on the Bounty Hole and never scored it," says the other, giving him a dead leg. I hang my head.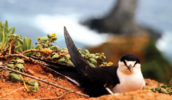 Norfolk Islanders, descendants of the Bounty mutineers, were transplanted from Pitcairn Island in 1856 when they wrote to Queen Vic asking for a bigger island to avoid murdering each other all over again – John Adams being the only remaining mutineer, after violent squabbles over women (how I met my wife). When Adams was eventually granted amnesty for his part in the mutiny, he finally divulged the bloody story of Fletcher Christian and his comrades after they torched the boat in Pitcairn's Bounty Harbour – severing any escape route and diet of crap English food forever.
I thought the folks back home on the NSW Central Coast were laidback, but Norfolk Islanders are so relaxed they make us look like we're on caffeine tablets. They're genuinely friendly and don't seem to be out to fleece you. Surprising, when tourism is their primary income. They even wave as you pass in your rental car, free with most accommodation (though insurance and petrol sting). My counter-waves become more and more eccentric as our holiday progresses. I have the kids in stitches with my "jazz hands" at the wheel, incurring strange looks from drivers.
Fuel is pricey on Norfolk as there's no port and everything is ferried from containers to the island via old whalers. However, while muesli is $12 a packet, booze is half price. Clearly a message for all of us. My wife buys two pairs of shoes on the tax-free main drag and I buy fishing rods and reels at a fraction of the retail price. (Tip: save money on your holiday by driving around the island buying fruit and veg for next to nothing from local stalls in front gardens. It's an honour system, so if you have no honour, you don't pay – but may find yourself on a longboat rowing to Batavia.)
To survive, each Islander has several jobs. When our soundman suddenly vanishes, I'm told he's rushed off to open parliament. And Liz McCoy (old chum of our sax player) serves us beers as RSL manager, then turns up in an ankle-length dress as our guide for the ghost tour (my son's favourite activity on the trip), only to don a straw hat and thongs as our fishing charter skipper! Tropical Ground Hog Day.
Needless to say, fishing on Norfolk is beyond spectacular. We catch so many our arms ache. My son pulls up four on one cast. And the Fish Fry at Puppy's Point has to be my favourite Norfolk activity. One of the downsides of living on the east coast of Australia is I can't take in an over-water sunset. Sure, I can watch a sunrise – but that would see me up before dawn and instantly thrown out of the musicians union. Norfolk is only a few miles wide, so sunsets are easy. At the Fish Fry we sample that thalassic ambrosia, the Sweetlip Emperor (which we caught by the truckload on our charter), accompanied by endless salads and exotic traditional dishes. The entertainment is fun as we're serenaded by a native Pitcairn singer before being towed to join traditional dancers.
The island's cultural attractions are legion, with one of the highlights being Kingston itself. I'm a history buff, and the past comes alive before my eyes as I walk among the convict ruins. As the locals have been providing cultural entertainment for donkey's years, the tours and cultural displays are manifold and a fun way to engage the kids in history. The Mutiny on the Bounty Show is outstanding but do make sure you find the right entrance into the Outdoor Salty Theatre. Running late, we find ourselves red-faced when taking the stage door and are forced to creep across a plastic Tahitian beach like Fletcher Christian and family in floppy hats and thongs.
We enjoy the Bounty Museum; the convict and whaling items are fascinating and rather moving. I try picking up one of the convict fetters and can't believe how heavy it is. Poor wretches. You can't experience this from a textbook.
On our final day we push the longboat out, then lunch at the outstanding Hilli Lounge Restaurant before dropping into the renowned Cyclorama, a must-see 3D display that documents the Pitcairn story, from the Bounty via Tahiti to Pitcairn. We dine that evening at The Garrison. With its tropical chic decor and stunning food it's a surprise experience equal to any cool inner-city restaurant in Australia.
In the salmon-pink early morning light, with parrots squawking in banana trees around us, we wait with our luggage for drowsy staff to open up the sleepy island airport. As we wave goodbye to the island we all agree: Norfolk is a fantastic family holiday.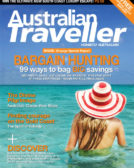 Enjoy this article?
You can find it in Issue 25 along with
loads of other great stories and tips.