Besides lounging on a sandy beach all day, what are some other things to do in Wollongong? Here are 11 things to cross off your list.
1. Coastal crawl
The coastal road through the Illawarra's northern beaches is a favourite of day-trippers and car commercials alike: the highlight is the Sea Cliff Bridge, which juts out into the water between the towns of Clifton and Coalcliff.
The best part is you can do the drive in a loop from Sydney – follow the road as it hugs the coast from Bulli all the way through to Stanwell Park, then drive back to Sydney via the national park.
2. Foragers markets
The Bulli Foragers markets is another venture breathing creativity into paradise. What began as a weekly Sunday fresh produce market has now extended into art and design, and a monthly 'Bulli Eat Street' night market, with food stalls from around the world. foragersmarkets.com
3. Finbox
Have a coffee, buy some 'Coal Coast Sourdough', then check out the boards next door at this Thirroul establishment. finbox.com.au
4. Fireworks Cafe
Beautiful mod Oz food in a charming Austinmer street of miner's cottages.
5. Scarborough Hotel
Stop for a drink and jaw-dropping ocean views at this renowned pub perched on a Scarborough cliff's edge. thescarboroughhotel.com.au
6. Bergie's Fish Cafe
Join the shoeless, sandy crowd for fish and chips and a milkshake at this new Thirroul favourite. bergiesfishcafe.com.au
7. Austinmer and Thirroul beaches
You're spoiled for choice when it comes to rock pools, ocean baths and beaches, favourites for families and picnickers. Try Thirroul's free, Olympic-sized ocean pool for laps, Wombarra's hidden baths for a private swim, or Austinmer's pools for a dip with a view.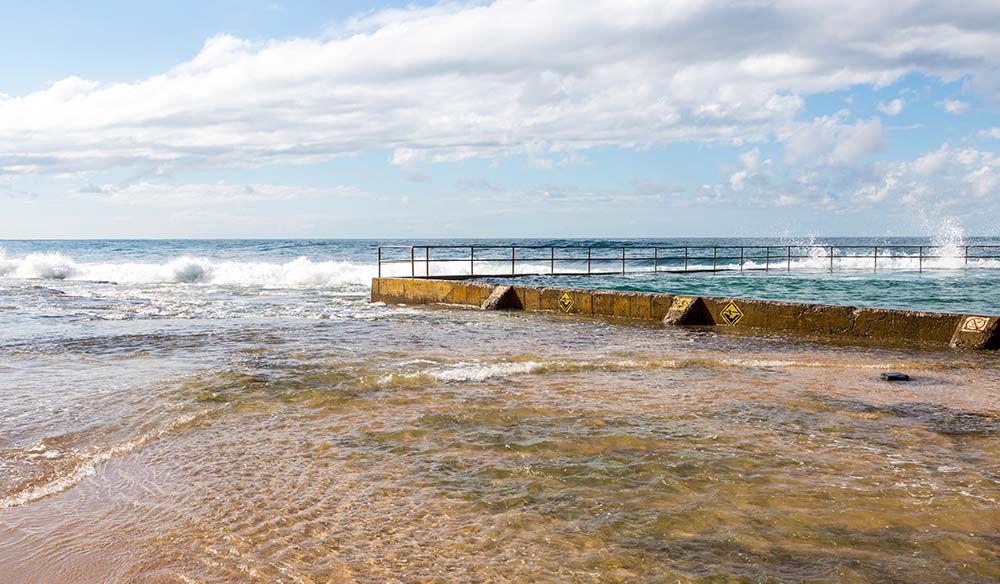 8. Scarborough-Wombarra Bowling Club
One of a handful of excellent bowlos in the area, the Scarborough-Wombarra Bowling Club comes with an ocean view and a chilli kick thanks to a Thai kitchen: try the 'bowlo duck'.
9. Sublime Point Walking Track
Hike to the top of the escarpment and view the Coal Coast sprawled below you. If you're not up for the walk, drive to Sublime Point Lookout and have a drink at the quaint cafe instead. nationalparks.nsw.gov.au
10. Antiques, art and homewares
Go shopping on the main street of Thirroul, which is lined with boutiques, galleries and cafes. Try the Egg & Dart for local and international art, or the Retrowombat for antiques. (Retrowombat: 02 4267 1322)
11. Black Gold gallery
Check out the gallery and record shop above Finbox, then visit the website and social media accounts to keep up to date with local creative activity and where to see new live acts. black-gold.co