Luxury accommodation option Wildman Wilderness Lodge is out near the wilds of Kakadu but it has more creature comforts than you can poke a stick at, complete with a rock-star entrance… 
Wildman Wilderness Lodge is just a three-hour drive from Darwin, but once you're ensconced in the scrub and rusty soil of the Mary River floodplains to the west of Kakadu National Park, you might feel a lot further away than that.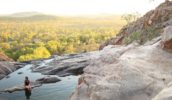 The safari tents – comfortable, canvas-walled, mesh-windowed huts with timber floors – go a long way toward making one feel comfortable though; each one is impressive with two bedrooms and its own bathroom, and a balcony with an expansive view over the plains.
Wildman also offers stylish 'habitats', or luxury cabins, which come with the added bonus of air-conditioning, along with iPod docking station, comfortable chairs and a shower with a huge window designed to make you feel you are showering in the great outdoors (you can close the blind if you really feel you need to).
There's no television, and no internet or mobile phone access. Despite all this, we actually prefer the tents; they make you feel closer to the wilderness.
If you're keen to start exploring, you could set out on a complimentary culture walk, where your guide will speak of the wetlands, its creatures and local history, though the simplest of strolls around the property is a wildlife tour in itself, where dwarf green tree frogs dot the shrubs, and water buffalo watch from the trees.
Like its sister experience at Bamurru, however, the best way to take it all in at Wildman is on an airboat safari.
Zoom about the Mary River floodplains in a small boat powered by a huge fan propeller: flocks of magpie geese wheel above, crocs wade past, lily flowers sway, and your guide explains it all in detail.
Afterwards, you can retreat to the air-conditioned sanctuary of the bar for a cooling drink but the outside deck, complete with infinity pool is the place to be as the sun sets.
A drink or two here and you'll be ready for your three-course dinner in the neighbouring restaurant, with an ever-changing menu that always includes local produce (try the fresh barramundi) and traditional elements of bush food and preparation.
Back in your safari tent, as the breeze flows through the open windows, you'll hear the creaks and gentle splashes of the wetlands, which come alive in the evening under a sequinned blanket of stars.
You'll sleep well tonight, which is a good thing, too, because tomorrow you'll be up early for a leisurely cruise of Home Billabong, gliding around the floodplains in the glowing morning light. Like Bamurru, Wildman's floodplain experiences are outside of the great Kakadu National Park, but they are outstanding experiences (award-winning, too).
Not that you should miss out on Kakadu. The lodge offers full-day tours to the park's various thrills, and though it is Kakadu's natural wonders that are the real stars, they are only improved with the additions of luxury 4WDs, gourmet picnics and your informative, personal guide.
For now, though, as you relax in your plushly turned-down bed, enjoy the softly scented breeze drifting through your windows, and the sounds of nature's music. Tonight you'll dream of hovering dragonflies, soaring jabirus and bright green lily pads.
Details: Wildman Wilderness Lodge
Getting there: Wildman Wilderness Lodge is a two-and-a-half-hour drive west of Darwin, to the west of Kakadu, in the Mary River National Park. If you don't fancy the drive, both resorts offer a rock-star option: arrival by helicopter or small plane.
Staying there: Rates start at $615 per couple, per night for a safari tent and $775 per night for a 'habitat'. Its packages include dinner, breakfast and non-alcoholic beverages. Lunch, alcohol and activities are additional.
Wet season: closes from December–March.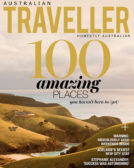 Enjoy this article?
You can find it in Issue 62 along with
loads of other great stories and tips.