A Top End dining experience takes the unknown out of native bush foods and comes to life with campfire tales.With wide sparkling eyes gazing from under his Akubra, Geoff Mark (better known as Marksie) avidly recounts a story as though it's the first time he's told anyone. "My grandfather, Bill, was a professional rabbit trapper in Rainbow, Victoria, and my father, Brian, was also a keen bushman," he says as dusk falls behind him. "As a young boy, I earnt pocket money from trapping rabbits, dressing them out and selling them to my neighbours."
A vast, clear sky dotted with countless stars is spread above us, and the warm glow of several campfires flicker in the fading light; it's an infinitely peaceful night. We're seated at a long trestle table with three other couples; another table seats two families. Bonnie (one of four adorable rescued wallabies with a penchant for bush tucker) also competes for our attention as she potters around our table, but we're engrossed in Marksie's story about how he came to host camp tucker nights up here in Katherine.
Despite some initial reservations, we quickly learn this is not just a well-executed Australiana spectacle for tourists; Marksie has a genuine passion for using native herbs, spices and fruits in cooking, and his journey from rabbit-trapping youngster to a man adept at working with bush foods is a long and interesting one (and one he is remarkable at telling). His interest in bush ingredients began when he was a young boy surrounded by 'bush men', but he says he didn't have the knowledge to use them properly until a visit to the Northern Territory in the 1970s, when he was in his twenties.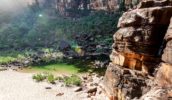 "I got the chance to meet some Aboriginal people, one woman in particular who helped me." [She has passed away so her name cannot be mentioned for cultural reasons.] Seemingly the secrets of bush food cannot be passed on to just anyone – Indigenous people are, after all, the custodians of bush food and of the knowledge associated with its use – so it took several trips over seven years before she agreed to help him. With elder Indigenous women the experts in this field, Marksie tells us, "I was white and a male. But after returning to Darwin year after year, she eventually let me spend 10 days out bush with her – this changed everything for me."
Years later in 2001, after meeting Katie Young – an Aboriginal woman who has an associate doctorate in tropical horticulture – Marksie moved to Katherine and set up the Stockman's Camp Tucker experience, during which Katie would conduct bush food demonstrations for his guests. She has since moved to Alice Springs, but 16 years on, Marksie continues these cook-ups along with his wife, Penny, a local midwife and part-time bush tucker assistant.
Penny serves our entrée, which consists of three canapé-style dishes: crocodile and beef sausage roll with bush tomato seasoning and desert quandong sauce; wild barramundi with lemon myrtle and rainforest spice; and camel sausage with mountain pepper and sweet chilli sauce. Jugs of 'Jungle Juice', a homemade drink of native mint and forestberry herbs, accompanies the food.
I've tasted crocodile before (the sausage roll is delicious), but I hesitate with the camel sausage. After some positive feedback from my fellow diners, I take a bite, hoping it 'tastes like chicken' as all foreign meats do. It doesn't.
Setting it aside, I appreciate the fruits, herbs and spices used in these dishes – desert quandong, also known as desert peach, a sweet fruit that is tart and high in Vitamin C; lemon myrtle, found on the east coast, similar to zesty lemon verbena; and the aromatic mountain pepper, made from dried berries found in Tasmania and south-east Australia. These uniquely Australian flavours are ironically more exotic to most of us than, say, the south-east Asian dragonfruit, the Central American guava, or the Mexican chipotle. And it is this unfamiliarity with native food that sparked Marksie's desire to teach other Australians how it can be used in everyday cooking – and to showcase a beautiful "marriage of white and Indigenous Australian culture" to his many overseas guests.
With a menu that changes to suit what's in season, around 14 different types of herbs, spices, and fruits are used on any given night – many of which are collected by Marksie himself when he goes bush with local Indigenous ladies who he calls his close friends.
But it's not just the foraging that's finicky work. To prepare for every camp tucker dinner, Marksie lights the first fire around 5am and by the time the last guest leaves and clean-up is complete, it's almost midnight. (I suddenly appreciate my camel sausage a great deal more.) There were around 120 people running similar experiences when he began, but now there are very few: "It is sad to say that many of the old-timers that used to do what I do are no longer with us. It's a very time-consuming and slow business, so not many people want to take it on," he says.
Yet the growing appreciation for native flavours, their beauty and versatility, has taken bush foods in a whole new direction, and they are appearing increasingly in top-notch restaurants across the country. Hatted establishments such as Sydney's Billy Kwong and Melbourne's Vue de Monde, and Adelaide's Orana have embraced native ingredients on their menus, with respective dishes such as red-braised caramelised wallaby tail; Davidson plum sorbet with sorrel and flowers; and riberry, native juniper, muntrie and mango.
Our main course for the evening is a little more humble, comprising roast beef with native pepper berry; roast potatoes with aniseed myrtle (which has a subtle liquorice flavour); and peas with native mint (originally used by Indigenous Australians for medicinal purposes). A delicious hot-from-the-camp-oven damper with roasted wattle seeds is served on the side with creamy butter, and we finish the evening with homemade scones, fresh jam and cream, while watching two of the younger diners go head-to-head in a billy spinning competition.
Sure, it's a far cry from the award-winning fare served under city lights, but the hearty and homely dishes we've tasted tonight perfectly complement this very Australian setting under the outback stars. And more importantly, what's a campfire without a colourful story or two? Marksie's outstanding ability to tell a good yarn in between courses, if a little irreverent and exaggerated at times, has us utterly entertained. Indeed, this is a stockman's dinner after all, where in place of a chef's hat is a top-notch Akubra.
Details
Getting there:
Marksie's Stockman's Camp Tucker is located in the grounds of Top Didj Cultural Experience on Gorge Road, seven kilometres from the Post Office in Katherine, Northern Territory. It runs five nights a week during the dry season and the cost is $80 per adult and $40 per child (two–13 years) for a three-course meal with non-alcoholic Jungle Juice. BYO alcohol. Bookings are required.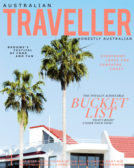 Enjoy this article?
You can find it in Issue 76 along with
loads of other great stories and tips.