Jol Fleming is one of the country's (and the world's) top 4WD experts, despite being in a wheelchair and having not walked a single step since a horrific car crash in 1981.
It's October 1980, and Joylon Fleming – Jol to his mates – is toiling as a Jackaroo on the massive Orange Creek Station near Stuarts Well south of Alice Springs. Part stockman, part repairman, tour guide, truck driver, mechanic and all-round handyman, Jol is a huge fellow, two metres tall, good with his hands and in love with the hard work to be found in the vastness of the outback.
Exactly one year later, Jol is a passenger in his own Hilux Ute on a well-kept bitumen road 40km out of Alice when the lady driving, who is wearing shorts, drops a cigarette in her lap. In the cramped frantic seconds that follow, the car rolls and Jol is hurled through the rear window.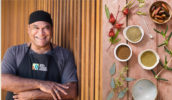 Today, Jol remembers almost every detail. "Being absolutely shit scared," for starters. "Coming to and smelling fuel. Not being able to move. I thought to myself, 'This is a barbecue, and I'm on the menu.'"
He was cut from the wreckage. "Took them four hours." From that moment, Jol was a quadriplegic. "It's taken me 27 years to get back in a Hilux. Just the other day, in fact. I bought one for my son."
Where there's a will
Even before the accident, Jol had been up to some pretty extraordinary things by anyone's standards. His father was the Baptist missionary for remote Aboriginal Yuendumu, and in '74 Jol was instrumental in keeping that community alive and thriving when Cyclone Tracey tore Darwin apart. Violent flooding had severed the one road in. "Every time a big supply truck tried to cross this particular underwater section of road, it would bury itself," he says. "So we'd make the crossing in smaller 4WDs, load up with supplies and food, drive back through the water, then belt another 90km down the road to town." Jol and a few of the Aboriginal fellas had to keep this lifeline going for close to a month.
But since the accident in '81, Jol has done more than simply adjust to a new way of living. He's scarcely slowed down. Modified vehicle hand controls mean he's able to stay mobile, even in the most rugged 4WD country. He redesigned his house to suit his radically altered needs, yet he's still attended by carers every day. In 1984 he helped form the Alice Springs Off Road Race Club, which he presided over for close to 15 years. He's been a past director of the famous Finke Desert Race, one of the toughest off-road contests in the world. "I used to race the Finke before the accident," says Jol. "I've blown up my fair share of motorbikes along the way. Now I just drive the microphone all weekend."
He's won multiple civic commendations and awards – including an Australian Sports Medal for motor sport in 2001, and Regional Territorian of the Year for Community Service the following year. "That was pretty good," drawls Jol of the Territorian award. "It was a bit of a buzz to be recognised for doing hard work."
Nowadays, Jol is one of the country's top 4WD training experts, with qualifications and experience tracks ahead of most in the industry. And when big government or corporate groups arrive in the outback to learn its ungentle ways, Jol, in his specially modified vehicles, can drive rings around blokes who think they know a thing or two about all-terrain touring
"Every now and again you get someone who thinks they know more than you," chuckles Jol. "So I just let 'em go. Give 'em enough rope. Then, when they get bogged, I say, 'I thought you said you could do this?' Then I show 'em how to get out easy. It's usually to do with just slowing down and not going at a gung-ho pace."
Flat tires, not flat out
For all his accomplishments, Jol is a man who knows about proceeding at a measured pace. One of his favourite tracks in all the vastness of the outback illustrates perfectly the patience needed to go where he goes, do what he does. "The distances on some of our tours aren't even that huge. It's just how long it takes. There's a great little track in the East Macs that's only 14km long, but it takes four hours."
The "shittiest bit of road" Jol's ever driven – and he's driven a few – is to Kunawaritji, an Aboriginal community between Well 32 and 33 of the dreaded Canning Stock Route. "Those were the roughest corrugations I've ever been on. Rougher even than the Simpson Desert. You're doing at most about seven kays an hour. It can take you a full day to do about 20km. At the end of that section the shock absorbers were so hot they weren't working at all. We had to have a smoko while they cooled down.
"Most city people have no idea, to be honest, on how to prepare a vehicle properly for the kind of terrain you find in Australia. The worst thing you can do is overload your vehicle. Tire pressure is just so important. Most of the people who sell tires tell you pump 'em up, keep 'em tight. Which means the tire will survive, but the rest of the car will shake to bits in front of your eyes."
And do "city people" and recreational drivers come away having learned these lessons? "Well, it's not your recreational four-wheel-drivers that are doing my courses – more the corporates. Which is a shame, because your average recreational driver would get a lot more out of their four-wheel-driving if they did. People aren't aware of the most basic things," Jol laments. "Like, when you get to rough country, let the tires down! That's how you can tell a true 4WDriver. Their tires are always half flat."
Jol's courses and longer tours are run by his company Direct 4WD (www.direct4wd.com.au) and are part outback driving safari, part treasure hunt, part pioneering expedition. In fact, Jol and his brother Adrian famously discovered the actual tin can left as a marker by explorer William Gosse, who named Ayers Rock in 1873. Jol and Adrian got hold of extracts from Gosse's expedition diary, which contained vague references to the spot now know as Tin Can Hill. "We got close to the area where we figured it must be," says Jol. "And then went, hang on, what's this can up on this hill? It had probably even been found before us, but people didn't realise what it was."
Jol hints that some of his future tours may include similar elements of discovery. "We're off on a trip to the Simpson next, looking for some of the bits and pieces [explorer Charles] Winnecke left behind in 1883. I think I know where a few things are."
Known to his Aboriginal brethren by the skin name of Jabaltjari, Jol's a bit of a collector of Indigenous artefacts and pioneering relics, like his father before him. It's a fascinating way of learning about the past. But one of his most curious discoveries came just recently, in an unexpected form. "I found an old diary of my Dad's the other day, and there was a bit which read: 'This incorrigible child is either going to be a larrikin or a genius.' I was three and a bit when Dad wrote that. He was right."
Larrikin or genius, what's clear is that Jol is absolutely the go-to guy in the Territory when it comes to 4WD expertise. Quite apart from his skills behind the wheel, where he's at his most mobile and free, he's discovered something important about himself since the accident. It's deceptively simple. It was thrust upon him, but it leaves its mark on every aspect of the man he's become.
"What have I learned since being in a wheelchair?" he laughs. "You get pretty big shoulders."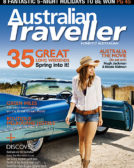 Enjoy this article?
You can find it in Issue 23 along with
loads of other great stories and tips.