Welcome to Arltunga, the first gold rush town in Central Australia. Back in 1887, Arltunga became the focus of hundreds of desperates trying to carve out their futures in the mines and tunnels.
As you drive down the gravel roads to visit this historic site, just try to imagine what travel conditions crowds of gold seekers would have had to endure: some travelled up to 600km on foot with only a wheelbarrow full of belongings, just to chance their luck.
Once you've arrived you'll have the chance to immerse yourself in what the gold rush days would have been like. Learn through guided tours and a self-operated slideshow all about the area, and even try your skill at gold panning in a display in the visitor information courtyard. Grab a map at the visitor centre and embark on one of the many walking tracks and visit the old Police station, the Government Battery and Cyanide Works. If you want to explore any of the old mines, be sure to remember your torch as you crawl on hands and knees through the hand-dug dusty mines.
WHERE // The Arltunga Historic Reserve is 110km east of Alice Springs via the Ross Highway. Take a fly net. Seriously.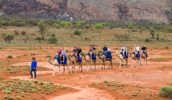 DID YOU KNOW? // Due to the gold rush that began in 1851, Australia's population increased threefold with the influx of immigrants joining the craze, jumping from 430,000 in 1851 to 1.7 million by 1871.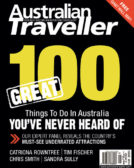 Enjoy this article?
You can find it in Issue 14 along with
loads of other great stories and tips.