If your life ambition is to appear on the national news in more than 100 countries, here's a grand plan: enter the world's most famous waterless regatta and race otherwise sane and normal people down a sandy course (the almost permanently dry Todd River) in bottomless "eights", "oxford tubs" and "bathtubs."
News producers around the world apparently love showing participants paddling canoes with sand shovels. And, of course, the less conservative your dress, the more likely you are to get a look in. You could, on the other hand, just go and watch. The Henley-On-Todd Dry River Boat Regatta, held every September, is only one of many exciting, exotic, extreme, exclusive and entertaining activities offered up by Australia's oasis in the desert, the capital of the Outback, Alice Springs. It's a race that could really only make perfect sense in the Northern Territory. All proceeds go to Rotary though, so it's a regatta worth sailing/running/watching and laughing about.
"If one event sums up the Australian mentality, this is it. A truly unique experience."
– David Whitley
The people of Alice like to remind the rest of us of their uniqueness in a unique way. For example, who was the guru that said Alice Springs is where you can be closest to all the beaches in Australia at once (although quite a drive from the nearest one)? Or that Alice is, and we quote, "the romantic capital of Australia"? Or that Alice is the oldest town in Australia? (The Arrernte Aboriginal group have lived in the vicinity for 20,000 years.)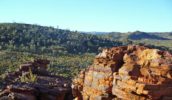 The town overflows with the history of the Outback and its explorers. It's the town that defines Australian toughness. It sits among the magnificence of the MacDonnell ranges, it's a hop, skip and a jump from Uluru and Kata Tjuta, it's surrounded by some of the most famous tracks in Australia (the Birdsville, the Strzelecki, the Tanami etc), and it's home to the Flying Doctors – who preside over the world's biggest geographical medical practice. Within easy reach are many centres of world-renowned Aboriginal art.
Once in your life, for several days at least, you need to take some time to experience, and marvel at, the Alice.
Did you know?
The town was surveyed in 1888 and called Stuart, after the explorer, until 1933 when the popular name of Alice Springs was officially adopted. It was planned that Stuart would be the major railhead in the Centre but it wasn't until 1929 that The Ghan actually reached the town.
How to get there
Qantas and Virgin Austrlaia offer regular flights to Alice Springs from most major cities in Australia.
Best time to go
The Henley-On-Todd Dry River Boat Regatta is held every year in September.
Further information
Useful websites:
www.henleyontodd.com.au
Official Regatta website
www.thealice.com.au
Comprehensive website with information on Alice Springs – activities, accommodation etc.
** This was one of our original 100 Things to Do Before You Die. First published in 1996. There is an updated 100 Things To Do In Australia Before you die, published in 2011.
Three more outback race days with a difference
Tatts Finke Desert Race, June, Alice Springs
Forget Paris–Dakar; Alice to Aputula is where it's at. They say around 500 bikes and 90 buggies are expected once again to race through our toughest landscape in what may well be one of the hardest off-road races in the world. Spectators of the Finke can camp along the track or at the finish line in the very remote Aputula community but, of course, the best way to see it is to do it, so grab your helmet.
Brunette Downs Races, June, Barkly
Dusty. Gutsy. Not for the faint-hearted. These iconic horse races run by the A.B.C. Amateur Race Club out at Barkly have been run for well over a hundred years, with many racegoers flying in along the dirt airstrip especially for four days of ultimate outback racing amongst a huge carnival that seemingly brings the whole world to Brunette Downs.
The Camel Cup, July, Alice Springs
In case a camel race alone (or nine of them, actually) wasn't quirky enough, this one-day, no-holds-barred camelfest includes belly dancers, rickshaw races and Mr and Miss Camel Cup challenges. It's one of the most accessible racing fiestas in the Territory, if you're commitment-shy about the other multi-day carnivals this time of year. See: Alice Springs Camel Cup – behind the outback bizarre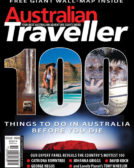 Enjoy this article?
You can find it in Issue 8 along with
loads of other great stories and tips.