Walk on the ocean floor
Watching non-swimmers endure a trip to The Reef is painful. Like watching a kid with a broken arm at the beach at Christmas. Now you can actually walk alongside the reef, on its own terms, as it were. The Seawalker system places a pearl diver-like helmet on your head so you can breathe normally without water on your face or respirators in your mouth.
Designed for all those uncomfortable or unable to scuba or snorkel, Seawalker allows you to descend into the reef and actually walk along the floor of the ocean and see what all the fuss is about.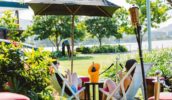 It lasts about 20min and you're connected to air via a 25m tube to the surface with umpteen backups in the unlikely case of an air failure. (How else would they get insurance?) Your guide will point out highlights of the coral garden, while the busy underwater creatures of the reef swim and scuttle by. It's making the reef a lot more accessible for those who aren't comfortable in water or can't see without specs.
WHERE // Seawalker at Green Island operates from Green Island Dive Centre, a 45min high speed catamaran ride from Cairns.
DID YOU KNOW? // The underwater observatory on Green Island has been in its current place since 1954. It was built at Cairns, transferred to the island on a boat made from empty 44-gallon drums, which were then pierced for the observatory to sink to its current position.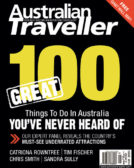 Enjoy this article?
You can find it in Issue 14 along with
loads of other great stories and tips.