JACOB'S CREEK
Barossa Valley Way, Rowland Flat
www.jacobscreek.com
This is no mere winery but "Australia's most successful wine brand"; no humble cellar door but "a state of the art venue for the wine tourist" offering tastings, contemporary dining in a clattering restaurant, boxed sets to eliminate decision-making angst, and a gallery of reverential photos detailing the milestones of the company like sacred artworks. Jacob's Creek is the Barossa wine industry encapsulated. It all started on the banks of the eponymous, unremarkable creek where Johann Gramp planted the first commercial vines in 1846. Gramp's original winery and cellar still stands, as does the restored stone cottage of the Jacob brothers, who first settled by the creek they named after themselves in 1842. The original buildings and vineyard stand a few ks upstream from the all-angles, grey-ironback-and-glass visitors centre, opened in September 2002. Farther downstream is the Novotel Barossa Valley Resort. That's progress. Australia's "top drop" is consumed in 60 countries and plenty of folk want to see where it comes from.
WOLF BLASS
Sturt Hwy, Nuriootpa
www.wolfblass.com/en-au
To step inside the ultramodern Wolf Blass visitor centre – opened in late 2004 – is to appreciate Blass's genius for marketing as much as winemaking. A glassy construction set around a grassy courtyard, it features four bars of tasting space, a private tasting room, a museum, great acoustics for recitals and the jolliest staff in the Barossa. Wolf Blass merchandise abounds, in between the savvily boxed sets at all price points. It's impossible to walk out without at least one. East German-born Blass started his own label in 1973; in ten years, Wolf Blass was a publicly listed company; within 20 years Blass was the International Winemaker of the Year. Today Wolf Blass produces wine from nine vineyards across South Australia and exports to more than 30 countries.
BETHANY WINES
Bethany Rd, Tanunda
www.bethany.com.au
This charming family-run winery, set in a tranquil hillside on the site of an old quarry, transports you to Bordeaux. The stone winery dates from 1981 but the winemakers, Rob and Geoff Schrapel, are fifth generation Barossans whose ancestors first planted vines here in 1852. Today they have 30 hectares and devoted drinkers in at least ten countries. Recent gongs include Best Vintage Red for the 1998 GR6 Reserve Shiraz at the 2004 International Wine and Spirits competition in London. The 2002 Grenache was also a winner.
ST HALLETT
St Halletts Rd, Tanunda
http://www.bethany.com.au
St Hallett's rustic, vine-covered yard is a great place to knock back a bottle with a light lunch. Established by the Linder family in 1944, St Hallett focused on fortified wines in its early days – like most Australian wineries of the time – but since the 1970s and 80s has produced very well-regarded premium wines, especially the Old Block Shiraz, mostly under the direction of Stuart Blackwell, Barossa Winemaker of the Year in 2003. Owned by Australian-based brewer Lion Nathan since 2001, St Hallett doesn't have its own vineyards but sources every drop from Barossa growers and all its plonk is produced right here.
YALDARA
Gomersal Rd, Lyndoch
www.yaldara.com.au
Another charmer with lavish grounds, Yaldara – an Aboriginal word meaning "sparkling" – was established by Barossa baron HT Thunn in 1947 in an old 19th Century flour mill. Its formal European air puts you in mind of the Moselle. The seven Yaldara labels (including fortifieds) can be sampled at the cellar door, as well as on structured tours and tastings. It's definitely worth a look, although the day we visited, it was a tad expensive – maybe only the premium wines were out. We left without buying a bottle and we weren't the only ones. The redoubtable Thunn sold Yaldara in 1999 and established Chateau Barrosa around the corner, taking his Meissen collection with him.
PENFOLD'S
Tanunda Rd, Nuriootpa
www.penfolds.com
It's the most famous name in Australian wine but the visitor experience at Penfold's is less than memorable. More drive-thru bottleshop than cellar-door sensation. You rock up in the car park, go inside and buy your wines. No meandering grounds, picnic spots or tantalising wafting aromas from in-house eateries – although to be fair, the home of Penfold's and its award-winning restaurant is at Magill in Adelaide. And Penfold's has never been a strictly Barossa operation – multi-regional blending has been the go, even before the visionary Max Schubert created the iconic Penfold's Grange Hermitage in 1951.
The staff are terrific – when we visited they were enlightening and wining American, French and German as well as domestic visitors. No, you can't just front up and guzzle the Grange, and no, Penfold's does not buy back its vintage wines from the public. But it's a must-do, if only to learn the fascinating story behind the Grange, especially the caustic reception on its release. "No-one in their right mind will buy it, let alone drink it" said one critic. Others couldn't decide if it was an aphrodisiac or an anaesthetic. Another described the dominant flavour as "crushed ants." Stung by the hostile reception (and the expense of producing it), Penfold's gave up on Grange in 1957, although Schubert continued to make it on the sly until 1960, when production resumed. In 1962, the 1955 vintage won first prize at the Sydney Show; at the 1979 Wine Olympiad in Paris, the 1971 Grange shocked the local Rhone Valley heavyweights, and the accolades have been pouring in ever since. Australian wine has never been the same.
The Barossa Details
BEST MONTHS TO GO: Any time but January – too hot for quaffing reds.
MOST UNDER-RATED ASPECT: The architecture and grounds of the wineries – almost as big a lure as the wine.
MOST OVER-RATED ASPECT: Penfold's – not the wine but the visitor experience.
BE PREPARED FOR: Iconic Barossa brands owned by monster multi-nationals.
WATCH OUT FOR: Exceptional staff who don't make you feel like a Neanderthal for not knowing your Verdelho from your Viognier.
BEST VALUE ENCOUNTERED: Unsold export labels that can't be sold here purely for packaging reasons. Buy them by the box.
CONTACT: Barossa Visitor Information Centre (08) 8563 0600; go to www.barossaregion.org for profiles of all the wineries, with links to their websites, plus accommodation, eating and entertainment options.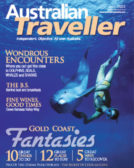 Enjoy this article?
You can find it in Issue 3 along with
loads of other great stories and tips.