The worlds largest rock is in Western Australia, Mount Augusta.
"A ROCK TWICE THE SIZE OF ULURU JUST HAS TO BE SEEN. BUT DO I HAVE TO CLIMB IT?" – Sandra Sully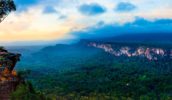 This is one Great Thing To Do in Australia you may actually have heard of, since it's so fricking big. Although Uluru garners all the attention here and overseas, splendid Mount Augustus, in the Shire of Upper Gascoyne 850km north of Perth, is more than twice the size of its ancient cousin to the east.
Officially the world's largest monolith (a single massive stone) and anticline (an arch of stratified rock with layers that bend down in opposite directions from the crest), mighty Augustus thrusts 717m above the arid scrubland and is visible from the air for more than 160km. Known to the local Wadjari people as Burringurrah, it's about 8km long and covers an area of around 47km2. (For those of you playing at home, Uluru is 346m high and covers just over 3km2.)
Compared to Augustus, Uluru has a far more bare rock structure; its hard outer coating means there's little or no scree or vegetation at its base, whereas the scree slope of Augustus is quite densely vegetated. This is what gives Uluru such a clearly defined shape. Like Uluru, Augustus undergoes rich, vibrant changes in colour from sunrise to sunset. But unlike Uluru, which these days discourages vertical exploration, Augustus is an amateur climbers' paradise, with several different walks and climbs of varying difficulty. The summit climb is the Mount's most difficult at Class 5 (high level of fitness required).
And while at first glance the surrounding country appears empty, on closer inspection you'll notice a multitude of life: groves of white-barked river gums and wattle trees house feeding honeyeaters, galahs and other bird and animal life. Nearby Goolinee (Cattle Pool) on the Lyons River attracts flocks of waterbirds. An especially wonderful time to visit is during wildflower season (beginning mid-winter), when the entire area vibrates with fresh colour and new life.
WHERE // 430km east of Carnarvon via Gascoyne Junction in mid-west WA. More info at the Carnarvon Visitor Centre on (08) 9941 1146.
DID YOU KNOW? // Mount Augustus' Dreamtime Creation stories focus around the young boy Burringurrah, who ran away in fear of the trials of initiation. It's said the shape of the mountain is that of a body with a spear stump protruding from its leg – a traditional tribal punishment. The stump is Edney's Lookout at the east end of Augustus.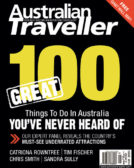 Enjoy this article?
You can find it in Issue 14 along with
loads of other great stories and tips.