It's easy to walk on the wild side in WA – and you don't even need to pop heels and mascara on (actually, you really shouldn't). The state's jewel-like wildflowers carpet the southern half of the vast state in colour pops bearing quirky names such as donkey orchids, kangaroo paws and pompom head everlastings. Here are the top five places near(ish) Perth to find yourself some bush beauties.
What is wildflower season?
Wildflower season in Western Australia signals springtime and the arrival of nature's haute couture. There are big, bold blooms, but most are small and delicate, with fine fringing, intricate patterns and minute details best observed up close. WA is home to 12,000 species of flowering natives, 70 per cent of which are found nowhere else in the world. Incredibly, more are being discovered every year – these treasures hide themselves well.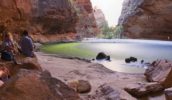 Where can you see wildflowers in season?
Once wildflower fever hits, all ages pull on their trainers, grab their cameras and hit the centre of the city – no joke (more on that soon). Petal pushers also tour the surrounding Perth Hills and journey north, east and south of the metropolis.
When is the best time to see them?
The mass bloom starts around the hotter, drier mid-point of WA late in June. It then flows southward as the weather warms, hitting its peak in September and petering out towards November. In northern parts of the state, vast tracts of land are carpeted in pinks, whites and yellows, whereas southern areas have speckles of colour peering shyly from the scrub. Finding the rare and elusive – plenty of the graceful orchid species fall into this category – becomes an infectious game. Here's how to play.
Perth: the world's biggest inner-city park lives here
It doesn't get much easier than taking a free CBD bus (departing St Georges Terrace) a few minutes up a hill to arrive in wildflower cornucopia. Kings Park, on the fringe of Perth's geographical core, trumps New York City's Central Park when it comes to the competition for biggest inner-city park on the planet. Each September the Kings Park Festival throws a wildflower party within its Botanic Garden, which distils thousands of species into one compact zone. Think grevillea, boronia, Geraldton wax and kangaroo paw, all in different colour combinations (the black and green paw is particularly stunning). Wildflowers are planted months ahead, blooming in time for visitors to stroll between beds that are split into WA's different regions, showing what grows where. Festival time means extra free guided walks where you'll learn about floral survivalist methods, traditional Aboriginal uses and how scentless flowers trick insects into pollenating them. Volunteers also run walks year-round (departing daily at 10am, 12pm and 2pm). The blooms usually last well into October, making a post-festival visit just as worthy. Rare species such as spider orchids and donkey orchids are most likely seen on the park's bushland trails.
Perth Hills: blooms and roos
John Forrest National Park is home to sweet things like the heart-leaf flame pea, the triggerplant and the feather flower (you'll know when you see them). Drive 45 minutes from Perth's CBD into the park hub and leave your car by the tavern (the pub is frozen in the '80s, making it strangely endearing). Give the unflappable western grey kangaroos a nod then set out on any of the walking paths and you'll spot wildflowers within about 50 metres. The further you go, the more you'll see, particularly close to the ground – a careful search will reap rewards.
A more energetic option is to follow the 15-kilometre Eagle View loop trail and discover a bevvy of bush beauties.
Margaret River: roadsides and bush tracks
Leeuwin-Naturaliste National Park runs along most of the Margaret River coastline and the Cape to Cape Track, which snakes through it, is lined with wildflowers. Hike along a section of the 135-kilometre route and breathe in deeply – you'll smell them first. There are bolshy, bushy clusters and tiny blossoms, while floral succulents spread over the earth closer to the beaches. We recommend the stretch between Smiths Beach and Injidup Beach (Injidup is taken from a Nyoongar word for the red pea flower). Walking alone is fine, but you'll get more from the experience if you join a small, guided tour. The excellent Cape to Cape Explorer Tours' 2.5-hour 'Wild about Margaret River' trek includes easily-digestible insight into the region's diverse ecology. Or blend the exploration with lovely things like wine, cheese, high thread counts and massages through Walk into Luxury. Another option is the region's only 4WD wildflower tour, which combines some of the track with a winery tasting – a rather brilliant combo by The Margaret River Discovery Co.
Alternatively, head to just about any winery off the main drag of Caves Road and you'll notice wildflowers lurking on the roadsides. See a handy hotspot map, here.
Lesueur National Park: scrub spangled with wildflowers
Head three hours' drive north of Perth and 20 minutes north east of the fishing town of Jurien Bay to find yourself in sandy, scrubby outback country dotted with more than 900 wildflower species – many endangered. Lesueur National Park stretches across 27,000 hectares, but a sealed, 18-kilometre loop road drive makes exploring a cinch. Stop regularly and get out to inspect things like magenta starflowers, propeller banksia, prickly Moses wattle (so named for its spiky leaves) and blue tinsel lily.
There's also a Lesueur Walk Trail, which leads to the summit of Mount Lesueur for wide-ranging views. On the way, make sure you peer through the grass trees to find the intricate species below. Your best bet may be to join a four-hour Mt Leuseur Tour departing Jurien Bay or Perth (bookings essential). It includes the scenic drive and a number of bush walks where flowers will be pointed out (sometimes easier than hunting them yourself). Everything here is best seen from July to October.
The Great Southern: just everywhere
If you're visiting WA towards the end of spring, drive four hours south of Perth to the cool climate Great Southern and base yourself at either Albany, winery-rimmed Denmark or wilderness hotspot, Walpole (don't miss the Valley of the Giants while you're there). The Bibbulmun Track runs along all three centres (it's a massive 1000-kilometre long-distance trail starting in Perth) and wildflowers can be found along it from September to November. As with much of the state, the blooms are tiny and need to be sought out – the more you look, the more you find. It's a great way to slow down and achieve mindfulness amid the quiet of nature. If you want to go on a serious hike, you can get dropped off or picked up by local transport operators Naturally Walpole Track and Trail Transfers.
Alternately, Stirling Range National Park near Albany is home to some 1500 species of plants – including those rare orchids – with numerous walk trails, or, if you're staying at the Mt Trio Bush Camp and Caravan Park, you can join a good-value, 1.5-hour guided walk. Energetic types can take the gorgeous 12.5-kilometre Bald Head Walking Trail in Torndirrup National Park, keeping an eye out for colour pops – and migrating whales – along the route (tip: stop in at The Gap's clifftop overhang viewing platform on the drive back to Albany).
There's also a local Bloom Festival from mid-September to mid-October, with information and events here.