What do you get when you drop a small bar licence on a mining boom? Perth's small bar scene is shaping up to be a match made in small-bar heaven. After marvelling at the free bus service that runs through the heart of Perth, Greta Stonehouse set about finding the best niche bars Perth has to offer.
Angel's Cut
While this bar specialises in over 125 types of rum, the name Angel's Cut is inspired by the process of whiskey making – the small amount of alcohol that evaporates during distilling is said to be the 'angel's share'. At Angel's Cut the holiness stops with the large pair of angel wings presiding over the bar, underneath is everything rum related, from the classic Dark and Stormy, to the twisted Tiki inspired Dr Funk.
Try: Dr Funk
Where: 133 St Georges Terrace, Perth
When: Open Monday to Friday, noon until midnight. Saturday, 5pm until midnight. Closed Sunday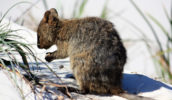 Dominion League
Geographically speaking, "Perth is as far from Canberra as London is from Moscow," said Sir Hal Colebatch in support of the Dominion League's movement to separate Western Australia from the rest of Australia back in 1933 (the referendum had the support of the people, but for economic reasons the Commonwealth refused). Now, flying the Western Australian flag in all its historical glory, the Dominion League offers a street level bar brimming with Western Australian wines and beers. Downstairs is a saloon-style bar mixing fun cocktails and intimate ambience.
Try: Honeycomb Old Fashioned
Where: 84 Beaufort Street, Perth
When: Open Tuesday to Thursday, 4pm until midnight. Friday, midday until midnight. Saturday, 5pm until midnight. Closed Sunday and Monday
Helvetica
Snaking behind Perth's office towers Helvetica, a bar that will have you sipping whisky neat and feeling like a modern Don Draper. Its whiskey + whisky menu is like a peace offering to all international whiskey lovers no matter what region or flavour you prefer, categorising each drop by country of origin. Helvetica offers a bottle-keep service whereby you can purchase a bottle from its selection and have it stored for your next visit, a good excuse to fashion your own armchair groove. An extensive list of boutique beers and wines is also available.
Try: Long Way Home
Where: Rear 101 St Georges Terrace, Perth
When: Open Tuesday to Thursday, 3pm until midnight. Friday, midday until 1pm. Saturday, 6pm until 1am. Sunday and Monday by reservation only
Frisk
Past the busy thoroughfare of Perth is a bar that makes personalising your coffee order look passe. Frisk bar features over 200 gin varieties and five different brands of tonic water, so you can match your G with your T in style.
Try: On Stranger Tides
Where: 103 Francis Street, Northbridge, Perth
When: Open Tuesday – Saturday, 3pm until midnight. Sunday, 2pm until 10pm. Closed Monday
Ezra Pound
Ezra Pound was one of the first small bars to open in Perth and feels as if it is straight out of the American prohibition era. Keeping in line with this theme and daringly hidden from the main street, Ezra Pound can be found through entering the car park off James Street. From old classic cocktails made with finesse, to Coopers long necks served in paper bags, Ezra Pound has you covered.
Try: Any of the classics like a Tom Collins
Where: 189 William Street, Northbridge, Perth
When: Tuesday to Saturday, 1pm to midnight. Sunday 1pm to 10pm. Closed Monday