Australian Traveller looks at carbon offsetting programs to see what any of us can really do to make a difference to climate change.
No More Guilt Trips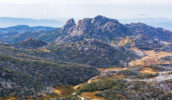 Despite what T-shirts would have you believe, it's getting harder to imagine that one person can make a difference. Kerry van der Jagt investigates the rise of carbon offsetting programs to see what any of us can really do . . .  

I use energy-saving light bulbs. I reduce, reuse and recycle. I glare at people who use plastic bags. Yet somehow my carbon footprint is still the size of a small island.
Travel represents the ultimate guilt-trip for anyone concerned about greenhouse gases. On a recent return flight from Sydney to Perth I calculated I'd spewed 2.2 tonnes of carbon dioxide into the heavens. I swear I could see the water levels rising out the window. Climate change is a fact, not a fairytale. It's happening now and presents one of the greatest challenges the world has ever faced. Australian temperatures have increased by almost 0.9 degrees over the last 100 years – just a shade above the global average.
Scientists agree that the principle cause is an increase in emissions of CO2 by industrialised countries. Australians have on a per capita basis one of the highest greenhouse gas emissions of any country in the developed world. For this reason, climate change will inevitably have catastrophic effects on many of our tourism icons.
Coral reefs are sensitive little buggers. In 2002, the Great Barrier Reef experienced the worst case of coral bleaching on record. An increase of only one degree above the long term monthly summer average is enough to turn these nervous Cnidarians white.
Climate change is also a threat to snow-based recreation and alpine ecosystems in southeast Australia. A study by CSIRO predicts that by 2020 the mountains will be covered with snow for between five and 40 fewer days a year and the total area covered will shrink by ten to 40 percent.
Sea level rise is a key consequence of global warming. The freshwater wetlands of Kakadu National Park will turn up their lily-pads if sea levels rise by as little as ten to 30cm. In the words of that great environmentalist Kermit the Frog: "It's not easy being green."
But there are things the responsible traveller can do.
REDUCE EMISSIONS
Go with the flow, travel slow // Stay longer in one place and get to know the area in depth. Like "slow food", it's about savouring every moment of your journey.
Travel closer to home // If you just want to chill out on a beach, do you need to travel halfway around the world? Australia has 30,000km of mainland coastline and more than 8000 islands to choose from.
Plan for fewer longer trips // Don't flirt with casual travel. Instead of flying away for multiple long weekends, spend your travel time on one extended holiday.
Get on your bike // The first person to circumnavigate Australia by land was cycle tourist Arthur Richardson in 1899. Today, Australia's cycle tourism sector is pedalling ahead, providing significant economic, social and environmental benefits. Check out the Bicycle Federation of Australia at www.bicycles.net.au/bicycle-federation-of-australia-inc/
A ticket to ride, not fly // A single flight from Sydney to Melbourne can produce up to 256kg of CO2 per person. That's about three times more greenhouse gases than a train. Train travel is relaxing; it allows you to enjoy the scenery and delivers you right into the heart of the city.
Plan to be spontaneous // Careful planning of road trips can minimise the distance travelled (and save relationships). If you must fly, book non-stop itineraries as multiple takeoffs and landings require more fuel.
Green is the new black // By choosing a greener vehicle you can make a huge difference. The handy Green Vehicle Guide rates new Australian vehicles based on greenhouse and air pollution emissions. www.greenvehicleguide.gov.au
CARBON OFFSETTING 
Simply put, carbon offsetting involves paying another party to "offset" your carbon emissions by planting trees – which absorb CO2 – or investing the money in renewable energy projects. Critics see it as the equivalent to making a mess and paying someone else to clean it up.
Consumers in Australia can now choose from more than 20 organisations to atone for their sins, including Carbon Neutral (www.carbonneutral.com.au), Green Fleet (www.greenfleet.com.au) and Climate Friendly (www.climatefriendly.com).
I checked out Carbon Neutral to see how much it would cost me to wash my conscience clean. Carbon Neutral is a not-for-profit organisation that plants native trees to offset carbon emissions. Their calculator says my return trip to Perth produced 2.2 tonnes of CO2, so it would take 14 trees and cost me $36.80 to offset.
Some question the value of tree planting. The biggest concern is that this type of carbon offsetting doesn't reduce emissions at the source – and furthermore, until the trees mature they won't store much carbon. But – and this is admittedly a "better than nothing" approach – I think any extra trees are a good thing.
Other offset schemes will put your money towards renewable energy projects such as wind, solar, low-impact hydro and geothermal. Climate Friendly is a for-profit company and claim "the money you spend will support new renewable energy projects that prevent as much greenhouse gas from entering our atmosphere as you have released." Their best selling point appears to be that they reduce emissions at the source.
Neither type of offset scheme is perfect, but at least they raise awareness of the environmental impacts of travelling. Carbon offsetting should be seen as a way to reduce emissions for the times you can't avoid flying or when you can't reduce your emissions through energy efficiency.
So next time you plan a trip across this wild and wonky country of ours, heed the words of Tim Flannery, 2007 Australian of the Year and author of The Weather Makers.
"We are the generation fated to live in the most interesting of times," says Tim. "For we are now the weather makers, and the future of biodiversity and civilisation hangs on our actions."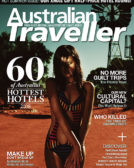 Enjoy this article?
You can find it in Issue 18 along with
loads of other great stories and tips.