A serene ride in a hot air balloon is the perfect way to see the outback in all its glory, a bleary-eyed Jennifer Pinkerton finds.
The alarm clock screams like a ghost from The Exorcist at 4:49am. Outside, the air is black. It heaves with fog and chill. This is madness; fun things do not begin before 6am.
I clamber into a woollen jumper and long pants, tug on a beanie and sleepwalk a path to the hotel driveway. Ballooning over the outback seemed like a dreamy idea 12 hours ago, but right now, the notion feels thin on romance.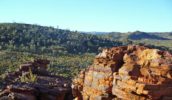 I'm contemplating a coward's crawl back to bed when a mini bus pulls up. Carrying 10 other sleepy souls, the Outback Ballooning vehicle heads through Alice Springs's famous gap in the MacDonnell Ranges and makes a beeline for the bush.Through foggy windows it's hard to see much, but red dust plumes all around, forming a curtain that closes out the township and, 20 minutes later, re-opens upon the desert.
After a stop or two to check the wind speed and direction, our guide Byron Hall announces we've arrived, adding that if we choose to stay in the bus while the balloon inflates we won't be judged.
Pre-flight turtle impressions
A couple of passengers take up the offer and perform turtle impressions by reversing their necks deep into scarves and puffer jackets. The rest of us find a spot standing amid the darkened field. We've anchored at Owen Springs Cattle Station, 15 kilometres south of Alice.
I grew up in Canberra, a place where the morning sky is often awash with hot air balloons, (including the 34-metre high 'Skywhale': a controversial balloon that resembles a bouquet of breasts, designed by artist Patricia Piccinini). Despite all this, I've never taken a flight myself.
I expect to feel uneasy. After all, I'm an anxious plane passenger. And flying in a wicker basket minus the safety of an aeroplane cabin? Dead-set shaky.
Our pilot, Jason Livingstone, pulls up in a second car and hauls the basket from his trailer. He and Byron breathe life, otherwise known as propane, into a sea of silky, orange fabric unfurled on the ground. Jason, we discover, reckons piloting "isn't a real job".
Years above Africa's game parks
"It's just one of those things that started as a hobby, and grew into something more." 'More' is quite the understatement. He's flown in Canada, New Zealand and the Gold Coast, and, most recently, spent three years drifting above game parks in Tanzania, where he spotted lions circling carcasses for breakfast, as well as the mass migration of wildebeest and zebras. In comparison, "the outback is full of a beautiful emptiness," he says.
One-by-one, our party straddles the basket edges to claim a space inside the mothership. The basket lips reach collective neck height, making our beanie-wearing group resemble
a dozen Easter eggs. Jason tugs on a bar within a tangle of engine work overhead.
Up shoots a flame. We begin our journey skywards. Unexpectedly, our rise and eventual float couldn't be smoother. Nor could it be quieter. The silence takes me by surprise.
The ochre and green canvas
I slip into a meditative open-eyed trance, and as five-metre trees turn into linden-hued dots and roads morph into brush strokes, the land below becomes a canvas – each frame mixed with ochre and green.
"Here comes the sun," says Jason. A flirty golden glow seeps over the MacDonnell Ranges, until eventually the sun appears full monty. We gaze at the long, thin shadows stretching across the plains like pencil lines.
"The impressive thing about ballooning over the desert is the sheer sense of vastness," Jason says. "Most passengers don't know what to expect from the flight. They think it'll be like an aeroplane and that the landing will be rough and tumble. They're surprised by how calm and relaxed things actually are."
I'm struck that no one feels the urge to talk. Instead we watch the ground move below us. Camels and emus can sometimes be seen, Jason tells us, and closer up, budgies, galahs and red-tailed black cockatoos.
Red 'roos in the sunrise
For our group, red kangaroos are the species of the day. Three leap through spinifex and mulga scrub, conjuring an aerial scene from a classic outback flick. Our Easter-egg basket buzzes with delight.
Drifting downwards, a bunny hop or two is all that marks the descent. With 11 passengers now on solid ground, Jason and Byron pop a bottle of bubbly and explain that it's "tradition to drink champagne after a flight".
The French, who invented ballooning, carried bottles of the stuff as a peace offering for farmers should their paddocks happen to host surprise landings.
It's when yellow grass flicks at my shins, a champagne flute meets my lips and orange fabric pools in the warmth behind me that I feel a mental back-flip rise. Scratch that alarm clock recalling screams from The Exorcist.
Maybe the 4:49am wake up came from a friendly ghost instead – one who knows, intuitively, fun things start in the dark before dawn.
The details: Outback hot air ballooning
Getting there: Alice Springs is 2700 kilometres west of Sydney via the Stuart Highway. Fly there with Qantas or Virgin Australia.
Staying there: We stayed at Lasseters Hotel Casino, which has views of the MacDonnell Ranges and is a 10-minute walk from the town's main shopping district.
Playing there: Outback Ballooning runs early morning flights for 30 and 60 minutes, with champagne and snacks served upon landing. Prices from $295.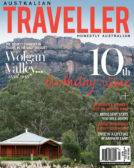 Enjoy this article?
You can find it in Issue 63 along with
loads of other great stories and tips.