With 74 islands to choose from in the Whitsundays, our guide tells you which one is the best fit for you to stay. Grab some well-deserved R&R up in Queensland.
Despite the horrendous cyclone Debbie passing through these islands in 2017, a few have still remained afloat or have recently re-opened following massive construction. Unfortunately, local favourites, South Molle Island, Brampton Island and Lindeman Island have remained closed down due to the natural disaster.
And of course, from each of these islands you can do numerous day trips any of the other uninhabited Whitsunday Islands and of course, The Great Barrier Reef.
Hamilton Island
'Hamo' as locals call it, is the Hugh Jackman of islands – easy going (and easy to get to), with a smorgasbord of quality attributes. Unsurprisingly, this people pleaser is regarded as the go-to island.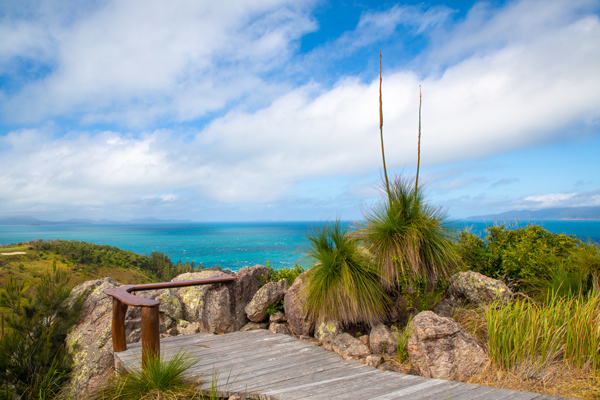 Who's it for
Families and luxury lovers
What to do on Hamilton Island
As you would expect there are numerous water and land based activities available for guests of the island, check out our list of 10 best things to do on Hamilton Island.
Stand-up paddle-boarding, wakeboarding and snorkelling are all obviously on the docket. But why not skip the water one morning and rent a quad bike or go-kart to scoot around Hamo. Kids from six to fourteen can go for a guided tour with experienced instructors while you have a little bit of well-deserved R&R.
But that's just the start for families, we have compiled the list of best things for families to do on Hamilton Island.
If there happens to be a sudden downpour, you're going to need a rescue remedy for the day. Island Bowling is open daily so you can play a round of nine-pin bowling (you heard that right, nine). For the pre-dinner activities, a little down the way is Mini Golf. Grab a putter and get some hole in ones. But the real fun starts from 6 PM – 8 PM, where glow in the dark mini golf is on the cards.
Where to stay on Hamilton Island
Hamilton Island is home to Australia's most luxurious resort, qualia. Located on the northern tip of Hamilton Island, qualia is renowned for being private, self-indulgent and catering to every guest's whim. Save up your coins and book into the Windward Pavilions for a plunge pool overlooking the Coral Sea.
For a more family-friendly destination on the island, we have put together the definitive guide to the best family accommodation on Hamilton Island.
You can't go past the Reef View Hotel. You can opt for a more affordable Reef Family Room, or head for the more deluxe Presidential Suite. You're looking at incredible activities (tube riding, wakeboarding or water skiing), a beautiful view of the Coral Sea and a Pool Terrace restaurant serving up an epic buffet breakfast.
For upmarket apartments. the Hamilton Island Yacht Club Villas are just the ticket; right on the water at the Marina with views over to Dent Island they their own lagoon pool and all come with full kitchens if you want to make a family meal and not take the short stroll to the Marina's restaurants and cafes.
For those looking for an entirely self-contained accommodation option, The Edge is a collection of holiday apartments on the island's western tip. Just a short walk from cafes and restaurants on Front Street, this is an optimal location if you want to blend into the locals.
Airlie Beach
Traditionally the party girl of the Whitsundays, this mainland centre is now mellowing out and leading a more sophisticated way of life.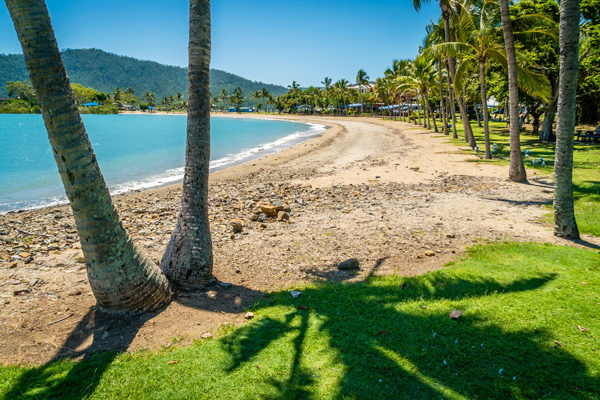 Who's it for
Backpackers, adventure seekers, families
What to do on Airlie Beach
Located right at the fringe of the Great Barrier Reef, you'd be out of your mind not to pack your snorkels and flipper fins. Jump into another world full of creatures and colours.
Rent a car and head out down Shute Harbour Road towards Mount Rooper (only a ten-minute drive). Get out and hike to the top for views of the incredible Whitsunday Passage. Down below the look-out, you can find your way through the coastal rainforest to a hidden beach.
Skydiving is a big thing in this area of Whitsundays. Head up in the plane to go across the islands and free-fall into a gorgeous beachside drop zone. For those who are brave enough, this will bring you an epic amount of street cred. Anyone from twelve and over can do the dive, so if your kids are big dare-devils, then bring them along!
Where to stay in Airlie Beach
The BIG4 Adventure Whitsunday Resort is an absolute must on Airlie Beach. It has an extreme amount of variety and the prices are suited to literally everyone. Grab a spot on the powered site, starting from $39 a night, either nap on the grass, a slab or pull up your motor home and set camp on an ensuite site.
We know that camping isn't everyone's cup of tea, so that's why you can head indoors for a condo, cottage or villa accommodation option. Starting at $165 a night and head all the way to $315, this is definitely a steal for the location.
Otherwise, if you're looking for a more 'detached' experience, you can't go wrong with your pick of any of the self-contained and hotel resorts on Airlie. Toscana Village Resort, Pinnacles Resort (with a heated infinity pool) and Coral Sea Resort are all in the area for a more retreating stay.
Whitsunday Island
The largest of the 74 islands, this gentle giant is largely undeveloped being a national park hiding some of the prettiest campgrounds and hiking trails around.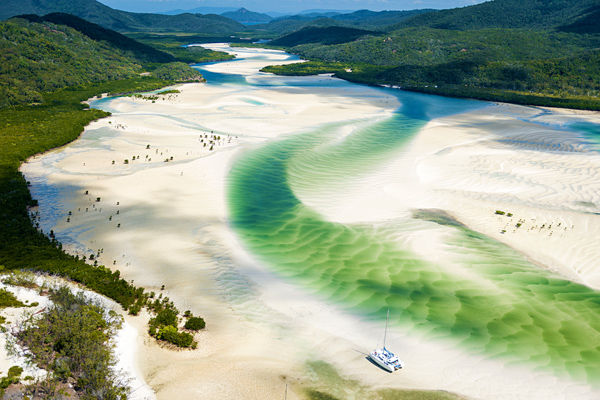 Who's it for
Adventure seekers
What to do on Whitsunday Island
Home to Australia's best voted beach Whitehaven, this island is surrounded by white sand and sparkling turquoise waters that will make anyone happily sink into. But further up in the Whitsunday Islands National Park, it's been recommended to hike up to Hill Inlet Lookout for a breath-taking view of the white silica and constantly moving tides. You might be able to spot stingrays and sharks out in the depth of the bay.
Where to stay on Whitsunday Island
Camping grounds are the luxe accommodation on this island. Whitehaven Beach's campground has very limited facilities, but you're out there to be one with nature right? Luckily, they do have flushable toilets (phew), but as for showers, BBQs and generators, you're out of luck. So be camp-smart when you're heading to this area.
Hayman Island
She's stylish, elegant and prefers the finer things in life. As a result, expect a five-star stay with restaurants to match.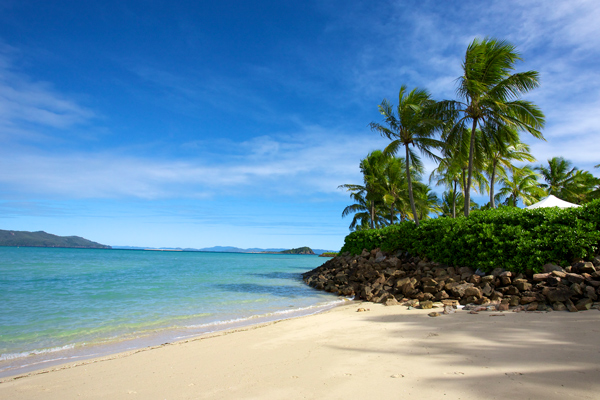 Who's it for
Luxury lovers with nostalgia for one of Australia's original glamour resorts
What to do on Hayman Island
If you're heading to Hayman sans children, just do yourself a favour and check straight into the spa in the resort. Book a couples massage, spend some time in the sauna and get that seaweed wrap you've only dreamed about up until now.
Hayman Island is surrounded by bushland, so hiking isn't such a bad idea. Head around to Dolphin Point Lookout on the island's northern tip. Don't forget to bring your diving gear because here is the perfect location to spot Whitetip reef sharks and hammerheads as well as a myriad of fish.
Where to stay
The InterContinental Hayman Island Resort is your only option when staying on Hayman Island.
This 5-star resort was recently re-opened (following the destruction of cyclone Debbie in 2017) and boasts incredibly decorated rooms, a Hayman Spa, fitness centre and multiple fine-dining restaurants. Dine-in at the Amici Trattoria, Bam Bam and Aqua when you're stomach's rumbling.
Hayman has recently added the Hayman Residences to their accommodation options. The four-bedroom houses on the iconic Hayman Island hill have panoramic views of the Whitsundays. The piece de resistance is the private infinity edge pool.
Daydream Island
Fun and full of energy like any High-5 star, Daydream is the family-friendliest of the islands. Completely inhabited by the resort, there's plenty to keep little ones happy from visiting the aquarium, snorkelling, to mini golf and an open-air cinema.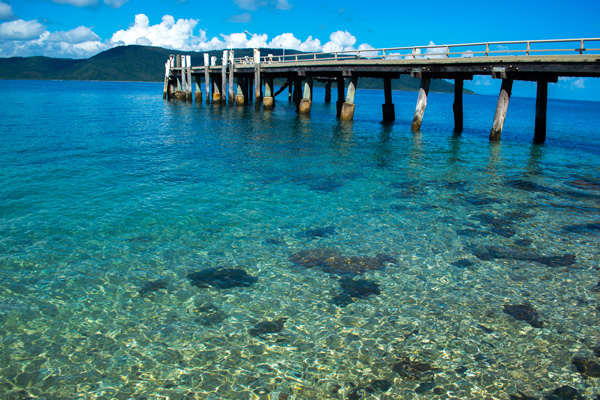 Who's it for
Families
What to do on Daydream Island
If you choose even one of the activities that the resort has up, guaranteed, you'll have a blast. With jet-ski rentals, kayaking, rainforest walks and guided snorkel sessions, this is one busy island. Most of the activities are free or extremely affordable, so you're saving a heap on this trip.
The resort has got you covered with fitness centres, yoga classes, trivia nights and extra beach sports if you feel like volleyball, cricket or some classic touch footy.
Where to stay on Daydream Island
Clearly the only accommodation is at the Daydream Island Resort. It re-opened after a multi-million dollar refurbishment after cyclone Debbie and it's brought with it the biggest makeover the island has ever seen.
With more than 220 rooms available in the resort, you can choose between suites and family rooms. Jump into the pool for an unbeatable view of the other Whitsunday Islands surrounding Daydream.
The resort has also brought in three new restaurants, Graze, Infinity and Inkstone. You've got Asian fusion, Australian classics and even a buffet with a whole heap of international cuisines.
Long Island
The quiet achiever, Long Island is one of the most underrated of the islands, hiding barefoot luxury and untouched landscapes.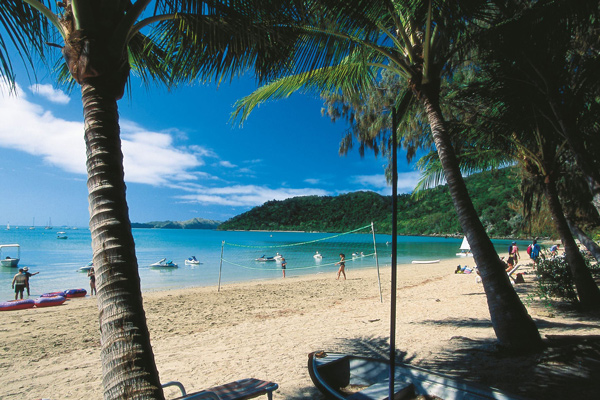 Who's it for
Adventure seekers, luxury lovers
What to do on Long Island
Basically, everything that you'll want to do on the island, are provided by the resorts and retreats. They offer all the basics, paddle-boarding, kayaking and snorkelling. But you can also head out on pre-booked Heli-tours, day trips to other islands and short cruises.
Where to stay on Long Island
Choose between either the Palm Bay Resort or the Elysian Retreat for your stay on Long Island. If you're looking for a family-friendly destination then Palm Bay is your go-to, otherwise, if luxe, boutique vibes with gourmet meals is your aim, then Elysian all the way.
Palm Bay has beachfront villas, bures, bungalows, suites and houses up for accommodation. When staying in a Bure, it'll be like your own special and private retreat. Relax with a good book in the deck hammock after a long day of frolicking in the ocean that's right outside your front door. The resort offers a tonne of activities, from day spa retreats, ocean rafting, all the usual water-related ones, kayaking and snorkelling.
Whereas, on Elysian, you can only stay in an oceanfront villa (uh such a hard life), that are all packed to the brim with luxe. The interiors are very beachy and offer uninterrupted views of Conway National Park and the rainforest on the island. With the accommodation, you'll receive three gourmet meals every day, complimentary non-alcoholic drinks, canapes before dinner, unlimited use of snorkel gear, glass-bottom kayaks and stand up paddle-boards.
Hook Island
This natural beauty is all about the outdoors, being mostly national parks. With breathtaking lookouts and bush walks, she also hides some of the best snorkel and dives sites in the region.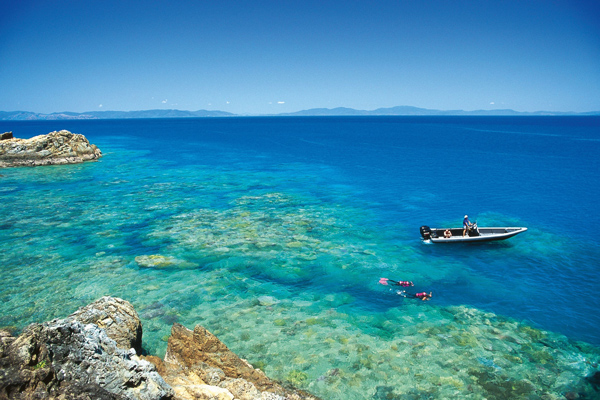 Who's it for
Adventure seekers
What to do on Hook Island
Not many people tend to stay on Hook Island, so the best thing for this place is to hop on a boat and visit it for the day. There are beaches perfect for snorkelling and you can also dock for a quick fishing trip. And make sure you bring your sneakers and sunscreen for a quick hike to any of the surrounding rainforests.
Where to stay on Hook Island
While there aren't any resorts on Hook Island anymore due to the cyclone, there are still a few camping grounds. The whole island is largely uninhabited and you can still find some debris from the before the disaster, but the oceans make up for it. Butterfly Bay is a quality campsite is you want to follow your sleep with a swim in the deep blue waters.