A Detours and Diversions column on a famous founding first, that voyage of discovery
That all-important voyage of discovery – someone had to do it. But who? Each issue, AT looks at a famous founding first. And this time it's . . .
Magnetic Island
Where: Just offshore from Townsville, Qld.
Who: Captain Cook and the crew of the Endeavour in 1770.
How: For one trip, Cook and his company had already done more than was strictly necessary. They'd charted the passage of Venus across the Sun, mapped the whole New Zealand coastline and claimed the bulk of the Australian continent for Mother England. To then head up the east coast of Oz and become the first European to tackle the Great Barrier Reef was well above and beyond the call of duty. Predictably, given the jagged, spiky, shallow nature of the reef, there was trouble ahead, but it's testament to Cook's skill that he got way past Cairns before crashing.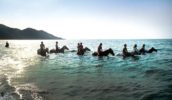 Before that, though, the Endeavour had a bit of an X-Files moment: sailing past what is now Townsville, the ship's compasses went haywire. While everyone else was wondering what was going on (and possibly waiting for the theme from The Twilight Zone to kick in), Cook decided to attribute the problem to metal ores in the rocks of the nearby island. Despite this theory being proven later to be utter nonsense, Cook's name stuck – Magnetical Island it was.
Now: The name has been shortened to Magnetic Island, and there's no weird stuff with navigational equipment going on. It's also a very popular tourist destination, being just an 8km ferry ride from Townsville. Much of the island is national park, and there are 25kms of walking tracks for avid explorers. Other options include sea kayaking, snorkelling and horse riding along the beach.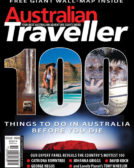 Enjoy this article?
You can find it in Issue 8 along with
loads of other great stories and tips.