Is the Bass Strait crossing a luxury cruise or a basic ferry ride? Mark Juddery finds out.  Not long ago, there was one perfectly good reason to catch the historic Spirit of Tasmania ferry. It saved money – even though, once you'd departed Melbourne and crossed Bass Strait, you'd have to make your way out of beautiful (but uneventful) Devonport, driving through country Tasmania to Hobart or Launceston.
Now, competing against low-cost airfares, the Spirit has to provide more than just transport. It could have followed the lead of classic trains like the Ghan and Indian Pacific, reinventing itself as a luxury experience. But unless you book a deluxe cabin, you won't find that kind of journey here. An economy voyage on the Spirit is an exercise in all-Australian ordinariness. But honestly, that's not such a bad thing.
The overnight ferry departs daily throughout the year. I'd been warned about the cabins by two friends with miserable memories of the journey – one because choppy waters had made him violently ill, and the other because he'd been in the same cabin. Bass Strait can be rough, but for most passengers it's not a problem on a vessel this size. By the time the ferry moves into the stormiest waters, most people are asleep.
There are several levels of accommodation, suitable for all budgets. Ignoring the deluxe cabins, like most people on a budget, I booked into a two-person room. It's small, clean and simple, the only downside being that you may share with a stranger.
To save money, I could have booked an ocean recliner. This is a comfy seat among several rows of similarly comfy seats, which recline to a sleeping position. Some regular passengers swear by this crowded, low-security choice of bedding.
"I love it," one mother tells me, as her young daughter nods along with equal enthusiasm. "You get the best view."
I see what she means. The recliner room, with its rows of chairs, is like a luxury movie theatre, with each seat providing an exquisite window view of sea. It is a beautiful but monotonous movie, capable of sending anyone to sleep.
If you prefer, you can always see a real movie, as an on-board cinema shows two a night. This is a shell game. On the way to Tasmania: Alice in Wonderland and Dear John. Watchable enough. On the way back it's Herbie: Fully Loaded and Crocodile Dundee in Los Angeles. Oh boy.
The queue to The Captain's Table, the main bistro, seems endless. The eatery provides a typical RSL-club smorgasbord – roast beef, salad and a token vegetarian bake – but for double what you'd pay at the RSL. Not that I'm complaining: it's still a reasonable price at $30.
For those who prefer fine dining, Leatherwood Restaurant serves classier fare, which is obvious from the bow-ties and the polite smiles of the waiting staff (and the fact that it has a waiting staff). It is almost empty of patrons save for an older, well-dressed couple at one of the tables. The menu is a step above: $64 for a three-course meal. There's salmon fillet, "tenderloin of beef", and for vegetarians, that old RSL cliché: the vegetable stack. This was cutting-edge cuisine back in 1967. I'm assured it's all highest-quality, Tasmanian-grown fare cooked by top chefs, but still I'm not excited.
I return to The Captain's Table and brave the queue. The cashier says that it's a strange night. Even in this weather (it's cold and windy), the queue isn't usually so long. By now, I'll happily eat anything.
So how do I spend the rest of the night? I have a few choices. Poker machines are working overtime, and a children's gaming room is busy on the top deck. In the Spirit Bar, a blonde chanteuse plays synth and sings Stevie Wonder and James Taylor standards. Everyone is enjoying it from their armchairs, apart from those distracted by the cricket on television.
Oh well… it's an overnight voyage. When in doubt, you can always sleep.
"There's an old rule about restaurants with views: the better the view, the worse the food. Or something similar … The Spirit of Tasmania, with its Seasons restaurant, has excellent views, particularly leaving Melbourne by evening. You cast off from Port Melbourne with a hull-shuddering reversing manoeuvre before heading south to Port Phillip Heads and on towards Devonport. Unfortunately, Seasons is a rule-prover par excellence. Wonderful views." John Lethlean, The Australian

THE AT Verdict
Mark Juddery, who paid his own way and visited anonymously, says:
Sure, why not? The rooms are clean, the food is OK, and it gives you an excuse to drive through the wonderful Tasmanian countryside. You take the ferry for the destination, not the journey… unless you have a thing for James Taylor covers.

The Details
Where  Nightly departures leave from Station Pier in Port Melbourne at 9pm and arrive in Devonport at 6am the following day.
Notes  Twin cabins cost from $137 per person; deluxe cabins from $222 per person. Day tickets are just $75 per person until March 21 (note that there are no allocated seats for this special fare). Vehicle passage costs from $79 for a small car (year-round) to $535 for a large motorhome in the high season.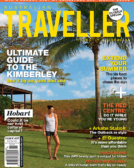 Enjoy this article?
You can find it in Issue 37 along with
loads of other great stories and tips.