To complement our monumental 100 Great Australian Holiday Homes special issue, architecture and design author Stephen Crafti presents his personal selection of five fascinating and unique designer gems from around the country.
In the 1950s, "getting away" meant heading for a coastal shack – a rudimentary hut that would include bunk beds for the children, often in a lean-to out the back. Forget the ensuite. There was usually one bathroom, shared by all. That simplicity of the past has been forgotten by many building their dream holiday homes today. Filled with granite and every possible gadget, the only thing not transplanted from the city is the site.
The getaways we're about to discover together may not have all the bells and whistles of five star accommodation; those expecting gold taps and chandeliers may be greatly disappointed. But if luxury is measured by connection to the bush or coast, these architect-designed escapes are simply superb.
Baker House: An Original Robin Boyd

One of Victoria's more desirable architectural retreats is architect Robin Boyd's house in Bacchus Marsh, a 45-minute drive northwest of Melbourne. Designed in 1964, the Boyd Baker House, named after its original owner Dr Michael Baker, is surrounded by bull mallee scrub. The Dower House, name after a relative of Dr. Baker and on the same property, was also built by Boyd. A favourite destination for architects and design buffs, both houses were purchased by Peter Mitrakas in 2006 and have been carefully restored and filled with designer post-war furniture.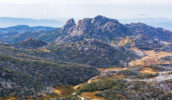 While the concrete floors and thatched ceiling will be considered "raw" by those wanting a lavish hotel environment, others with a fine eye for design will luxuriate in Boyd's masterful architecture and resistance of superfluous decoration.
"I just fell in love with the houses. It's like walking into a piece of art," says Mitrakas, who was as impressed by the virginal vegetation as he was Boyd's architecture. "It's the most pristine countryside. There's over a thousand indigenous species, established hundreds of years ago."
While the gnarled scrub is almost primeval, it's the first glimpse of Boyd's Baker House that sets visitors' hearts a flurry. Constructed in bluestone with a tin roof, the low, ranch-style home is beautifully framed by 12 curvaceous forms. Enclosing water tanks, these bluestone forms point the way to eco-friendly architecture.
Designed around a central courtyard, the house provides access to an internal garden on two sides. The sandstone courtyard, with a silvered, weathered timber canopy (originally covered by fly-wire to keep insects out) and pond can also be enjoyed from other parts of the house. Boyd strategically placed small picture windows above baths and vanity units, as well as in bedrooms.
While the concrete floors and thatched ceiling will be considered "raw" by those wanting a lavish hotel environment, others with a fine eye for design will luxuriate in Boyd's masterful architecture and resistance of superfluous decoration.
The Dower House, 200m distant, features the same bluestone detailing as the Baker House. However, rather than a more formal rectilinear arrangement, the Dower House features a series of curved stone walls, both internally and externally. Although there isn't a central courtyard, there are several outdoor nooks leading from bathrooms and the dressing room, the latter being one of the most intimate spaces in Boyd's design. Guests can also enjoy exploring the Roy Grounds Library on site, designed by Sir Roy in 1978 (responsible for the National Gallery of Victoria).

Boyd Baker House // Long Forest Rd, Bacchus Marsh, Vic. From $3000 per week, www.boydbakerhouse.com.au, 03 8508 6444.
Casuarina Beach House: a touch of the fifties
Those who prefer "new", rather than revisiting the past, will be delighted to stay at the Tonic Beach House at Casuarina Beach on the NSW far north coast. Sandwiched between Kingscliff and Cabarita, this idyllic location is actually only a 20min drive from the Gold Coast Airport.
This house will rekindle memories for any baby boomers who spent their holidays in a beach shack. Although this time around there's considerably more space and comfort.
Designed by Lahznimmo architects as their own weekender, it's regularly available to rent at most times of the year. Inspired by fibro shacks of the 1950s and '60s, Tonic is 200m from the shore and just a short walk from the recreation centre, which includes tennis courts and a gym. There's also a bar, restaurant and pizza joint next door.
Made from concrete face block work and painted fibro cement, the façade of this house includes a timber batten screen to diffuse light and create privacy. Like many holiday houses from the '50s, there's a large bunkroom for children on ground level (for up to four children). And on the first floor, located above the carport and entrance, are two bedrooms for adults. This house will rekindle memories for any baby boomers who spent their holidays in a beach shack. Although this time around there's considerably more space and comfort.
Featuring floor-to-ceiling glass louvred windows and large sliding doors, Tonic is designed to embrace the elements, be they coastal breezes or the sound of waves. Whether you want to relax on one of the decks or appreciate the crafted plywood ceiling in the living room from a '60s style armchair, the emphasis is on relaxation. Pivotal to the design is a large kitchen linked to a protected courtyard, ideal for alfresco dining. Those with dogs will also be pleased to know that this beach house is part of the dog-friendly rental scheme, as long as the dog is short haired.
Tonic Beach House // Cottonwood Lane, Casuarina, NSW. From $790 per week, book via www.ljhooker.com.au/kingscliff or on 1800 676 771.
North Stradbroke Island: Fibro and Timber
Stradbroke Island is recognised for its architectural gems as much as its natural beauty. A two-hour drive from Brisbane and a short barge crossing from Cleveland, there are plenty of surf as well as family beaches – and "Eddie's Place", a fibro and timber house at Point Lookout, was designed by Architect Chris Battersby as his own weekender. Offering views of Main Beach and Gorge Walk, it comfortably sleeps eight.
The starting point for Battersby's design was an original fibro shack on the property. Originally built in the late 1940s, the shack was renovated to include a separate bedroom and a large open plan living/bedroom, as well as a bathroom.
A new house is connected to the shack via a translucent polycarbonate and timber stairwell. The house, made from fibro cement and timber, is spread over several levels, with the open plan kitchen and living areas enjoying views of the dunes and water. Two day beds in the living areas allow for guests staying the night.
One of the most pleasurable aspects of this house is the generous covered deck leading from the living areas. While the call of the surf is strong, it may be difficult getting up from the deck chairs. Even though the North Straddie house has sufficient creature comforts, it was designed to control the elements, rather than shut them out. The home's shugg-style windows, for example, allow for wind control.
Ideal for two families (one using the house, the other the shack), this getaway celebrates the outdoors while indoors.
Eddie's Place // Point Lookout, North Stradbroke Island, Qld. From $750 per week, call Chris Battersby on 07 3852 1765.
Dunsborough: The Australian Vernacular
Just shy of southwest WA's celebrated Margaret River region, this architect-designed getaway overlooks sparkling Geographe Bay. Designed by Wright Feldhusen architects for a British couple wanting "The Australian Vernacular", the clients live in a period home in central London. "They wanted the exact opposite down under," says architect Rachel Feldhusen.
Surrounded by native bushland, their Dunsborough Residence (known to renters as Dunsborough Ocean Views) is made from locally quarried rammed earth, steel, teak and glass. Split into two wings with a central open plan kitchen and living area, it includes six bedrooms (including the main bedroom). Frameless glazed windows and slender angular steel columns create the ambience of a large verandah, typical of the Australian weekender. The teak plywood-clad beams have a striking effect from both the living areas and the grounds of the property. "Our clients mentioned that the living areas feel like a canvas awning attached to the side of a caravan," says architect Tim Wright, co-director of the firm.
But, unlike an old verandah overlooking the humble backyard, this home enjoys a range of outdoor pleasures from the swimming pool to the built-in BBQ. Guests can enjoy the surrounds from either an armchair on the deck or while luxuriating in the bathtub in the open plan bedroom/ensuite.
Combining rustic rammed earth with the refinement of steel and glass, it's not surprising that the Dunsborough house, with past guests that include the Rolling Stones' Ronnie Wood, received a residential award from the WA chapter of the Australian Institute of Architects in 2008.
Dunsborough Ocean Views // Geographe Bay, Dunsborough, WA. From $500 per night, call Blue Bay Property Services on 08 9755 3667.
The Kilns: curious twins in Bright
Designed by Swaney Draper Architects, this unusual home in Porepunkah just northwest of Bright in northeastern Victoria cleverly infuses the past with the present. Nestled at the foot of Mount Buffalo around 240km from Melbourne, the property was once used for tobacco growing – and the kilns, used for drying out the crop, now form the main feature of the house.
While they appear entirely original, both kilns were completely rebuilt. They're now used as two living areas in the house, one ideal for adults, the other for children. As expected, the ceiling heights in the kilns are impressive, as is the sense of walking through history.
The two kilns were positioned either side of a large timber deck, accessed via glass doors and bridged with a timber pergola.
To create this family retreat, Swaney Draper included an elongated pavilion that steps away from the kilns. Constructed of masonry, the new wing is separated from the kilns by an enclosed breezeway with glass walls and louvred windows. The new wing includes three bedrooms and bathrooms, with the main bedroom a few steps away from the formal lounge. The two children's bedrooms are strategically placed near their kiln.
"We thought about the design and came up with the concept of a verandah," says Architect Sally Draper. "In the breezeway, you feel as though you're walking through the landscape." And with cattle roaming freely up to the house, the rural experience is as close as you could hope for.
The Kilns // Cavedons Lane, Porepunkah, Vic. From $250 per night, 0408 553 332, www.kilnhouse.com.au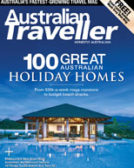 Enjoy this article?
You can find it in Issue 29 along with
loads of other great stories and tips.