Chris Smith falls into a classic holiday trap, then chats to a modern-day Robinson Crusoe who owns an island and is searching for his Girl Friday.

Holiday trap?
There are spots on this continent I will never return to. And it's often not about the inferior location or substandard accommodation. It's often the customer service.
Despite some improvement in recent years, you don't have to go too far in this wide brown land to cop single star service, and managers who think they're doing you a favour by taking your booking.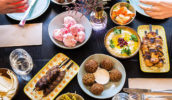 But it can get worse, even after you depart, when managers carry out an inspection on your room or apartment without you being there. Be aware, be very aware, of this practice.
I recently fell into this trap at Terrigal on the NSW Central Coast, where there's a classy clifftop resort, a collection of luxury apartments called Star of the Sea. What rooms! What views! What mammoth balconies and spas! Not to mention our kids' favourite, the fastest pool slippery-dip in the world. But there endeth the praise.
All that turned to mud when we returned home, only to receive another bill in the post for additional cleaning services. Despite four parents spending two hours cleaning our four-bedroom apartment spotlessly, we were whacked with a few hundred dollars more in cleaning fees.
In the first of our telephone arguments, we were told, "It was left in a terrible condition." Having worked my own fingers to the bone, I have no doubt at all that this was untrue. What's more, any further discussion about the issue, which we fought as a matter of principle, was met with irrational indignation. Just plain rude.
Is it scam, or do they employ a crew of overly meticulous cleaners?
Funnily enough, after telling friends of our experiences, two reliable and trustworthy people confirmed that they too had been whacked with a similar post-stay bill at Star of the Sea – and were equally convinced it was undeserved.
Is it scam, or do they employ a crew of overly meticulous cleaners? The point is, double dipping can spoil a damn good holiday – and it's a timely reminder to all of us, before we hurry off on the next leg of our trip, to insist on a joint inspection. Maybe it should be an industry regulation?
Romantic Restoration
Only a rare breed strives to experience paradise alone. Tourist packages seem to be all about creating romance for couples – and it's taken 12 years for one former corporate high-flyer, who escaped for the ultimate sea change, to work this out. This month I spoke to 66-year-old David Glasheen, a very wealthy, very interesting gentleman who now knows that man cannot live on reef fish and coconuts alone.
David, the grey-bearded owner of beautiful Restoration Island off Cape York, found a truly heavenly piece of Australia and bought it on a 50-year lease for seven figures. But there have been two things missing: companionship and love. (With apologies to his dog, Quasi.)
Last year David launched a worldwide search for his Girl Friday via the dating website RSVP – and the tidal wave of keen interest came surging in. Then, in September, David completed his first hunting trip for love, after dating women in Queensland and NSW – two of whom are soon heading up to the small pristine resort for a "road test", for want of a better phrase. Although not at the same time, David is careful to point out.
This tropical Garden of Eden has welcomed some of the world's most famous people – Russell Crowe and his wife Danielle were there quite recently, as was McDonalds' former world boss Fred Turner, with his massive cruiser and floating helicopter. "Some of these people arrive unannounced," says David. "Like Crowe. He just showed up during his honeymoon. I had no idea who he was. We don't get exposed to TV or movies on this place."
After a European TV crew flew in to report on Glasheen, hits to his RSVP profile page quadrupled overnight. "The story went to a billion people and off it went again," says David, which prompted him to take on French and Spanish speaking exchange students in order to sift through the many applications of amour.
David says he's yet to be struck by love, so the search for his Girl Friday goes on. "I'll know in a nanosecond when it hits. It just hasn't happened that way yet. It could be me."
Meanwhile, David and Quasi are still watching those gorgeous island sunsets, sipping on his own island brew, "Dreamtime Draught", and watching his famous guests experience the ultimate escape. "Whatever happens or doesn't happen, I'm still living in the best place on earth. I'm in no hurry."
*HAVE YOUR SAY: Got a question or a comment for Chris? Email csmith@australiantraveller.com and tune in to 2GB 873 every weekday afternoon.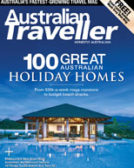 Enjoy this article?
You can find it in Issue 29 along with
loads of other great stories and tips.