Gourmet travel for those seeking the luxurious Australian weekend
Eat Like The Rich
The challenge: to put forward three visions of gourmet splendour available only to those with capacious purses and large appetites. Or for those like me – and perhaps like you – who occasionally like to lash out on the gob-smackingly good. I offer these three real live choices to reach gourmet Nirvana Downunder. Start saving now.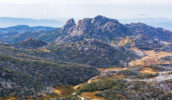 It's Truffle Time
Wunderkind chef Tim Pak Poy has had a long and personal relationship with truffles. Once the sole source was either France or Italy; now truffles are being "planted" in Tasmania, Victoria and NSW. Tassie truffles, however, were the first domestically raised. And Tim knows all about them.
From early July, Tim's The Wharf restaurant begins a series of truffle-focused menus. Truffle-infused eggs lightly scrambled, truffles shaved over handmade pasta, truffles sliced thinly and inserted under the breast skin of a roasted free-range chicken. These are just a few of the traditional dishes Tim has served. Each year new masterpieces are created. The wine list more than adds to the experience. For pure luxury, choose a great wine, sit back and slowly develop your own personal truffle passion.
Priced from approximately $110 per person depending upon the number of dishes with truffles. The sky is the limit with the wines.
The Wharf
Pier 4, Walsh Bay, Sydney (02) 9250 1761, www.thewharfrestaurant.com.au
Ten Years Of Grange
The Grange restaurant at Adelaide's Hilton hotel is not your average hotel dining room. The chef of the Grange for the last decade is the Master Cheong Liew. This man's kitchen pedigree is longer than Larousse. He's a national treasure and his cooking has set the standard for Australian Cuisine. Until Cheong came along it was arguable that Australia even had a national cuisine.
Choose the eight-course Tasting Menu with matching wines and go for a wonderful ride. This is sheer excellence, memorable to be sure, but the Grange does the seemingly impossible: perfection. Be prepared for a taunting, teasing and even haunting dining experience. No-one can cook like this at home.
The wine list is a compendium. Eschew the matching wines if you like and start with a bottle of Champagne. Then drink a 1971 Grange, or something else equally exquisite and expensive. After all, this is total fantasy wining, isn't it?
To cap it all off, stay overnight in one of the Adelaide Hilton's executive floor suites above. That way, after dinner, all you need do is go up. $159 per person for the eight-course menu, plus $75 for the matching wines.
Grange Restaurant
233 Victoria Square, Adelaide (08) 8217 2000, www.hilton.com
Your Own Personal Chef
Now that Christine Manfield is loose from her marvellous Paramount Restaurant in Sydney and her East@West in London, she conducts gastronomy tours around the globe, writes cookbooks and runs a successful business supplying gourmet delis. Occasionally she does a special dinner. I asked her about doing a private dinner for eight. Yes, she'll do it.
Imagine having the Spice Mistress cooking for you and your friends at a special venue of her choosing, dining on a mystery degustation menu comprised of her signature dishes using the world's finest ingredients and with wines she thinks best suit the meal. Christine will bring her staff, arrange the wines, the venue and leave you with a lifelong memory of what the rich really do enjoy: their own personal chef.
Not including Manfield team travel and lodgings, for eight diners you'll be up for something approaching a cool $26,000.
Christine Manfield: food@christinemanfield.com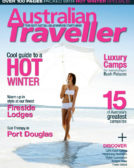 Enjoy this article?
You can find it in Issue 16 along with
loads of other great stories and tips.