Still in the northeast of Australia, the now-famous new kid on the block, qualia on Hamilton Island, has reached its final stage with the installation of a helipad and completion of 33 luxury Leeward Pavilions, bringing the total to 60 for the resort. Each has west-facing views to take full advantage of the dramatic island sunsets and rent for $1450 per night, twin share, with the larger Beach House costing more than twice that amount (www.qualia.com.au ).
In the same neck of the woods, around 25 minutes drive from Proserpine and just northeast of Airlie Beach, lies an unbelievable private property called Woodwark Bay Retreat. This lush 4000-acre tropical retreat (surrounded by 50,000 more acres of national park) consists of two stylish main houses, a central communal lodge and a variety of smaller huts set amid the rainforest, with just a short stroll across close-cropped greens to the water's edge and stunning views out to Double Cone Island. The entire property rents for an astonishing $67,000 a week in high season (www.woodwarkbay.com.au).
Heading south
Perhaps Sydney's most expensive suburb when it comes to renting private beach houses, Palm Beach also leads the region in style – and exemplary choice. A few standouts include the "Caribbean Hideaway" (a refurbished four-bedroom 1920s sandstone home for $17,000 to $20,000 per week); the "Midori" (a modern, multi-levelled masterpiece in white and glass for around $18,000 per week); and the "Lanai" (with a stunning upper level comprising of 700m2 of living area, pool, cabana and more for around $30,000 per week in summer). 
Another Palm Beach home that shouldn't be overlooked is Kalua, a national trust property that was one of the first homes to be built in the area. Seven bedrooms, wide verandahs, massive gardens, tennis court, swimming pool, a chipping green . . . all sprawled across two acres of street frontage right on Ocean Road – and it can be yours for $38,500 a week in summer (www.sydneyvillas.com ).
Heading across to South Australia, their latest luxury addition is the superlative Southern Ocean Lodge on Kangaroo Island, with one night in the Osprey Pavilion overlooking spectacular Hanson Bay costing around $1800 per person, twin share. (If you'd like that room all to yourself, you're talking $2700). There are 21 suites in total at the environmentally conscious Southern Ocean Lodge, which could well represent the most luxurious experience on offer in the region (www.southernoceanlodge.com.au ).
Rent your own island
The idea of emerging from your luxury island bungalow early one morning, before breakfast, say around dawn, just as the discreet staff are stirring to life, then looking around you at the beaches and the palms, throwing your arms wide and saying, "all this is mine . . ." Well, there are few things in life that can compare.
There are a number of top-end options for making this dream a reality – from the aforementioned Wilson Island (maximum of 12 people for around $25,000 for five nights) through to Double Island off the coast of Palm Cove in northern Queensland (where 40 guests for a week will set you back a lazy $157,500). Bedarra Island is another attractive option just off the coast from Cairns, and features 16 villas – including the gorgeous Pavilion and The Point – and can be yours for just under $200,000 for five nights.
But AT's favourite, and most ludicrously luxurious, would have to be securing for yourself the entirety of Lizard Island in the far north of the Great Barrier Reef Marine Park. It remains one of Australia's true luxury resort islands, and features two dozen private beaches studded with 40 villas to house 80 of your friends.
To claim the entire place as your own – which has been done before, rest assured, be it for a wedding or for the fly-in-fly-out visit of an A-List celebrity – costs as little as $454,000 for five nights during peak season (July to November).
And that figure includes everything, from transfers to meals to beverages to selected island activities like diving, sailing, nature walks and gourmet picnic hampers.
If you can't quite muster the dollars to book the entire place out, a four-night Lizard Island all-inclusive package for two people in a top-end Pavilion is only $13,791. Check out www.lizardisland.com.au  for more info.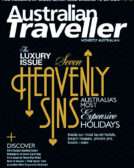 Enjoy this article?
You can find it in Issue 22 along with
loads of other great stories and tips.