If you're striving to be the most stylish thing on wheels on your next luxury holiday, command the road with these decadent Australian touring options.
Driving holidays remain very close to the hearts of Australians of all shapes and sizes, despite rocketing fuel prices. From rugged 4WD or caravanning adventures with the family in tow to carefree top-down cruising of the Great Ocean Road with the wind in your hair, the road-trip possibilities in Australia are endless.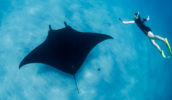 But what are the options at the lofty, luxury, tippy-top end of the road touring market? Currently, the world's most expensive luxury motorhome is the frankly extraordinary Vantare Platinum Plus – created by Florida-based company Featherlite and with a sticker price of a whopping $US2.5 million. And, besides being ridiculously plush in all particulars, it also has a slide-out compartment in its belly that fits another full-sized sedan car for little side trips and whatnot.
But before you and 200 of your mates decide to band together and take the safeties off your credit cards, we should tell you that the Vantare Platinum Plus is not yet available on Australian roads. But until that decadent day arrives, the Winnebago Classic – easily Australia's most luxurious motorhome – should fit the bill nicely.
And the phrase "fit the bill" has probably never been applied more appropriately, since you're looking at a cool $613,000 to squeeze a Winnebago Classic into your hopefully 40ft-long driveway.
Considered the Bugatti of Australian motorhomes, to step into a Classic is to enter a world of pure on-road magnificence. We've commented in these pages before that holidaying in a Winnebago is like taking your apartment for a drive; the Classic takes this one step further, assuming your apartment is furnished predominantly in high-quality leather and has three LCD flatscreen TVs and a cocktail bar.
Stroll from your full oak kitchen to the dining area, to the bathroom, and on to the double bedroom. Automatic slide-out rooms, a pullout pantry and storage compartments make for an abundance of elbowroom. In the kitchen, quality Corian bench tops join a large refrigerator, oven, grill, large convection microwave, sink and four-burner LPG gas stove. Across the way a large leather couch awaits, right in front of just one of the TVs, along with a huge oak table from where you can enjoy meals prepared in the kitchen.
Another of the TVs is in the bedroom, with the third in an exterior compartment packed with a wine cooler and quality stereo sound equipment – for those occasions when you want to watch DVDs from a deckchair outside. Oh yes, and there's a washer/dryer for cleaning your clothes while you're on holidays, plus the entire place is air-conditioned to within an inch of its life – a particularly good feature when you find yourself somewhere like Broken Hill in the middle of high summer. On the flipside, there's a diesel furnace heater in case you're snow- or Tasmania-bound for your next trip.
They say there's no second chance to make a first impression. The Winnebago Classic ensures one won't be needed. Call 1800 102 201 or check out www.winnebago.com.au for more info.
Other ways to hit the road in style
There are a multitude of luxury touring options around Australia that have the high-end road experience firmly in mind – and they don't all involve cars.
For example, Vicmoto Motorcycle Tours is a luxury BMW motorcycle passenger tour service operating out of Melbourne that offers single- and multi-day trips to essentially wherever the customer so desires. Prices start at $200 for half-day tours, however, using top-of-the-line BMW K1200 GT SE motorcycles, Vicmoto offer a variety of set itineraries as well as the flexibility to design your own custom tours. Like one recent set of travellers who used Vicmoto to return to Melbourne following a conference in Adelaide – took them a day and a half and cost around $960.
Another great motorbike company that's more outback oriented is the encouragingly named "Stay Upright", which offers high-end Adventure Tours of all kinds: a seven-day Simpson Desert Crossing will set you back $4900, while an eight-day Cairns to Cape trip is around $3990. Check out www.stayupright.com.au for more information.
If that all sounds a bit too dirt-in-the-goggles for your tastes, there's always the more luxurious option of exotic car hire. Can you picture yourself hugging the corners of the Great Ocean Road in a Ferrari, Maserati, Porsche or Lamborghini? Around $1200 per person will set you right, including car rental, tour guide, morning tea, lunch and even a helicopter ride. Call (03) 9427 8400 or check out www.greatoceanrd.org.au for more info.
Or if winery touring is more your style, you can book a chauffeur-driven Classic 1962 Daimler to take you at your leisure through SA's Barossa Valley or the wineries of the Fleurieu Peninsula for just under $5000, included two nights accommodation (www.redballoon.com.au).
Luxury at 300km/h
When it comes to sticker price, nothing comes remotely close to the amount of cash poured into your average Formula 1 car. However, unless you have the kinds of connections the rest of us only dream about, chances are you're never going to get a drive in one (in fact, if you have, we'd love to hear about it). The next best thing, of course, is being trackside for all the action of the Australian F1 Grand Prix in Melbourne.
There are plenty of packages available to take this trip in style, and AT has seen a few good ones – including accom at Crown Towers, four-day race pass and tickets in the Brabham Stand for around $1980 (www.f1corporate.com ). But nothing we've seen so far comes close to the kinds of packages being organised by Sportsnet Holidays (1300 888 858, www.sportsnetholidays.com).
For upwards of $10,000 per person, you're met at the airport and whisked to the Park Hyatt Melbourne for four nights lodging. You're then given daily private transfers from hotel to track, a four-day corporate hospitality pass entitling you to food, drinks, reserved-seat dining, a dedicated viewing area overlooking Pit Straight, plus morning and afternoon tea, gourmet buffet luncheon with dessert and full bar service every day. Tickets to the Official Grand Prix Ball are thrown in, along with a champagne breakfast on the Sunday morning and (gasp!) a pit walk per day for each guest. Private access to a rooftop tiered viewing deck is the icing on the cake, as is a helicopter tour of the CBD and the Albert Park Grand Prix circuit before being whisked back to the airport at the end of it all.
 Now that's what we call a road trip.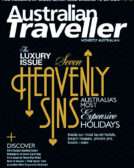 Enjoy this article?
You can find it in Issue 22 along with
loads of other great stories and tips.