Photographer Kirra Cheers shows why Australian Travellers are the luckiest travellers in the world
Travel is an addiction. A bug that is so catching, it sneaks up on you and before you know it you have discarded security and roots for an eternal pilgrimage to unknown destinations.
Well, that's how it was for me anyway. I dream about waking up somewhere new every night, about the freedom to move on at a moment's notice. A life with an ever-changing backdrop is the life for me.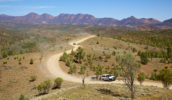 It all started with a small and slightly weather-worn camper trailer that someone once likened to a sewing box. There it was, the seed planted firmly in my mind. So, after completing my studies in photography, I set off for the adventure of a lifetime with my camera in hand. I have always had a firm belief that people should see their own country before they visit someone else's. With so many of my friend's jet-setting off around the world to discover other countries, I was proud to be discovering my own.
It's hard to appreciate the vastness of the country until you actually travel through it. From the lush forests in Pemberton where the trees are in such vicious competition for sunlight that they grow as tall as giants to reach it. Or perhaps the Nullarbor plains that resemble a landscape you would expect to see in a photo of mars and inspire names like the 'treeless plain'. From Coral Bay's idyllic waters teeming with wildlife to the barren land surrounding the Fortescue River, where the baked red dirt is almost fluorescent, Australia displays such vast diversity. Many Australians forget that some of the most spectacular sites and adventures are to be had in our own backyard.
The trip became known as The Sewing Box Adventure and was just the start of many adventures to come. My only constant companion: my camera. I welcome the travel bug like a new found friend. Together we can discover the world.
– Photographer Kirra Cheers submitted this portfolio as part of our Virtual Internship Program. If you are a budding travel writer or photographer and want to find out how to get your work on the Australian Traveller website, contact us at interns@australiantraveller.com