From heritage highlights to cutting-edge art installations, Karen McCartney gives us a personal design tour of Australia that appeals to all the senses, part of our 100 Incredible Experiences (right here in your backyard) special issue. 
1. Life on the lake – Pumphouse Point, Lake St Claire, Tasmania
Taking the notion of adaptive re-use to a new high is the reinvention of two industrial buildings by Cumulus Architects in the heart of a wilderness area in Tasmania. The Shorehouse, an Art Deco hydro sub-station and The Pumphouse (sited 250 metres out on the lake itself) were built in the '40s as part of the State's Hydro Electricity Scheme and decommissioned in the 90s.
Why it's special: Their skilful refurbishment provides the perfect base for nature walks, cycling, or more my speed, spa treatments.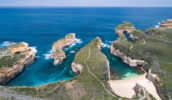 2. Future proof – Mona, Hobart
Designed by Melbourne practice Fender Katsalidis Architects, with the brief to 'create a functional receptacle not an architectural spectacle', The privately owned Museum of Old and New art holds a curated mix of ancient and modern. The firm also designed the accommodation – eight MONA Pavilions on the Derwent River named after great Australian architects (we stayed in the Roy, after Roy Grounds); all kitted out in furniture normally seen in galleries.
Why it's special: a tour de force that reflects the passions of its owner David Walsh.
3. A smooth finish – Port Phillip Estate – Mornington Peninsula, Victoria
Designed by architects Wood Marsh, the Port Phillip Estate restaurant faces uninterrupted views of the country while the wine vaults are designed with the same virtuosity as the building above.
Why it's special: The sweeping curves of the building pay homage to the landscape.
4. Finely crafted space – The Jamfactory, Adelaide
The JamFactory is one of the country's premium craft spaces, priding itself on the quality of its design and craft talent. Guided by director Brian Parkes, it embraces disciplines including ceramics, metal work, furniture-making and glass blowing. Active working studios sit alongside a gift shop showcasing the impressive on-site skills, while an exhibition space makes it a truly rounded experience.
Why it's special: The range and display and the ability to see glass-blowing in action.
5. China rising – White Rabbit Rallery, Sydney
A visit to the White Rabbit Gallery is a chance to see some of the finest examples of 21st-century Chinese art. It is the largest of its kind in the world with owner, arts philanthropist Judith Neilson, amassing a collection of more than 1000 works. The entire space is re-fitted twice a year to showcase new pieces. Admission is free and there is a beautiful tea room hung with birdcages to rest after the thought-provoking experience.
Why it's special: An unparalleled opportunity to see some of the most innovative contemporary art from China.
6. Functional beauty – The Bowden Centre, Mount Annan, NSW
The Australian Botanic Garden is the largest in Australia with amazing bushland and bird life. It is also the location of the award-winning Kennedy Associates-designed Bowden Centre – a multi-functional space for teaching school groups, workshops and seminars, and even weddings.
Why it's special: This simple, elegant and sustainable building won the Sir John Sulman medal for Outstanding Architecture in 2008.
7. Public space perfected – Queensland Art Gallery, Brisbane
With its twin building, The Gallery of Modern Art (2006), the Queensland Art Gallery (1982) forms QAGOMA, a cultural hub on Brisbane's South Bank. Designed by Robin Gibson, the art gallery won the Sir Zelman Cowen Award, recognising both its value to the riverside site and the internal planning. The 4700 square metres of display space are treated in such a way as to create a sense of flow.
Why it's special: Gibson was keen that the art world and that of the public interacted and merged; something that's realised brilliantly.
8. Climate cool – Burnett House, Darwin, NT
One of a cluster of four 1930's houses to survive the devastating Cyclone Tracy in 1974, Burnett House is a fine example of pre-Second World War Darwin architecture. Visitors can wander through the houses at their own pace (not to mention have afternoon tea in the gardens) and admire the ingenuity of this lightweight structure, which maximises the use of louvres for cross ventilation.
Why it's special: It is a simple, intelligent design that is climate appropriate and showcases the work of architect B.C.G Burnett in the best surviving light. See nationaltrustnt.com.au
9. Inspiring interiors – Hotel Hotel, Canberra
Hotel Hotel has embraced the best architectural, artistic and design minds in meaningful collaborations to produce extraordinary outcomes.
Why it's special: It is worth a trip to Canberra for this experience alone; its striking foyer will take your breath away.
10. Masters in Melbourne – Heide Museum of Modern Art, Melbourne
So strong is the artistic spirit at Heide that it effortlessly combines art and architecture, including where they intersect with landscape and social history. It began when patrons of the arts John and Sunday Reed (pictured) bought an old dairy farm in 1934 where they welcomed artists (Sidney Nolan created the Kelly series there). When they outgrew the original cottage they commissioned the fledgling architecture practice McGlashan Everist to design 'a gallery to be lived in', in the modernist style.
Why it's special: Filled with art, it is an experience to wander through the rooms and witness the balance of home and display spaces. This philosophy extends to the landscaping where artist gardens blend nature with sculptural works.
Words: Karen Mccartney – best known for her work in the world of interiors, architecture, design and homewares. In Australia (Karen is originally from the UK) she was editor of both Marie Claire lifestyle and launch editor of Inside Out, a magazine she ran for 10 years. Her new book Perfect Imperfect, published by Murdoch Books, is out April 2016.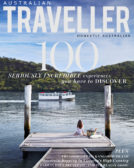 Enjoy this article?
You can find it in Issue 68 along with
loads of other great stories and tips.