Hunter Valley, NSW: This was taken with a Nikon D7000 which I had only just bought. The lens was a Nikkor 18-105 f/3.5-5.6G.
That morning the camera was set on the dreaded auto, as I am very much the novice and I was still finding out what it can do.
It was a magical morning, with 18 balloons ready for flight as part of the Hunter Valley Balloon Festival held every October. They lifted off at about 7am and there was colour and movement everywhere, yet it was peaceful with the beautiful sunrise surrounded by a landscape of vineyards.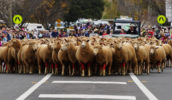 A perfect way to start the day!
By: Amanda Hannah, Bolwarra Heights NSW