The final instalment of our Big Things column goes back to the original — the Big Banana in Coffs Harbour, NSW
In 1995, the big Banana was voted the most bizarre and grotesque tourist attraction in the world by 200 globetrotting young Australians, edging out the Big Pineapple at Nambour and the Giant Penis seat in Amsterdam's Sex Museum.
American entomologist John Landi loved Australia so much while on a six-month research trip in 1962 that he and his wife, Betty, decided to emigrate and purchased a five-hectare banana plantation at Macauley's Headland, just north of Coffs Harbour. Inspired by a large pineapple he had seen on top of the Dole Cannery in Hawaii, Landi figured a similarly bewitching banana would help promote sales at his roadside fruit stall. The local chapter of the Banana Growers Federation thought it was such a good idea they agreed
to meet half the construction costs.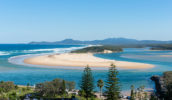 Builder Alan Harvey began work on the 13m long, 5m high, 2.4m wide banana in September 1964 and had it finished in just three months, allowing the impressive-looking timber-framed, lurid yellow ferroconcrete structure to open just in time for Christmas.
In 1968 Landi sold his share of the business to his partner John Enevoldson, who kept it until 1988, when it was purchased by local entrepreneur Bob Johnson. Johnson acquired adjoining properties and undertook a $30 million redevelopment of the complex, turning it into a showcase for horticultural education. However, it all went pear-shaped, and current owner Kevin Rubie and his wife Marie bought the complex from administrators  in 1993.
No mere monstrous foodstuff, today the Big Banana is an educational resource and home to a myriad of banana-based recreational and cuisine delights. You can buy a bewildering bevy of banana products including fresh bananas, dried bananas, chipped bananas, banana jams, banana chutneys and banana pickles, choc-coated frozen bananas, banana splits, banana cake, banana muffins and banana smoothies. Or you can go on a real banana bender in the souvenir shop, which boasts hundreds of balmy banana products, from the practical to the bizarre to the tasteless. Our favourites are the four different varieties of fridge magnets and the Big Banana water pistol.
Many people think the Big Banana has shrunk, secretly replaced by a smaller version a few years ago. "We did move the banana a few metres forward and a metre or so higher in 1995 to give it better visibility from the Pacific Highway, but it definitely hasn't shrunk," says Rubie. "It's just that people who come back to visit have grown up."
Rubie is determined that the Big Banana will maintain its status as one of Australia's best-loved icons. Earlier this year an application for heritage listing for the original structure was sought and consultants were hired to "give the complex a new vision to take it into the future as an exciting and dynamic
21st Century attraction."
DETAILS: The Big Banana
Where: Pacific Highway, 3 kms north of Coffs Harbour, NSW
Contact: Phone: (02) 6652 4355
Website: www.bigbanana.com
* Big Things: Australia's Amazing Roadside Attractions by David Clark is published by Penguin Books, rrp $24.95.
For our final visit to Big Things, we're going back to where this rash of roadside sculpture all started over 40 years ago: the Big Banana at Coffs Harbour, on the NSW North Coast.
By David Clark*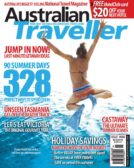 Enjoy this article?
You can find it in Issue 6 along with
loads of other great stories and tips.