Australian Traveller looks at the remote camping outpost of West Alligator Head in NT's Kakadu National Park.
When it comes to camping, we've tried to find one site that's as off-the-beaten-track as possible. Hardy travellers Steve and Alison Kruger reckon it's hard to go past this remote area of Kakadu.
West Alligator Head is a fishing and birdwatching paradise. Getting there is a short but challenging 4WD trek on the Waldak Irrmbal Track southeast of Darwin. The track leaves the Arnhem Highway just 2km inside the North Western Entrance to the World Heritage-Listed Kakadu National Park. This area has limited access, as the track crosses the dark soils of the Wildman and West Alligator River flood plains, which remain water saturated months after the end of the wet season.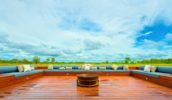 The 81km drive into West Alligator takes you past two good camping spots on the Wildman River: 2 Mile and 4 Mile Waterholes, named for their length, not their distance from the turnoff. These are both fresh waterholes with their own bush camping areas. But, frankly, once you've experienced the paradise ahead, you'll decide to stop at the waterholes for a spot of morning tea or a quick overnight camp only. Take care after the turnoff to 4 Mile Waterhole, as the track becomes more narrow, winding and corrugated. Engage 4WD to tread lightly and to ensure you don't damage the track. Additionally, decreasing your speed will ensure you don't flick up one of the many sticks on the edge of the track that can easily stake a tire or damage your undercarriage. The track can become impassable after wet weather for months at a time, so be sure to keep one eye on the skies during your visit or you'll end up staying a lot longer than you'd planned.
As the track winds its way through the dry savannah woodlands for which the area is famous – and through various fire-scorched sections – you'll encounter groves of screw top palms; these have the appearance of a giant screw, which becomes very obvious when the old foliage has been burnt from their tops.
Finally the woodlands yield to the flood plains of the local rivers and are replaced by tall grasses. When this vegetation is burnt out by one of the many fires common to the area, it quickly sprouts anew, becoming as green as the grass on a well-watered suburban front lawn. This lends a hint as to the moisture that exists just a few centimetres below the surface. It's always a striking contrast between the charred and blackened remains of the burnt grass and the verdant green of new growth. Once you cross the plains, you quickly find yourself 4WDriving along the edges of sand dunes towards the beach, once again surrounded by savannah woodlands.
keep one eye on the skies or you'll end up staying a lot longer than you'd planned. 
Camping is only permitted in three areas at West Alligator Head, on a first-come first-served basis. The smallest area will accommodate only two vehicles and the largest some 30 or so. The pick of the camping areas isn't Pocock Beach, but a small private secluded beach on the eastern side of the headland. This site accommodates about five vehicles. The 4WD across the headland to this beach takes you through a monsoon forest in which kangaroos, wallabies, bush turkeys, birdlife and flying foxes are plentiful.
Upon reaching this secluded cove, you'll find that the high tide mark is so close to your campsite that you'll be able to cast a line to catch that barra or salmon and still be only a few metres from your esky, fireplace and sleeping bag. Keep in mind: when you're beaching your boat, there's a huge difference between the high and low tide marks in this area, and once the tide retreats all you're left with is soft mud.
From October to December is turtle nesting season; they use the beach dunes for nesting, so 4WDs aren't allowed on the sand except to launch boats. If you take your torch and you're careful, you just might find a nesting site. But please remember that they're protected and easily frightened. Something else to keep in mind is that these are crocodile-infested waters; sightings along the beach are common, including reports of a 4.5m croc in the area, so swimming is far from recommended.
Birdlife abounds in this area, with the blue-winged kookaburras being particularly friendly. These cheeky devils have the ability to hold a hermit crab in their beaks, which they then smack onto a branch until the borrowed shell is broken. The unprotected crab then falls to the ground and the kookaburra swoops down to eat its waiting meal.
If your visit happens to coincide with a rising full moon, you'll be treated to the visually spectacular scene of a huge, red, glowing orb lighting up your private cove and beach. The colours are strong and reflect from the calm ocean as though set on fire.
You never know who you might bump into in this idyllic paradise. During our last stopover, our camp was visited by the guys from HEMA (map-makers extraordinaire) in their Map Patrol vehicle. Over a cup of coffee, Charles and Keith told of their work. Surely they must have one of the best jobs in the world! They were replotting the route into West Alligator Head with GPS units for the next series of maps of the area. So make sure you visit before this secret is out and paradise is lost.
DETAILS // West Alligator Head
Getting There // The track leaves the Arnhem Highway 2km inside the North Western Entrance to Kakadu National Park, 170km southeast of Darwin.
Best Time To Visit // August to October – but be sure to check if the track has re-opened following the end of the wet season.
Permits // No permits are required as long as you camp within designated camp areas.
Camping // Camping is free and in designated areas only. Fires are allowed only in the cement rings provided. Be aware of any fire bans that may be in place.
Amenities // Basic in the main camping area at West Alligator Head, limited or none in the Pocock Beach, 2 and 4 Mile Waterhole areas. No drinking water available, and no rubbish disposal provided – so please take all your rubbish out with you.
Contacts // Bowali Visitor Centre Parks Australia North, (08) 8938 1120, kakadunationalpark@deh.gov.au, www.deh.gov.au/parks/kakadu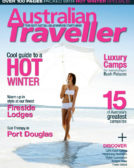 Enjoy this article?
You can find it in Issue 16 along with
loads of other great stories and tips.