We do love a town with a pub that lets you park your airplane out the back. Perched only a couple of hundred dusty kilometres from the junction of three states (Qld, NT and SA) and the vastness of the heartless Simpson Desert lies Birdsville, one of the most isolated towns in Australia.
Getting yourself out there is done in one of two ways: by chartered plane over the outback; or by road, preferably 4WD, often including the Birdsville Track (immortalised in the 1954 film, The Back of Beyond, starring mailman Tom Kruse who used the Track to deliver mail each fortnight). Each year in September, people stream from all over for the famous Birdsville Races, where horses (and once, thanks to equine flu, wheelie bins) are raced around a clay track, dust exploding all around in an outback version of the Melbourne Cup.
For those into a bit of human contact, there's also Fred Brophy's Boxing Tent, where anyone game (or daft) enough can put themselves forward to take a good, honest, Aussie pounding. During the Races, Birdsville's population leaps from 150 to more than 6000, so of course extra beer kegs are brought in amidst fears that the Birdsville Hotel will run out. It's the right thing to be worried about; the next pub is more than 200km away. (And do you think they'll have ice? Think again.)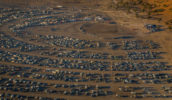 Where? // As the crow flies, Alice Springs is the closest major town to Birdsville, at around 600km to the northwest (although actually driving from Alice to Birdsville is closer to 1200km and 16hrs). Brisbane is 1800km (22hrs) to the east, with Adelaide about 1500km (23hrs) to the south.
Did you know? // 2007 marked the first time humans ran in the Birdsville Races. Horse flu prevented the actual contenders from making their way to the town, so Birdsville held wheelie bin races instead.
Return to: the 100 Best Towns in Australia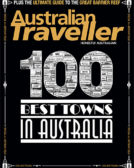 Enjoy this article?
You can find it in Issue 26 along with
loads of other great stories and tips.