Pumphouse Point: an 18-suite hotel, inside an abandoned electrical station, on top of a lake, in the middle of a World Heritage-listed wilderness… it sounds like the makings of grand dreams, but it's actually the long-awaited realisation of one.
Godfather of Tasmanian tourism, Simon Currant AM (who founded Cradle Mountain Lodge and the village of Strahan, among various other triumphs) fought an extended battle to have this building on Tassie's Lake St Clair reclaimed. The finished product – an exquisite, fully restored recluse, featuring heritage fittings and some truly stunning mod-cons – is almost as extraordinary as its isolated surrounds. (Almost.)
We asked the Pumphouse Point developer (and local character) to explain precisely what makes this new hotel so special –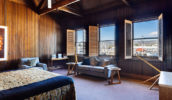 Like a ship in the night (and day)
"All but two of the rooms have absolute lake views, a lot of them have floor-to-ceiling windows over about four metres wide. Looking out those windows with the lake underneath you and the waves going past so fast… it feels as if you're in a ship. Yeah, it's fantastic. It's a given that we have fantastic, comfortable beds, that the rooms are beautiful, that the food is good. But that's not the point. We're merely facilitating you to experience the outdoors."
Don't mention luxury or brands
"No – don't use the word 'luxury' for the furnishings. We didn't use any 'brand' for the furnishings. We decided what we wanted, and we had it custom-made. I hate the word 'luxury', actually. I don't want people getting the impression that here is some stiff, formal resort where someone's going to wipe your arse with martinis every five minutes. Pumphouse is about being comfortable."
Sharing and honour systems
"Dinner is at a shared table, with a menu that changes nightly. It's all hosted and delivered by our own people. There are also two bars, one runs on an honour system. You help yourself then tap in what you had on the iPad we give you at check-in. Very simple, very laidback."
Earning your dinner
"We want you to earn your dinner. We want you to go and have a decent walk in the fresh air, or go for a bike ride, or go on a guided fishing or row-boating trip. There's also a float plane which can pick you up and take you to almost anywhere in Tasmania."
Embracing an industrial past
"This was an industrial building in 1939. Some of the walls still have original, rough-sawn Tassie oak timber, complete with blade marks. The mechanisms that were used to open rolling blinds still hang above the windows. It's extraordinary."
That view…
"Right now I'm looking at Mt. Rufus; it has a huge snow cap on it. It can get snow at any month of the year, although in summer it gets up to mid-30s, and 20 degrees in winter isn't too uncommon. You're at 3000 feet up here. Winter is my favourite time."
Where: Pumphouse Point is located 180 kilometres north west of Hobart (just under 3 hours' drive): 1 Lake St Clair Road (right on the Lake, obviously)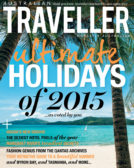 Enjoy this article?
You can find it in Issue 60 along with
loads of other great stories and tips.