An eight-day journey taking in approximately 1030 kilometres of the south-west coast's beautiful beaches and forests, topped off with gourmet adventures around Pemberton and Margaret River (By Daniel Scott).
Tail-wagging, Bella leads us through an avenue of hazel trees. Nose close to the ground, the young black labrador snuffles the base of each tree, seeking out edible gold. Suddenly she stops and begins pawing at the earth. Bingo!
Although the season ended weeks ago, Bella's training has led her to two small black perigord truffles. We're soon savouring the funghi-like delicacies, which fetch up to $3000 per kilo, with a glass of shiraz, at the Truffle & Wine Co. Founded in 1997 near Manjimup, 300 kilometres south of Perth, the company planted imported French truffle spores among 13,000 oak and hazel trees. It has evolved to become the Southern Hemisphere's largest producer and now exports the delicacy back to Europe.
Our truffle hunt comes on the fifth morning of our eight-day drive through the south-west. Up until now, the accent has been on the region's abundant natural charms but this marks the start of our journey's gourmet phase. After flying down to Esperance, we begin our drive by heading into the Cape Le Grand National Park, where the dunes are snow-white and the Southern Ocean collects in turquoise bays. Lucky Bay was officially named – by the National Committee on Soil and Terrain – 'Australia's whitest beach'. Not content with that accolade, the three-kilometre curl of sand attracts kangaroos to freshwater springs bubbling up through the beach.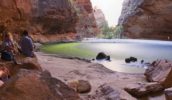 Although they don't all accommodate kangaroos, most beaches along this sparsely-populated south-west coast are made from the same ingredients as Lucky Bay. Two days later, after doing the 500-kilometre drive from Esperance to Albany, and spending an afternoon among enormous cliffs fractured by angry seas in the Torndirrup National Park, we find ourselves on another shoreline of crystalline white beaches, in the William Bay National Park near Denmark.
Backed by coastal bush that reverberates in a dozen shades of green, the beaches form part of Australia's only international bio-diversity hotspot, one of 25 such naturally-gifted places on the planet. We've been led here by local eco-guide Dave Bomba, from Wilderness Getaways.
"It is estimated we have more than 8000 plant species here," Bomba tells us as we swim in Greens Pool, a jade-green ocean lagoon sheltered by lichen-covered granite boulders, "75 per cent of which are found nowhere else."
Moving on from Denmark, we delve into the towering forests that contribute much to the region's bio-diversity. In the Walpole-Nornalup National Park, we walk in a grove of rare giant tingle trees that are up to 400 years old and follow a Tree Top walk through the forest canopy. Driving onto our next base, at Pemberton, huge karri trees soar skyward, the afternoon sun swaddling them in warm light, it's the trip's most uplifting drive.
Early the next day we reach another natural high by climbing the 61-metre Gloucester Tree. Scaling a metal ladder bolted into its trunk is a heart-pounding, 'don't look down' exercise. But we're rewarded with views over the swaying forest canopy and to rolling sand dunes glinting on the distant coast.
Later that morning, we enter the gourmet leg of our trip with a truffle hunt. Returning to Foragers – a farm-based cooking school and restaurant with accommodation, near Pemberton – our culinary adventure continues with dinner, including succulent pot-roasted lamb, created from local ingredients by owner, Maggie Beer-trained chef Sophie Zalokar.
Our trip ends with three days spent among the vineyards of Margaret River.  On our first day, we join a Margaret River Discovery Tour run by local Sean Blocksidge. Seeking to put the region's wine-making into context, Blocksidge includes some kayaking on the river, a trek along the coast, Aboriginal history and lunch at the boutique Fraser Gallop Estate. In 2009, Fraser Gallop won an international award with a $30 cabernet sauvignon, triumphing over others costing 20 times that.
"Let's reflect on what makes Margaret River special," Blocksidge says, as we walk among the vines. "We're surrounded on three sides by water, the warm Leeuwin current flows around the coast and we have the freshest air blowing across the vineyards from the west. Add to that the low-nutrient, low-summer rain terrain and that's why we produce more than 20 per cent of Australia's premium wine from three per cent of its grape production."
That evening we settle into our accommodation at luxurious Cape Lodge, treating ourselves to dinner at its lakeside restaurant. It's such an outstanding feast, including the tenderest WA scallops and local freshwater marron, that we repeat the exercise the following night.
In between sumptuous meals and winery visits, we drive through sun-drenched forests, past row-upon-row of lovingly-tended vines and along a coastline fashioned into bluffs and bays by the continent's biggest surf. It's a reminder that while our south-western journey has been more indulgent than previous drives, the natural scenery rolling past our windows has played an equally important role in another unforgettable WA road trip.
 The Details
Equipment required:
A comfortable 2WD 
Approximate Costs:
• $1460 for Budget hire of mid-sized vehicle – $95 per day plus a $700 one-way fee from Esperance
• $181 for flight from Perth to Esperance with Skywest
• $440 for two nights at Island View Apartments, Esperance
• $215 for one night at Karma Chalets, Denmark
• $420 for two nights at Foragers, Pemberton
• $798 for two nights at Cape Lodge, Margaret River
• $750 for tours for two people with Wilderness Getaways and Margaret River Discovery
• $1600 for food and drink
• $500 for fuel
Total cost = $6364
The route: Esperance
> Lucky Bay > Albany > Denmark > William Bay NP > Pemberton > Manjimup > Margaret River > Perth
Highlights: Swimming at Lucky Bay – Australia's whitest beach, William Bay NP near Denmark, Great Southern forests, climbing the Gloucester Tree near Pemberton, truffle-hunting near Manjimup in Margaret River
Best time of year:
September to April
MORE
Margaret River any way you like it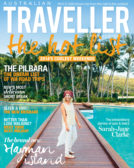 Enjoy this article?
You can find it in Issue 58 along with
loads of other great stories and tips.