Bruny Island Tasmania
June 21, 2011
 Just off the coast of Tasmania you'll find an island with loads of native wildlife, dramatic scenery, intriguing history, rich farmland and some of the best regional food producers in Australia. Elisabeth Knowles is already planning her retirement…
 Where is it?
Hugging the contours of Tasmania's south-east coast, with just a sliver of sea that is the D'Entrecasteaux Channel in between, Bruny Island is so close to the Tassie mainland that you can see it from various vantage points along the western shore. Bruny is basically two islands, North and South Bruny, which cling to each other by a thread of land called The Neck. You could drive non-stop from top (Dennes Point) to bottom (Cape Bruny) in 1.5hrs, but I suggest taking your time and getting out of the car at every opportunity. There's plenty to stop for, including native wildlife, so be careful.
How to get here
You need a car to get around Bruny because there is no public transport on the island. Hire a rental from Hobart Airport and drive to Kettering, 35 minutes south. It's then a 15-minute car-ferry ride on board the Mirambeena across the channel to Roberts Point, on North Bruny Island.
Ferries run back and forth from 6.35am every day except Sunday (when the first ferry is at 7.45am) until the last ferry departs Bruny at 7pm (7.50pm on Fridays). The normal price for a car less than five metres long is $28, which includes the return fare. Peak-time surcharges and senior discounts apply.
You could do a day trip to Bruny from Hobart with a tour operator but I'm not going to tell you how because Bruny honestly deserves more of your time. You'd kick yourself if you came here and didn't see all it has to offer. I spent two-and-a-half days on Bruny and wish I'd stayed four or five, because there was much I missed experiencing.
• For a ferry timetable, contact Bruny Island Ferry Service on (03) 6273 6725; www.brunyislandferry.com.au
WHAT MAKES BRUNY ISLAND SO SPECIAL?
A funny thing happened when I visited Bruny Island – I started referring to Tasmania as "The Mainland". I don't know what it is about Bruny, but it has a strange way of making you feel like an instant local. Maybe it's because there are only 620 permanent residents here (and outside summer very few tourists), so sometimes your interaction with the landscape is entirely one-on-one.
The island remains like much of regional Australia was prior to the 1970s, with farm gates that work on an honour system, and no chain restaurants or major hotels. Expect winding country roads – some sealed, some gravel, some old logging routes twisting perilously around densely forested mountainsides – and some of the most beautiful coastal scenery you can imagine. Especially looking out across Lighthouse Bay from Cape Bruny Lighthouse. Put that on your to-view list.
WHERE TO STAY
There are no high-rise beachfront apartments on Bruny; not even any boutique hotels. By far the most common form of accommodation here is the self-contained, self-catering cottage, of which there are many. There are some B&Bs but as you'll soon understand, you're probably best off renting a cottage with a kitchen.
I stayed at the Explorers Cottages on South Bruny and found my little cabin really quite a treat. It's 3.5-star and the bathroom is a little dated, but it exceeded expectations by offering a wood-burning fire, a modern kitchen well stocked with appliances and a very comfy bed with a choice of pillows.
There are more flashy alternatives, such as contemporary beachfront family-sized homes, but by taking advantage of the affordable accommodation and self-catering option, you can tailor a very inexpensive holiday for yourself on Bruny. Here are some recommendations:
• FREE(ISH): Jetty Beach is, according to John the pastry chef at Bruny Island Cheese Company, "Bruny's Wineglass Bay". It is indeed a pretty little scoop of beach off Lighthouse Rd, which has a cleared campsite, picnic tables and pit toilets. May be best in summer, though. Contact National Parks for permits. Keep in mind it is sometimes cheaper to buy an annual pass ($96 per vehicle up to eight people) or a holiday pass ($60 for up to eight weeks) than day passes ($24 per vehicle per day).
www.parks.tas.gov.au
• AFFORDABLE: Explorers Cottages, 20 Lighthouse Rd, Lunawarra. Two-bedroom cottages sleeping four from $175 per night.
• MID-RANGE: Maxy's By The Sea, 4070 Main Rd, Alonnah. Great for families, this waterfront home sleeps up to five people for $270 per night (from $195 for fewer people).
• LUXURY: Aquarius Retreat, Lighthouse Rd, South Bruny Island. Architect-designed private waterfront retreat for up to two couples from $285 per night.
• For more accommodation options, go to www.brunyisland.com or contact Bruny Island Escapes on (03) 6293 1271.
WHERE TO EAT
Here's the thing. Despite Bruny being home to some of the best small producers in the country, it is remarkably starved for choice when it comes to eating out at dinnertime. The choices seem to be the pub at Alonnah and a cute restaurant called The Hothouse on the road to Adventure Bay (more on this later).
I recommend doing your grocery shopping in Hobart before you head down. If you arrive on a Saturday, stock up on local produce at the Salamanca Markets. If you get in on a Sunday before 1pm, go via the Tasmanian Farm Gate. Ironically, both these Hobart markets stock a wealth of Bruny Island Produce you can take back with you!
Otherwise, when you arrive, head to the Bruny Island General Store at Adventure Bay, where you can pick up all your basics. Keep your eye out for Bruny Island Game Meats – local Richard Clarke has built a business out of controlled culls of wallaby, rabbit and possum, and his meats come recommended by many residents.
Here are some other food stops:
• BRUNY HOTEL: The pub at Alonnah is super-casual, and the counter meals are huge and hearty. I was there on a Friday night, and the place was packed for the meat raffle. Main Rd, Alonnah;
www.brunyislandhotel.com.au
• BRUNY ISLAND BERRY FARM: Great people, great coffee, excellent produce. Like many small farming operations on Bruny, Graham and Katherine O'Keefe rely on WWOOFers (Willing Workers on Organic Farms) to help keep things running. In season, you can pick your own berries on this 30-acre farm (from October 20 to Easter; $9 a kilo for strawberries, $20 a kilo for raspberries). The café stocks berry-related products, insanely tasty Valhalla ice-cream (try the raspberry sorbet) and T-shirts that say "New York London Bruny Island". Its outdoor seating area has great views across to Adventure Bay Beach. Resolution Creek walking track runs through the property – which is apparently where Captain Cook got his water while he was here. Adventure Bay Rd, 562 Adventure Bay; www.brunyislandberryfarm.com.au
• GET SHUCKED: A tiny tin shack sits on the site of this oyster processing yard owned by pun-loving local Joe Bennett (winner of the 2009 Seafood Industry Young Achiever Award). The oysters here were pulled straight out of the bay across the road. Main Rd, Great Bay; www.getshucked.com.au
• BRUNY ISLAND CHEESE COMPANY: Just five minutes down the road from Joe's, you'll come across this legendary spot. Quite honestly, if you don't order a cheesemaker's platter ($20) for lunch you don't know what you're missing. I love the 1792, a soft washed-rind cheese matured on Huon pine boards. Oh, and if you're really hungry, try the "Otto" wrapped in prosciutto, cooked in a wood-fired oven with olives and served with sourdough. My God. Main Rd, Great Bay; brunyislandcheese.com.au
• BRUNY ISLAND SMOKEHOUSE: Three kilometres from the ferry terminal, the Smokehouse (BISH for short) is perfectly positioned to stock up on goodies as you arrive and as you leave Bruny. There's a bar and a bistro as well as a deli featuring their range of chutneys, smoked salmon, rainbow trout, pomegranate quail, duck, chicken and mussels. 360 Lennon Rd; www.brunyislandsmokehouse.com.au
• BRUNY ISLAND PROVIDORE: Lovely local fudge and souvenirs sold here. 53 Adventure Bay Rd; www.hiba.com.au
• HOTHOUSE CAFÉ: Ignore your first impressions. Despite the sawdust on the floor, the plastic chairs and the general I'm-in-a-greenhouse ambience, this is a wonderful restaurant run by husband and wife team Michael and Fiona Morrisson. The food is fabulous – especially the hot raspberry sponge cake with vanilla syrup ($10). Picnic hampers also available, and there is accommodation onsite. 46 Adventure Bay Rd; www.morella-island.com
• JETTY CAFÉ AND GENERAL STORE: Dennes Point is the "Paris end" of Bruny Island. Well-to-do retirees own tiny weatherboard holiday homes in this idyllic location at North Bruny's northernmost point. It's also a beautiful example of community coming together. Realising they needed somewhere to eat and meet, residents lobbied the council to finance a restaurant-cum-grocer-cum-art-gallery. Architect John Wardle donated plans and 12 husbands got together to build the Jetty Café and General Store. The result is the most stylish edifice on the island. It's got great coffee, excellent meals, a log fire, water views, local produce in the deli and some fantastic work for sale by local artists in the gallery. If you go out on the balcony you'll notice customised beer rests have been carved into the rail in honour of the men who built it.
WHERE TO DRINK
Well, there's the Smokehouse, the pub or the cellar door at Bruny Island Premium Wines, Australia's southernmost vineyard (open most days 11am to 4pm). Its 2009 chardonnay won a bronze medal at the 2010 Tasmanian Wine Show, and it was up against some pretty stiff competition. They also make sauv blanc and pinot noir if chardy's not your tipple. You can always grab a bottle or two and enjoy it in front of the fire back at your accommodation. 4391 Main Rd, Lunawanna; www.brunyislandwine.com
WHAT TO DO
Grab a tourist map. You can get one from Hobart Airport or the kiosk at the Roberts Point Ferry Terminal, where you can also get surprisingly good coffee. The map details walking trails, lookouts, cafés and restaurants (as previously mentioned, not many!), producers, boat ramps, accommodation, camping and picnic spots, public toilets and petrol pumps (of which there was only one at the time of print, located at Adventure Bay, so don't get caught short). Explore. Drive around. Get out and take a hike – there are 12 walks marked on the map, ranging from 15 minutes (Truganini Lookout) to five hours (Labillardiere Peninsula). Take your time. Keep stopping. Keep looking. Sample any wares you stumble across along the way. There is nothing else to do here but roam freely. Take advantage. Chill out. Go surfing at Cloudy Bay.
During your stay you're bound to see loads of wildlife, much of it endemic to Bruny Island. South Bruny National Park is home to a colony of gorgeous Bennett's white wallabies. Stop at The Neck just before sunset to watch fairy penguins come home to nest for the night. Watch out for tiger snakes on bush tracks and all sorts of wildlife on the roads, especially after dark. There are no street lights on the island so use your high beams to give yourself plenty of braking/swerving time. I nearly hit a grey spotted quoll. First time I'd seen one of those!
If you'd like local insight on a more organised tour, here are two great island-based operators:
• BRUNY ISLAND CRUISES: Take a half-day cruise on a yellow boat to see Australian fur seals lounging about on rocks at The Friars. Along the way you'll be dwarfed by dramatic 200m-high ancient dolerite coastal cliffs and you may even spot whales, dolphins, hawks and eagles. Your guide may make a few jokes about "shags on rocks", too. Hot tip: order the pumpkin soup.
www.brunycruises.com.au
• INALA NATURE TOURS: In a former life, Inala operator Tonia Cochran was a marine biologist on Antarctic expeditions. She now breeds cattle and hosts private nature tours around Bruny. Birdwatching tours are one of her specialities, thanks to her property being a prime habitat for the forty-spotted pardalote, an extremely rare threatened species that twitchers get in a flutter about. Nature tours around the property start at $140 per person; broader island tours by vehicle start at $200 per person, ex Inala. Custom itineraries can be arranged. She also has two lovely holiday rental cottages. One, called Nairana, is 4.5-star and can be self-catering or come with a private chef (see right). www.inalabruny.com.au
5 CURIOS FACTS ABOUT BRUNY ISLAND
1 Built in 1838, Cape Bruny Lighthouse was the longest continuously running manned lighthouse in Australia. It was decommissioned in August 1996 and its last keeper still lives on site, now as caretaker.
2 Bruny Island was named after French explorer Bruni d'Entrecateaux, who explored his namesake channel in 1792. James Cook and William Bligh actually got there before him, and Abel Tasman tried to land here as early as 1642.
3 The plant species eucalypt was named based on a specimen collected from Bruny Island by David Nelson, botanist on James Cook's third expedition in 1777. It was named Eucalyptus oblique by French botanist Charles-Louis L'Héritier, who was working at the British Museum at the time.
4 Bruny Island was the birthplace of Truganini, credited as the last full-blooded Palawa, or Tasmanian Aborigine. She died in Hobart in 1876 and in the early 1900s her skeleton was displayed at the Tasmanian Museum. It wasn't until 1976 that her remains were returned to her birthplace and she was given a traditional Indigenous cremation ceremony.
5 North Bruny was the location where, in 1833, George Augustus Robinson established the first Aboriginal mission in Australia. Six months later it closed due to the number of deaths caused by introduced disease. In 2002, the 4100ha property known as Murrayfield Station on North Bruny Island, including Robinson's site at Missionary Bay, was returned to Tasmania's Aboriginal community. It is now operated by the Indigenous Land Council, and is used to farm premium lamb. For more info, go to murrayfield.com.au
MEET THE PRODUCER
Ross O'Meara raises rare pig, sheep and goat breeds for his Bruny Island Rare Food business. A private chef who caters to guests staying at Inala (see left), he also makes sausages for Bruny Island Game Meats and has featured on Matthew Evans' cooking show Gourmet Farmer (a new series is due to air on SBS in September). You can buy his rare food products at Salamanca Markets and Hobart Farm Gate.
Contact: 0409 375 606; ross@brunyislandfood.com.au
AUTHOR
COMMENTS
NEWFOUNDLAND DOGS
Wonderful submit, very informative. I ponder why the other experts of this sector do not understand this. You should continue your writing. I am sure, you've a great readers' base already!|What's Going down i'm new to this, I stumbled upon this I've discovered It absolutely helpful and it has helped me out loads. I am hoping to give a contribution & help different customers like its aided me. Great job.
BRIANNA BELL
Hi what a lovely and very honest depiction of Bruny Island. I am the owner of http://www.sunsetbayescape.com.au, luxury self contained accommodation on Bruny Island and am always looking for opportunities to not only promote the Island but give visitors to Bruny the option to experience Bruny Islands much loved luxury holiday home. Perhaps next time you are on the Island you can stay at Sunset Bay Escape and share your experiences of some Bruny Island luxury. warm regards Brianna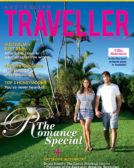 BUY THE ISSUE
This article appeared in Issue 39 of Australian Traveller.
The romance special issue.
* Australia's top honeymoon destinations
* Australia's best B&B's.
* The 5 honeymoons you have never thought of.


BUY THIS ISSUE