The Mahogany Ship mystery began in 1836 when two whaleboat survivors reported having seen the wreckage of a ship high in sand hummocks between Warrnambool and Pt Fairy. 
The Mahogany Ship mystery began in 1836 when a whaleboat capsized at the Hopkins River mouth on the west coast of Victoria and the two survivors walked back along the coast to the whaling outpost at (now) Port Fairy.
There they reported having seen the wreckage of a ship high in sand hummocks. The last reported sighting was in the 1880s but eyewitness accounts, passed on to younger generations, are now dismissed as the stuff of legends and fairytales. The question remains: something was seen in the sand dunes . . . what was it?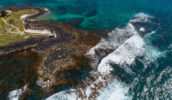 Reliable Warrnambool townsfolk saw the wreck and Aboriginal elders of the time reportedly had a mystery ship in their Dreamtime. But relatively little written information on it from the 1800s is available. Some speculate the Mahogany Ship was a Portuguese caravel wrecked in 1521, others say it was burned on the orders of the British Government to prevent any other claims on Terra Australis.
Interest in the Mahogany Ship, a find that could change Australia's history, reached fever pitch in 1992 when a reward of $250,000 was offered. High-tech search teams transformed beachcombing from pleasure to business, yet no substantial clues were discovered.
Where // Warrnambool is 265km and 3.5hr drive west of Melbourne. The 22km Mahogany Trail walking track extends from Warrnambool along the beach to Port Fairy.
Did you know? // Flagstaff Hill Maritime Museum in Warrnambool is a recreated 19th Century coastal port (above), a fascinating insight into Australian maritime history with a nautical bookshop that includes many Mahogany Ship publications.
SEE THE FULL LIST: 100 Things you can only do in Australia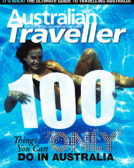 Enjoy this article?
You can find it in Issue 20 along with
loads of other great stories and tips.