Quentin Long walks us through Australia's most iconic multi-day nature treks: these 24 adventure escapes take in the most remote regions in Australia.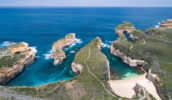 1. HEYSEN TRAIL, SA
Length: 1200km over 60 days (or one obsessed lifetime).
Route: The Heysen Trail is more than a ramble – it's a lifestyle. The rock star of Australian walks starts in the ancient and mesmerising Flinders Ranges – Parachilna Gorge to be exact – and finishes at Cape Jervis, but only the crazy would walk its entire length in one attempt. No other trail meanders through such lovely countryside – including five wine regions. From the Outback to the surf coast, this is the best of South Australia.
Can you do it yourself? Yes, but see your doctor and shrink first. See the Friends of the Heysen Trail website.
Guided hikes: Several operators cover sections of the walk, particularly in the Flinders Ranges.
At the very top end, the luxurious Arkaba Walk spends four days meandering through Wilpena Pound, and costs from $2000.
Australian Wilderness Adventures' six-night hike ex-Adelaide is from $1995 per person.
Park Trek's eight-night itinerary in the Flinders Ranges costs from $1970.
2. JATBULA TRAIL, NT
Length: 58km over five days.
Route: This trail plays to all of the NT's strengths – lush rainforests, spectacular waterfalls and calming, mystical (croc-free!) waterholes. The trail is divided into five sections starting from the Nitmiluk Visitor Centre 30km from Katherine and ending at Leliyn (Edith Falls). With just five fairly leisurely days of six to eight hours' walking in the utterly beautiful Nitmiluk National Park (Katherine Gorge), we vote it Australia's "most likely to be huge in two years" trail – so make it a priority now and have it (almost) to yourself.
Can you do it yourself? Yes, but you will need a load of supplies. There are many natural springs along the way for fresh water. For info, go to the NT website.
Guided hikes:
Australian Wilderness Adventures runs a five-night tour ex-Darwin from $1795 per person.
Gecko Canoeing and Trekking runs a four-night Jatbula walk from $1290 per person.
3. GILES TRACK, NT
Length:22km over two days.
Route: The Giles Track is a great "starter" track for outback walking because it involves just one overnight sleep-out (the annoyingly fit can even do the entire 22km in just one day).
The walk starts with a 1km section of the Kings Canyon Rim Walk before heading out on the Giles Track for another 7km to the Reedy Creek campsite. The first day is a challenging climb through spectacular weathered sandstone domes to the awesome Watarrka lookout and down again to the campsite at Reedy Creek. The second day is a 14km trek across a series of creeks to the final destination, Kathleen Springs.
Can you do it yourself? Yes, but make sure you take your own supplies and avoid doing the challenging walk in the height of summer. Plan your trek at The NT website.
Guided hikes: Not available.
4. THE TABLETOP TRACK, NT
Length: 39km over three days (for the superhuman) or five days (for everyone else).
Route: The Tabletop Track rambles through the best of Litchfield National Park. The actual walk is a circuit so you can reach it via a connecting track from one of the many lovely waterholes that Litchfield is famous for (and that are hence also popular with busloads of tourists).
After each day's walk you can follow these linking tracks to the popular campsite for a soak and to camp out with the hordes. Alternatively, there are a number of campsites that are accessed only via the Tabletop Track, such as Tjena Falls. The entire walk takes in well-known highlights such as Wangi Falls, Florence Falls and Walker Creek, with secluded wanderings through savannah, pandanas and secluded oases.
Can you do it yourself? Yes, but make sure you take plenty of supplies and be prepared to rough it. Plan it at the NT website.
Guided hikes: Not available.
5. THE LARAPINTA TRAIL, NT
Length: 223km over 13 days.
Route: The Larapinta Trail stretches along the spine of the West MacDonnell Ranges, from the Old Telegraph Station in Alice Springs to its highest point and trail end at Mt Sonder, via some of the most spectacular landscapes in Australia. Climb to astonishing lookouts then descend into serene gorges and waterholes. The trail is divided into 12 stages, most taking a day to complete. Go in late autumn when both day and night temperatures are at their mildest.
Can you do it yourself? You can do this trek yourself, but get organised. If attempting the whole trail without assistance then you must organise food and water drops. Check out the NT website or the very helpful Larapinta Trail website for trail maps and more info.
Guided hikes:
World Expeditions runs two-night camping trips from $995, or 14-day treks from $3695.
Locally owned Trek Larapinta runs a five-night trek from $1690 or a 17-night end-to-end trip for $4800.
6. FRASER ISLAND GREAT WALK, QLD
Length: 90km over eight days.
Route: The walk starts at Dili village on the east coast of the island. From here, the trail heads inland through lush rainforest, open woodlands, vine forests and kauri pines. The trail is a mix of old logging roads and trails, and it skips from one photogenic site to another.
You can visit the island's famously gorgeous freshwater lakes, such as Mackenzie, Wanggoolba and Wabby, where you can refill water bottles, soothe weary legs and/or camp for the evening. Queensland National Parks maintain eight campsites on the trek.
Can you do it yourself? Yes, but make sure you book the campsites, carry enough supplies and purchase a topographical map. Best research for this trek is via Queensland National Parks. www.derm.qld.gov.au
Guided hikes: Sunrover Holidays runs four-night walking tours ex-Brisbane from $770 per person.
7. THE THORSBORNE TRAIL, QLD
Length: 32km over four days.
Route: Another pristine island walk, the Thorsborne Trail takes the eastern coastal route on Hinchinbrook Island, off the coast of Cardwell, which is exactly halfway between Cairns and Townsville. The trek follows the coast and includes several creek crossings to make it more adventurous.
Green sea turtles and dugongs feed in the sea offshore and are often spotted during an afternoon swim, particularly around Nina Bay. Less welcome fauna is the native giant white-tailed rat, which can be a pest if you don't secure your food at night.
The trail is highly protected – only 40 permits are granted at a time for walkers, to minimise the environmental impact. There are several campsites to choose from, each with facilities such as a composting toilet and freshwater creek to refill your water bottle, but campfires are not allowed.
Can you do it yourself? Yes, but you need to bring all supplies and get in early as it books out quickly in peak periods. Check out more at the website.
Guided hikes: Not available.
8. SCENIC RIM WALK, QLD
Length: Depending on how you carry your tiara, this eco-luxury walking experience lasts up to four indulgent days.
Route:Those who like a little comfort at the end of the day and a lighter load on the trail will love this gentle guided walk, where all the hassles are attended to by someone else – all you have to carry is your lunch and water. There is no single track but rather a series of 5-10km day walks around south-east Queensland's beautiful Scenic Rim.
On day one you walk though a section of the World Heritage-listed Gondwana Rainforests of Australia before entering the Spicers Peak Nature Reserve. For two evenings you settle into the permanent camp at Spicers Canopy, and for the final evening you get to indulge in the luxury of Spicers Peak Lodge, topping your experience off with a seven-course degustation dinner.
Can you do it yourself? No. This is a private trail and company (see below).
Guided hikes: The three-night pampered walking tour is $2050 per person. One or two-day walks are also available.
9. THE SIX FOOT TRACK, NSW
Length: 45km over three days (or one if you're a marathon runner).
Route:Australia's quintessential multi-day track follows an old bridle trail through the Megalong Valley from Katoomba to the Jenolan Caves. The landscape is classic Blue Mountains – sheer sandstone cliff faces and escarpments with awe-inspiring vistas of valleys, fern glens, river crossings over suspended bridges… with a soundtrack of whipbirds. Campsites are numerous and well-marked.
Can you do it yourself? Yes. Check out www.sydney.com or the NSW Department of Lands.
Guided hikes:
Life's An Adventure offers a "luxury" hiking experience where guides carry your bags and cook your dinner for you, from $379 per person. See Six Foot Track for more details.
RSVP for singles has two-night treks from $580 per person. www.rsvp.com.au
River Deep Mountain High runs two-night treks from $750 per person. www.rdmh.com.au
10. BUDAWANGS CIRCUIT, NSW
Length:32km over four days.
Route: The Budawangs are a hidden gem: pockets of rainforest interspersed with windswept brush and thickets, stands of eucalyptus and towering sandstone cliffs. The Budawangs Circuit is tucked into the western escarpment of the Morton National Park, inland from Jervis Bay. The trek usually begins at Long Gully.
The second day tackles the highest point of the trek, which also passes through tunnels and along scraggy cliffs. For those with a fear of heights or bung knees it's challenging, but once you reach the magnificent Castle the feeling of achievement is huge. The stunning views will make you forget your burning quads.
Can you do it yourself? Yes. Bring a day pack so you can leave the heavy pack at the campsite for the walk up The Castle and back. Because it's a wilderness area (whatever that means) National Parks doesn't promote the walk, so the best place to find more information is through bushwalking forums. For information from National Parks, go to the website.
Guided hikes:Not available.
11. YURAYGIR COASTAL WALK, NSW
Length: 65km over four days (DIY) or six days (guided).
Route: Winding along the most pristine coast in northern NSW, this is the state's answer to Tassie's Bay of Fires or WA's Cape to Cape Walk. The best way to do the walk (aka the Solitary Bay Walk) is to head in from Angourie in the north then make your way to Wooli. You'll traverse beautiful beaches and freshwater creeks and lakes.
Comfort-seeking trekkers will love that the trail has been measured out so that each day ends at a town (with a beach) so you can resupply, refresh with a swim and sleep in a comfy bed. Though you can always go hardcore and camp in the national park on the outskirts of town.
Can you do it yourself? Yes, check out the National Parks website.
Guided hikes: The walk can be enjoyed over six days (at a much more leisurely pace) with two professional guides, a chef and support vehicle, with accommodation in coastal houses and all meals included. $2750 per person. Head to the Solitary Bay website.
12. GIBRALTAR-WASHPOOL WORLD HERITAGE WALK, NSW
Length: 40km over five days, or 80km with side trips.
Route: This, the greatest multi-day walk in NSW, showcases the beautiful New England Tableland near Glen Innes. Most walkers start the 40km loop at Mulligans campsite in the Gibraltar National Park. The trek is characterised by the huge variety in the landscape. From dry eucalyptus forests and granite outcrops to lush, wet rainforests with dramatic waterfalls, it has it all – including the world's largest stand of coachwood trees.
There are designated campsites and bush-camping areas next to creeks, but freshwater supplies need to be filtered, boiled or sterilised. The best time to head out would be mid-spring when the temperature is perfect for a walk and the wildflowers are in full show.
Can you do it yourself? Yes. The NSW National Parks site is difficult to navigate so try Map My Walk to visualise the trail. Contact Glen Innes National Park directly on (02) 6739 0700.
Guided hikes: Not available.
13. AUSTRALIAN ALPS WALKING TRACK, NSW/VIC/ACT
Length: 650km over 60 days.
Route: Its ascents and descents are the equivalent of scaling Everest three times, so most sane walkers tackle only a few stretches at a time. It is relatively well marked, but you'll need a good map and compass. It offers windswept plains, beautiful snow gum glades, wildflowers in spring and pioneers' mountain huts.
Can you do it yourself? Yes, but plan, plan, plan. Read John Chapman's notes.
Guided hikes:
Park Trek: three-night high plains walk from $980.
Kosciuszko Alpine Guided Walks: one-night walk from $450.
Auswalk: seven days from $2395.
Hedonistic Hiking: luxury four-night package from $1775.
Australian Walking Tours: from summer walks to snowshoe treks. Four nights from $1799.
14. CROAJINGOLONG WILDERNESS WALK, VIC
Length: 45km over four days.
Route: From Thurra River, north-east of the lighhouse at Point Hicks (Cook's first sight of Australia in 1770), this walk follows the spectacular Croajingolong National Park coast and traverses very wild and remote terrain before ending at Shipwreck Creek. It is not a walk for the novice, with extended day walks and rough-and-ready tracks.
This is the wild and woolly version of a walk along the beach. The entire Wilderness Coast Walk is substantially longer than this leg (100km from Sydenham Inlet in Victoria to Wonboyn in NSW); however, this is the most spectacular section and will give you a good idea of whether you want to attempt the entire 100km.
Can you do it yourself? Definitely, but bring your own supplies. See inspiringgippslandwalks.com.au for more – or download its app for iPad and iPhones.
Guided hikes: Park Trek runs a five-night tour of the Croajingolong Wilderness from $1420 per person ex-Melbourne.
15. THE WALLABY TRACK, VIC
Length: 90km over six days.
Route:The Wallaby Track around the Macedon Ranges is in fact a subsection of the Goldfields Track, which in itself is a subsection of the Great Dividing Trail. The walk traditionally starts on a high at Mt Buninyong, where a lookout tower gives great 360-degree views of the landscape. The closer you get to the end, the better the walking.
Historic goldfields relics are everywhere, as are old waterways that fed sluicing machines, where the occasional prospector is still trying their luck. Also en route is the slab-and-bark hut of federation unionist W.G. Spence. Ending the trail in Daylesford is a great thing – take in the healing mineral waters of Hepburn Springs to recover.
Can you do it yourself? Yes, it is easily done as a series of day walks. Sections two and three do not have any designated campsites. The best information can be found on the Goldfields Track official website.
Guided hikes: Not available.
16. THE GREAT OCEAN WALK, VIC
Length:104km over eight days.
Route:Its advantage over Australia's greatest drive is that when the Great Ocean Road heads inland, the trail hugs the pristine coast. You can experience it in numerous ways, from a one-day walk upwards. The campsites are great, but some of the guided tours will drive you to a comfy bed at the end of each day.
Can you do it yourself? Yes, but campers should book via Parks Victoria.
Guided hikes:
Bothfeet has its own custom-designed lodge for walkers, complete with a firepit and terracotta bowls for soaking weary feet. Two-night weekend walks with accommodation at the lodge start at $995 per person.
Auswalk's seven-night end-to-end walk includes a night's stay in the lighthouse keeper's cottage at Cape Otway. Ah, the luxury. From $2395 per person.
Australian Walking Tours runs a four-night trek for solo travellers, from $1899 per person.
17. KIDMAN TRAIL, SA
Length: 260km over 18 hours on a horse – way longer on two feet.
Route:The Kidman Trail (not to be confused with NSW outback 4WD trail the Kidman Way) is a multi-use track shared by horses, trekkers and mountain bikers. Starting at the northern tip of the Barossa at Kapunda, the trail meanders around Adelaide via the Adelaide Hills wine region, and on to the heart of another wine region, McLaren Vale. The section of the trail through the Adelaide Hills is perhaps the closest experience to an old English ramble that you can have in Australia. The beauty of passing through this populated area is that a refreshing pub is never too far away – as is a comfy B&B.
Can you do it yourself? Yes. Go to www.kidmantrail.org.au for maps and, even more handily, a list of towns, accommodation and pubs on the trail.
Guided hikes: Not available.
18. YURREBILLA TRAIL, SA 
Length: 54km over three days or 5.25 hours for marathon runners.
Route: This shares 12km with the Kidman Trail. From north to south (though most walk the opposite way), it starts at Ambers Gully and traverses plains with views of the city and sea, eucalypt forests, waterfalls, deep gullies, and the odd orchard and vineyard before it ends at Belair train station.
Can you do it yourself? Easily. There are one day and four half-day sections. Find accommodation in the Hills or at one of many campsites.
Guided hike: Eco Trek runs a three-day Walking the Adelaide Hills in Style tour from $1680 per person.
19. CAPE TO CAPE, WA
Length: 135km over seven days.
Route:Stroll along stunning coastline from Cape Naturaliste in the north to Cape Leeuwin in the south, traversing the Margaret River wine region: you can walk, taste wines, swim it all off and start again. The beaches are fabulous and there are plenty of campsites.
Can you do it yourself? Yes. Join the Friends of the Cape to Cape Track for extra information.
Guided hikes:
Inspiration Outdoors runs seven-night tours from $2050. Stay in the same comfy lodge every night and get driven to the trail every day.
Cape to Cape Tours has a similar deal with different lodging from $2500.
20. BIBBULMUN TRACK, WA 
Length: 961km over 54 days without a blister.
Route: The granddaddy of WA's walks has by far the best facilities for a long-distance trek. At every day's end is either a township or a three-sided wooden shelter for campers, complete with fresh water, bunks and cooking facilities. From Kalamanda, the track runs south to Albany, mostly through beautiful jarrah and karri forests; the last section skirts the coast. The best time to walk is early spring, when the wildflowers are spectacular.
Can you do it yourself? Yes, but join the Friends of Bibbulmun Track Foundation for info, maps and a free advisory service.
Guided hikes:
Inspiration Outdoors runs an eight-night Walpole to Denmark tour from $2200; and a six-night Albany to Denmark tour from $1800. Walkers stay in the same lodge every night and are driven to the trail daily.
World Expeditions' highlights-of-the-Bibbulmun tour is a six-night camping trip from $2095.
21. OVERLAND TRACK, TAS
Length: 65km over six days.
Route:It's the country's superstar trek; one that everyone wants to do. With such popularity, the trail is strictly managed so you have to book your walk and pay a track fee to National Parks Tasmania. You also have to walk it in one direction – from Cradle Mountain to Lake St Clair. This World Heritage area is stunning and encompasses many of the highest peaks in Tasmania. No-one returns unchanged.
Can you do it yourself? Definitely, but the weather is variable (even in walking season, Nov 1-Apr 30). Check out the National Parks site for advice.
Guided hikes: Loads of choices.
Cradle Mountain Huts is the first-class walking experience, with exclusive access to the very comfy and spectacular huts along the route, and guides who cook unbelievably good meals. Five-night trails from $2600 per person.
Wilderness Expeditions has year-round tours (you carry snow shoes in winter). Six nights (five nights' camping) costs from $1975.
22. BAY OF FIRES, TAS
Length: 23km over four days.
Route: This is the most leisurely and indulgent way to experience Tasmania's beautiful natural environment. The Bay of Fires walk is a private tour that officially starts at pick-up at Launceston, but actually kicks off at Boulder Point in the Mount William National Park, on the north-east coast.
Of the three nights, the first is spent in a semi-permanent camp at Forester Beach, while the other two are at the stunning Bay of Fires Lodge. The coastal walk is only 23km long, but traverses pristine white sandy beaches, rocks rusty with lichen and coastal scrubland. In total there are two days of walking and one day of leisure, when most participants go for a morning kayak before returning to Launceston.
Can you do it yourself? Parts of it, but not with the same level of pampering. Only Bay of Fires walkers can stay in the camp at Forester Beach, but there are other camping and caravan sites.
Guided hikes: The three-night experience costs from $2050. Visit Bay of Fires for more info.
23. MARIA ISLAND, TAS
Length:42km over four days
Route: Maria Island is a sliver of land off Tasmania's east coast. It has a chequered history, but today is a national park without a single permanent resident, so walkers have it to themselves.
The most comfortable experience is the award-winning guided walk, which begins on the pristine beaches of the southern end before exploring the rare cloud rainforests of Mount Maria in the north. You stay two nights in permanent tents, while the final night is spent in heritage-listed Bernacchi Homestead.
Can you do it yourself? Yes, but there are no shops and only basic facilities, so come prepared. Check out the Tasmanian Parks & Wildlife website for information.
Guided hike: Maria Island Walks operate from mid-October to the end of April. Three nights cost from $2150 including transport from Hobart and meals.
 24. PORT DAVEY TRACK, TAS 
Length: 70km over five days
Route: Of all the walks in these pages, this is the most remote. It starts at Scots Peak Road and ends at Melaleuca, which has no road access, so either continue walking the South Coast Track for another six days or arrange a boat or flight out. The weather is more variable than anywhere else in Tasmania as the Antarctic winds howl.
But this is the most primitive landscape you may ever see, which makes the track one of the most-wanted by serious walkers.
Can you do it yourself? Yes, but take loads of gear and supplies. If the weather turns, supply flights into Melaleuca are cancelled. Make sure you thoroughly read the notes at the Parks Tasmania website before even considering this.
Guided hike: Tasmanian Expeditions' 16-day tour includes both the Port Davey and South Coast Track from $3595.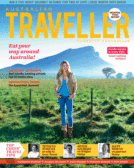 Enjoy this article?
You can find it in Issue 40 along with
loads of other great stories and tips.