For all that extra stuff we just couldn't get into, for all that malarky to help you survive Mancation and a post Mancation world, here are a few tips and leads from AT to help you out…
More Mancation ideas…
1. Attend BBQ cooking school // There's more to it than the odd splash of VB on the griddle. www.bbqschool.com.au, 1300 227 745
2. Go on a Victorian High Country Brewery Tours // Wine refugees rejoice! www.scruffybunch.com.au, (03) 9859 4932
3. Surfaris // Hang with mates while hanging ten at the same time. www.surfaris.com, 1800 007 873
4. Whisky Appreciation Course at the Tasmanian Whisky Appreciation Society // Because let's face it: whisky ought to be appreciated. www.twas.com.au
5. AFL/NRL Grand Finals // Choose your poison for a weekend of unbridled sports passion. www.foxsportstravel.com.au, 1300 300 839
6. Go to Nimbo Fork Lodge // Fly-fishing heaven in a secluded valley in Tumut, NSW. www.nimboforklodge.com.au, (02) 6944 9099
7. Tee off at Coolum // Sound boring? Not if it's the day after the Australian PGA, with signage intact and the course in full tournament nick. Priceless. www.coolum.regency.hyatt.com, (07) 5449 3581
8. Fire a WWII-era rifle // At several ranges around the country, try the Anzac Rifle Range in Malabar NSW to get you started. www.nswra.org.au, (02) 9399 0999
9. Superbike test drives // A bit like the Supercars Club, but with motorbikes. www.superbikeclub.com.au, (02) 9969 7344
10. Tarraleah Lodge Fly Fishing & Night Golf // Two passions combined in one brilliant five-star Tasmanian adventure. www.tarraleahlodge.com, (03) 6289 1199
11. Stalk a Tiger // See the great Tiger Woods while you can. You don't know when the Victorian taxpayers will have enough money to lure him back. www.australianmasters.com.au, (03) 9864 1111, Nov 12-15, 2009
12Attend the Boxing Day Test at the MCG // 'Nuff said. www.cricket.com.au

The Mancation make-good…
For being allowed to on your Mancation, here are a few suggestions on what you may have to do the following weekend to make up for it.
1. Book into a cooking class with your loved one.
2. Go to the theatre/the opera/a musical with your loved one.
3. Head off for a romantic weekend away with your loved one.
4. Pretty much just do something with your loved one.
5. Stay at home and look after the kids while your loved one heads off on a well-deserved Girls' Weekend Away (see Just for the Girls).
What NOT to pack for your Mancation…
Lonely Planet guide. C'mon. Getting lost and never seeking advice is half the fun of being a man.
Mobile phones, portable DVD players or Game Boy.
Stubby holders. How else will you remember where you've been?
Your cordless hairdryer, moisturiser or hair removal cream.
Your wife.
What to pack for your Mancation…
Don't leave home without these essential Mancation items
Poker chips & playing cards… but remember, if you can't spot the sucker at the table in the first half an hour . . . it's you.
Berocca & Nurofen
Beer & bottle opener
Fresh underwear, deodorant and a toothbrush. You're not an animal.
Hair of the Dog Recipe.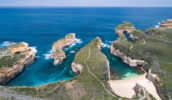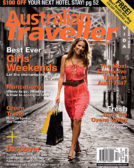 Enjoy this article?
You can find it in Issue 28 along with
loads of other great stories and tips.