Don't be fooled: North Stradbroke Island may sit just 30 kilometres east of Brisbane's Cleveland but it feels a world away.
As we board the last evening ferry to North Stradbroke Island, I can't help but feel a mixture of smugness and that heady holiday buzz, usually reserved for international sojourns.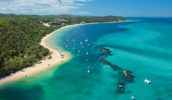 In little over an hour, we'll be plonking our bare feet onto the shores of the world's second-largest sand island for a weekend of serious beach adventures.
The fact that we've barely left Brisbane, and the full trip takes only two hours from the centre of the city, may go some way to explaining my current mood.
I'm not the only one that feels this way. The throngs of sun and surf-seeking visitors who regularly make the pilgrimage to the island community (home to 2500 lucky permanent residents) for weekend escapes vindicate my smugness.
We drive onto the ferry at Cleveland but you can just as easily walk on, hopping off at Dunwich on the western coastline, before hitting the East Coast Road to beachside townships Amity Point or Point Lookout.
Point Lookout is most popular, for its proximity to Straddie's swim and surf beaches, The North Gorge Walk and plenty of great eateries.
Find your accommodation in the mixture of privately-owned beach shacks, self-contained apartments (we stayed at Samarinda Jewel by the Sea), resorts and camp spots perched on the road into Point Lookout proper – an ideal base for daytrips and island adventures.
You could go off the beaten track with camping, fishing, and four-wheel driving areas stretching south past Blue Lake National Park, or set up at one of Point Lookout's main beaches.
Home, Frenchman and Flinders beaches, while unpatrolled, offer an escape from the crowds of Cylinder and Main Beach.
My style favours relaxation over recreation, so we start the day in Dunwich for orange almond cake and coffee from Island Fruit Barn, before trawling through St Marks Thrift Store, where I eye off a cute pair of vintage heels.
If lunch is on the agenda, head to quaint seafarers' haunt The Little Ship Club for a classic serve of fish and chips and a cold beer, with views out across Moreton Bay. CJs Pizza is worth checking out for casual eats straight off the ferry.
Back in Point Lookout, and after a quick swim at Cylinder Beach, there are plenty of eating options, too.
The Stradbroke Island Beach Hotel is unmissable for sundowners and classic pub grub, served with a generous helping of stunning sea views.
The Prawn Shack and neighbour The Green Room are great for picnic supplies.
From here, stride it out on the breathtaking North Gorge Walk, which loops its way across jutting twin headlands for 1.5 kilometres.
Keep watch for turtles and dolphins playing in the emerald-hued water as waves snarl against the jagged rocks that must have been hell for wayward sailors.
Reward yourself with a creamy mango cone from Oceanic Gelato, eaten while browsing through local homewares, trinkets and gifts in Drift Handmade Treasures, or scoping new threads at boutique Stradegy.
I'd love to say the smug feeling washed off in all that salty water and fresh island breeze, but it's still there on the return trip to 'reality'. I might head back next weekend.