Angourie Rainforest Retreat
September 15, 2009
Visit Australia's No. 1 Best Town, Yamba. Experience first class facilities at Angourie Rainforest Retreat, nestled beside 600hs of open Forest.
Angourie Rainforest Resort is a coastal oasis located just over the dunes of pristine Flat Rock Beach between the famous Angourie surf beach and Yamba in Northern Rivers Tropical NSW. The Resort, nestled beside 600ha of open forest containing remnant littoral rainforest, is an exciting concept of sustainable holiday living for the professional family, couples and the independent traveller. Our prestigious four and a half star tourism rating assures you luxurious accommodation and first class facilities. Contemporary and spaciously designed two bedroom villas and one bedroom deluxe suites are fully equipped with a kitchen and you will enjoy lush forest views from the privacy of wrap around, expansive screened verandas. In addition to a unique Australian holiday experience the resort offers wedding and conference facilities, a luxurious Day Spa, personal training centre, restaurant and pools. Steal a moment away with family and friends and leave your jungle behind.
p. (02) 6646 8600
AUTHOR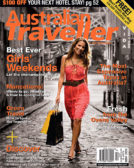 BUY THE ISSUE
This article appeared in Issue 28 of Australian Traveller.
Issue 28 - September 2009 Edition, Best Ever Girls' Weekends + Mancations + Green Friendly Holidays + Food & Wine: Ovens Valley Is Victoria's New Foodie Destination.
BUY THIS ISSUE