Caroline Clements and Dillon Seitchik-Reardon took a year off work to live the Aussie dream: travelling the country in search of the best swimming spots, from beaches to lakes to gorges. Here, they talk us through some favourites from their resulting book Places We Swim, a loving homage to our national obsession with the water.
For many of us in Australia, it is impossible to separate ourselves from the water. A thousand sensory memories flood back with every slop of sunscreen: windy days picking sand from our lunch and the feeling of salt water drying on our skin, scratching us under our clothes. As people of the world's driest inhabited continent it's no surprise that water should have such an elevated role in our society. It's a fixation that has defined us since the beginning, whether we are coastal or inland dwellers.
Our fascination with water remains a critical part of our social identity. Through Places We Swim (Hardie Grant Travel, $39.99) we've tried to capture the very best possible representation of the country – we wanted it to be as democratic as possible. Swimming cuts through age, class, gender, religion and ethnicity. After all, what is more equalising than being outdoors in near nakedness among strangers?
In this way, swimming is a natural access point to understanding the Australian experience. On a hot day, any swimming hole in the country will provide a cross section of all people. Whether it's the beach, an ocean pool, a lake, river, gorge, dam, waterfall, hot spring or billabong, these bodies of water and the surrounding landscapes reveal our better selves. Each place tells a story of its community.
The idea of documenting our swims is something that we had been indirectly working on through years of road trip adventures. However, it was only when our far-fetched pitch was accepted by our publisher that it coalesced into a book. We had always talked about driving a big lap around the country and suddenly found the perfect excuse to do so. Writing a book about the best places to swim in Australia felt like the ultimate study on our cultural connection to water, and maybe the best job we'd ever have. Here is a snapshot of some of our favourites.
Beach
Bay of Fires, Tasmania
It might not be what you expect but Tasmania is home to some of Australia's best beaches. You just have to be OK with the immune-boosting power of cold water. And if you like white sand, perfectly clear water and going to the beach but not sharing it with other people, this is the place for you.
Pool
Merewether Ocean Baths, New South Wales
Newcastle has a long history of popular swimming spots, but Merewether baths is our favourite. The complex opened in 1935 and is the largest in the southern hemisphere. It's also open year-round, 24 hours a day and is free to enter.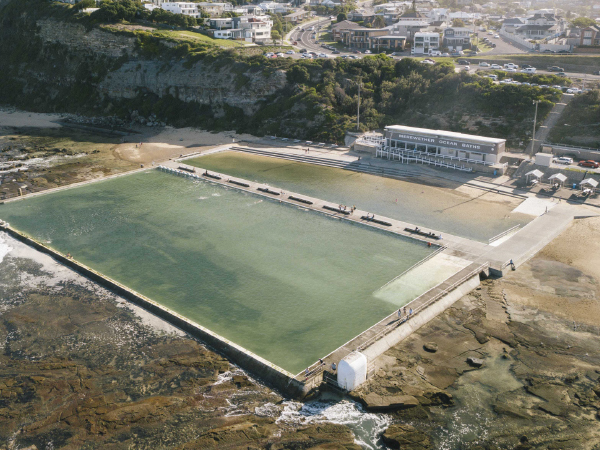 Lake
Little Blue Lake, South Australia
Little Blue Lake, also known as Baby Blue, sits in an unassuming paddock south of Mount Gambier. This lake is actually a sinkhole, formed by the gradual collapse of an underground cave. The pool's average depth is about 35 metres and is popular for diving, though surface swimming is more our speed.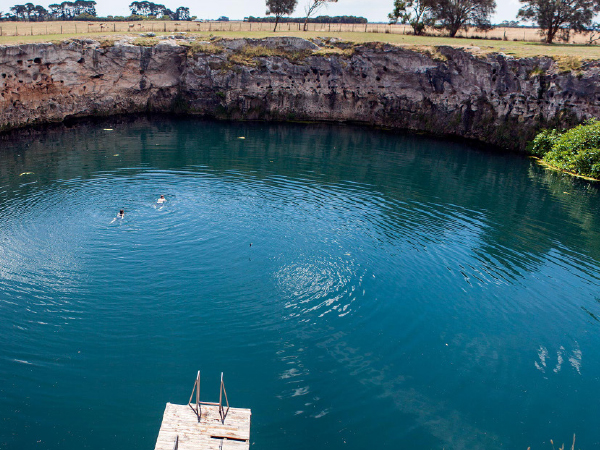 Hot Spring
Dalhousie Springs, South Australia
Early morning is the best time to visit Dalhousie Springs, where the water temperature is 38°C. This group of 60 artesian thermal springs might be one of the most remote places in the book – sitting on the western fringe of the Simpson Desert – but is the perfect place to soak in warm waters after a long car ride. A true oasis.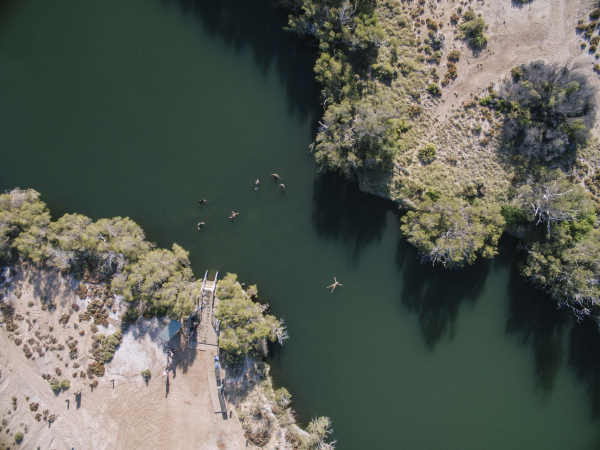 Gorge
Maguk gorge, Northern Territory
The jewel in the crown of the Kakadu swimming spots, Maguk is a deep, wide gorge where sheer cliffs drop into what seems like a bottomless pool. Find a rocky platform to sit on in the sun, or jump from the ledges (though we didn't tell you that).