From ocean-going voyages with legendary photographers to souped-up houseboats and luxury 130ft yachts, Australia's rivers, seas and shorelines are a playground for the ultra rich . . . if you're not afraid to toss the budget overboard.
You might think exploring Australia's most remote regions goes hand in hand with roughing it in the outback, driving along dusty roads in sweltering heat with the only water in a hundred-mile radius the sweat running down your back. But if you've got enough cash, you can explore a lot of Australia's untouched wilderness with all the creature comforts – and completely surrounded by water.
Just imagine seeing the Kimberleys from a jacuzzi, martini in one hand, camera in the other. You'll need some proof for the folks back home that the outback's not just all about red dirt roads – there are sparkling silver waterways to take you to your destination.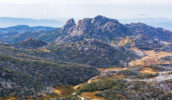 Not everyone might have noticed, but cruising's shaken its antiquated image. It's becoming phenomenally popular in Australia, with the industry reporting record-breaking growth over the past few years. Marisa Crane, owner of personalised high-end travel service Total Luxury Australia, says the typical luxury traveller has no qualms whatsoever when it comes to paying for quality. They're interested in getting good value for their money, they expect high staff to passenger ratio, first-class style and outstanding food. With these in mind, Marisa's pick of the bunch when it comes to the on-water luxury experience, are Orion, True North and Seven Star Cruises.
Love to have a cruise with Duncan
For the discerning traveller with a jet-black credit card, the sky's the limit. And it's all about the experience. For example, an Orion photographic odyssey with renowned landscape photographer Ken Duncan, whose pictures from the Kimberley featured in our Outback Issue #021, epitomises what luxury cruising is all about. A 17-day trip to the Australian Antarctic Territory to photograph penguins and icebergs and listen to Ken's stories while sipping an über-cool cocktail starts at an affordable $15,790.
But for the price of one square metre in a luxury apartment in Moscow or a state of the art 70" plasma screen, you can turn this into Australia's most expensive cruising experience and feel like travelling royalty with a stay in the Orion's Owner Suite – for just $33,000. Check out www.orionexpeditions.com for more info.
Hop across to Kangaroo Island
Prices for cruising around the country need not be quite that lofty, however. They can range from several hundred dollars a night to around $2000 – with the length of the journey and extras obviously determining the price. And it seems everyone's jumping onboard the cruising trend; even Adelaide's now got its own ocean liner, with the Athena beginning trips to Kangaroo Island in February next year. So, if you prefer colder weather but can't afford joining Ken in the Antarctic, a three-day trip to KI could be an excellent alternative. It'll only set you back around $645 – affordable even for those of us who aren't related to the Packer family. And if you travel in summer, you might even be able to put the sundeck or pool to good use. You may not feel like Brangelina travelling the Mediterranean, but this former Portuguese presidential yacht won't exactly compromise your style (www.classicintcruises.com).
More than a boat, more than a hotel
A great old-fashioned way to explore Australia's rivers has also had a 21st Century makeover.
Travelling onboard a new luxurious houseboat could be just that romantic getaway you've been dreaming about.
Cruises along the Murray onboard an aptly-named River Dreams Boatel, for example, give you wraparound windows on its two top decks, so that you can enjoy the panoramic views comfortably from the lounge.
(A touch more upmarket than a hammock strung up on a waterlogged wooden houseboat.)
More akin to a floating hotel and less costly than a powerboat cruise, houseboat travelling on a River Dreams Boatel is priced at $180 per person per night, with a cap of $9000 for a full week.
These days, luxury cruising means you could even pack up your family and friends for a houseboat barbie and some Murray cod. Check out www.dreamboatel.com.au for more info.
Sail yourself
Sixty-one percent of all Australian cruising passengers opt for sailing instead of powerboat-style cruises, according to the International Cruise Council. Sailing offers a more leisurely pace, a stronger connection to the ocean and elements, and can be done pretty much everywhere: from Sydney Harbour (as detailed in our Cruising Special, Issue #015) to the sunny and ever popular Whitsundays to the windswept Tasmanian Sea or idyllic Gippsland Lakes in Victoria. Again, the price depends on whether you want to get your hands dirty by bareboating it (with a crew made up of your family and friends) or want to kick back and be waited on hand and foot.
For fans of the latter, a wonderful newcomer to the luxury yacht scene is the stunning 130ft Southern Cloud, which will be taking fully crewed sailing to a new level via ten-person charters to the Reef and the Whitsundays. Most boat-only charters start at several hundred dollars a night – for fully crewed sailing, the costs are an average of ten times that per person per night. And with all-inclusive packages starting at $10,000 a night, when all's said and done the Southern Cloud has the potential to be one of Australia's most expensive and luxurious ways to explore the Reef under sail. (www.southerncloud.com, 0407 419 933).
If you're after a bit more oomph to your cruising experience, the winner of the 2007 World Superyacht Award is a tidy little catamaran (well, 135ft to be precise) called Seafaris – a triple-decked masterpiece owned by Newcastle property developer Jeff McCloy. A week aboard Seafaris (not including fuel, food and drink) starts at around US$119,000 (AUD$124,850). For more, see In the Outback by clicking here and visit www.seafarisaustralia.com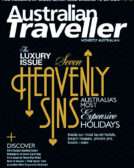 Enjoy this article?
You can find it in Issue 22 along with
loads of other great stories and tips.