Quentin Long witnesses an extraordinary celebration of culture at  Australia's largest Indigenous event –  the Garma Festival – in Arnhem Land.
In dry and easy terms the Garma Festival is the nation's "largest", "biggest" or "most important" annual celebration of Indigenous culture in Australia. The reality of living with around 1000 white fellas and 1000 black fellas on the edge of an escarpment in remote Australia is certainly something big and important. But it's also much more than that.
WHAT IS GARMA?
Organised by the Yothu Yindi foundation as a celebration of Yolnju culture, the Garma Festival is an opportunity to highlight the plight of Aboriginal people, and a chance for two-way learning between the Yolnju and peoples from all over the world.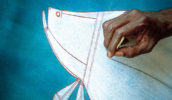 The are from the northeastern tip of the NT and Arnhem Land. Their most famous exports are the didgeridoo and the Yothu Yindi band. The band's lead singer, Mandawuy Yunupingu, is a key figure in the clan and the Yothu Yindi foundation. His brother Galarrwuy was the real seat of power in the nation. Together with a number of other families, the Yunupingu are responsible for the Yolnju people being one of the most respected, powerful and pioneering of all Aboriginal peoples.
WHERE IS IT?
Garma is held 30min drive from Nhulunbuy on the Gove Peninsula at a place called Gulkula. In Yolnju culture this is the home of the didgeridoo, known as a yidaki. It's at Gulkula that the yidaki was first made in Australia centuries ago.
HOW DO GET I THERE?

Most people fly to Nhulunbuy  from either Cairns or Darwin. AT drove the 13 hours from Darwin, nine of which were along the dangerous dirt track of the Central Arnhem Road.
Notes to travellers: FLY. It's safer and easier.The road has no fuel stops, infrequent travellers, and fatal accidents are far too common.
WHERE DO I STAY?

Everyone camps at Garma – tents, meals, toilet blocks and cold showers are all supplied. You can't just pay your money and show up either. You must complete a registration of interest and be accepted to attend.
This is to ensure those with the most to gain from the experience get to go. The number of cultural tourists, which operates more on a first-in-gets-on-board basis, peaked this year at 80 paying attendees. www.garma.telstra.com has more info.
WHAT GOES ON THERE?
Every afternoon at around four o'clock the day ends with a Bunngul – traditional dancing. This brings everyone together for a good old fashioned spectacular. Each dance is accompanied by cheers and encouragement in several languages.
After dinner there's a stage for bands, providing a platform to practice live performances and get noticed within the community.
The reasons people attend are many and varied. Some are at a conference on Aboriginal Health, Education or Welfare (every year it's one of these three). Some are learning a musical instrument. Others, like Australian Traveller, are on organised cultural tours.
At the same time many of the Yolnju youngsters are being taught valuable skills for employment. Some are recording the festival for their media training, while yet others are acting as security at the concerts to gain their security certificates.
Garma draws people from all over the world for any number of surprising reasons. They spend four or five nights camping out, enduring cold showers and reasonable (yet very bush) conditions. Australian Traveller was there to be part of Garma – but as it means so many things to so many different people, we've let them tell their own stories . . .
THE MATES
Jack Thompson has been coming to Garma for seven years. The festival is so important to him that nothing prevents him from attending – not even Hollywood. Jack's contract for the Baz Luhrmann film Australia explicitly states his unavailability while Garma is on.
Jack has been in the ear of one of his mates, telling him for ages that this is well and truly "his kind of gig."
In fact, George Negus has been on the receiving end of Jack's invitations – he calls it "nagging" – for the past five years. George found Garma to his liking. "Personally and professionally this is an opportunity not many of us have," he says.
"And we must be involved when the opportunity arises. Seeing and sensing the difference close up and having to live with it is even better. Having one of the oldest cultures on earth in this country, we should not only be proud, but feel like it's a privilege."
"Having one of the oldest cultures on earth in this country, we should not only be proud, but feel like it's a privilege." – George Negus
When asked why he comes to Garma, Jack, perhaps uncharacteristically, is near speechless. He's certainly in love with the land and the people. "I do not have to go to Africa to feel and experience a unique and ancient culture," he says. "It's all right here."
But dig a little deeper and you realise it's also work. Jack is part of the Garma family. He was adopted by Mandawuy and Galarrwuy Yunupingu, and often acts as a spokesperson to the media when and if the need arises.
It's an honour Jack takes incredibly seriously. "I said to Manda, I'm onto you, mate. This is not just an honour – it's a bloody job."
THE STUDENTS
Matthias Muller is attending his fifth Garma Festival. He travels from Basel in Switzerland to be at Garma and has done so for the past four years. He comes for one reason and one person.
The yidaki is the Yolnju word for the didgeridoo. And every year at Garma, yidaki Master Djalu Gurruwiwi conducts a master class attracting people like Matthias from all over the world.
The students relay much of what Djalu teaches and says. According to Scott from the Sunshine Coast, who's using the didgeridoo in his corporate team building exercises, Djalu is teaching more and more non-Aboriginal people, as they seem the most passionate and interested.
Djalu is disappointed but feels the knowledge must be maintained and handed on.
The master class starts with students learning the pronunciation and words. It's a bit like learning to read sheet music. Djalu believes you cannot play the yidaki without having your mouth trained to form sounds like the original performers.
The second most important part of the training is receiving the yidaki spirit. Djalu teaches that the yidaki is a lot more than a musical instrument. It can be used to heal, educate, communicate and tell stories.
To receive this sprit of the yidaki, students sit in front of Djalu, close their eyes and place the yidaki on their stomach. Djalu then blows the sprit into their bodies. Every student describes the sensation as truly amazing. Djalu tells Scott he can help cure aches and ailments with his yidaki.
"Garma is an opportunity to understand the spirit of the yidaki," says Scott. "To be with a man of this stature and to share in his tradition is very special. I love what Djalu says at the beginning. We're not of the same colour skin, but of the same colour blood."
"To be with a man of this stature and to share in his tradition is very special. I love what Djalu says at the beginning. We're not of the same colour skin, but of the same colour blood."
THE MOTHER & SON
Kyle Vander-Kuyp is meant to be in training for the 2008 Beijing Olympics. He's not that concerned, though, because he's where he wants to be. "It's like walking home," he says. "You can't go anywhere in Australia and get this. It's something I needed to do."
Adopted by Patricia Vander-Kuyp and brought up in a white suburban household in Melbourne, Kyle didn't have the regular white kid upbringing. Like many Aboriginal kids he faced vilification at school.
"I was the shy kid getting called a boong and an Abo," he says. "I went home to Mum and asked if I can get this skin colour off."
Patricia joined her son at Garma this year. A pensioner from Melbourne, Pat walks with a cane because of severe arthritic pain. Not ideal for a camping festival in Arnhem Land but there's no question of not coming.
"He said to me, 'Mum, we've got to go to Garma.' It's all part of his journey and he wants me to be part of it."
Kyle is enthusiastic from day one. "We've had a good experience and it hasn't even started. There's a sense of these people, they know who they are and where they belong. Language is culture and I see these kids with full culture. That's what I want."
Kyle spends the entire festival talking. His shortest conversation is just one hour. One morning he reveals he talked till 5am with two Indigenous people adopted by white families and their stories were all very similar. It's a rewarding feeling to find people who know exactly what he's going through.
Patricia is facing a very different experience. For the white mother of an Aboriginal man the festival could be intimidating and unbalancing. "I'm being drawn into this culture," she says. "And I'm more receptive of the culture and the culture is more receptive of me."
Not much later, Patricia is more effusive. "It's a glorious thing," she says. "This should go around the nation and wake up Australia. It's a beautiful culture."
"It's a glorious thing," she says. "This should go around the nation and wake up Australia. It's a beautiful culture." Patricia Vander-Kuyp
THE PUBLIC SERVANT
Co-author of the controversial government report Children Are Sacred, Patricia Anderson is at Garma to present her side of the story.
She's used to presenting, having done so before to the UN on Indigenous People, but now she's presenting her perspective of the report in contrast to the Howard government's interpretation, which was used to launch the recent intervention.
After she speaks, Pat seems relieved. "The more the people can inspire and provoke people the better," she says. "Involvement in Yolnju culture fosters a lot more understanding between non-Aboriginal and Aboriginal people. It's a positive. And it's good to be involved in a positive."
Pat also enjoys the living conditions. "Camping is incredibly important. Straight away you're locked into an intimate space – lining up for food together, waiting for the toilets. It works. It breaks down barriers and forces you to talk. No mobile access is also a blessing."
THE MUSICIAN
Shellie Morris is known in the Territory but largely unheard of throughout the rest of Australia. She's at her fifth Garma and is nervous about her performance tonight before the headline act – Yothi Yindu on their home soil.
Conversations with Shellie are pretty interesting. Without any preamble, she tells me: "I was on a TV show in Sweden and the presenter asked, 'Do Australians treat Aboriginal people any better yet?' I really had no idea what to say."
"They were trying to teach me – it didn't matter what colour my skin was. I was somewhere I belonged. It helped change my life and dealt with my self esteem." Shellie Morris
 Like Kyle Vander-Kuyp, Shellie was adopted into a white suburban family in Sydney's South. And, like Kyle, she had some battles. A talented musician, she tells of how she wasn't allowed to join the school band because she was black. "Mum walked into the school and wanted to know why I wasn't in the band," she says. "They were forever challenging that ignorance."
Shellie left Sydney for Darwin when she traced her biological family to the NT. To her, Garma is a very special experience. "Garma did a lot for me," she says. "I came for the first time after only 18 months in Darwin. It was the first time I encountered the Bunngal. The asked me to dance with them and I felt very non-Aboriginal. My njapaki (white) friend danced with them and she was painted. She came up to me after and had tears in her eyes. I wept for three hours.
"They were trying to teach me – it didn't matter what colour my skin was. I was somewhere I belonged. It helped change my life and dealt with my self esteem."
THE DANCER
Crusoe Kurrdal isn't a name you'll forget once you realise who he is. As the lead in Ten Canoes, Australia's most successful Indigenous movie, Crusoe would be hot property anywhere outside Australia. At Garma, he's just relaxing with his mates. He's not even slightly put out by the attention of a Garma worker, Tizza, who's determined to get a "me and the celebrity" photo. Crusoe smiles and poses languidly next to the stocky Tizza.
Crusoe isn't that talkative. When asked why he came, he looks confused. It's like asking someone why they eat. "Dancing," he says. "The people asked me to come and dance." And just to be absolutely certain the concept is getting across, Crusoe adds, "It's good fun."
To the majority of Garma people the festival is about having a great time singing, dancing and meeting with their mates. To the rest of us, it seems as though we're witnessing a celebration of culture.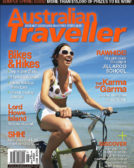 Enjoy this article?
You can find it in Issue 17 along with
loads of other great stories and tips.