But … how many worlds in the war of the worlds do you go for? Well, how persuasive are your kids, and how far are you prepared to place their happiness ahead of your own mental health and financial well-being? For guidance, AT turned to a man we've dubbed the Theme Park King. Not once but twice he's taken his wife and three children to not one … not two … not three, but four theme parks in the space of a two-week holiday. What motivates this sort of weird behaviour?
"The excitement starts when you're driving there," insists the King. "You've been on a plane; the weather's different. The kids know they're on a holiday. You're driving up the freeway and you see the signs coming up first with the huge caricatures. It's a sprint from the car park to the theme park. No-one knows where to run first."
Tip number one: "You need a map," says the King. "And have a meeting place in case you lose the kids." He also advises researching the parks and booking the tickets on the net in advance. Internet bookings are a few bucks cheaper per head than the gate price, and can also be bought with Fly Buys and some other reward programs. The King recommends the Superpass, which gives you entry to three parks (Movieworld, Seaworld and Wet'n'Wild) and allows you to go a second time to your favourite of the three, over a 14-day period. It's $155 for adults and $97 for children, or around $500 for a family of two adults and two children. "You wouldn't want to do any more than that," the King counsels wisely. Dreamworld offers a two-day pass at $75 for adults and $53 for kids, which comes to $256 for a family of four.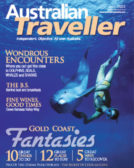 Enjoy this article?
You can find it in Issue 3 along with
loads of other great stories and tips.