War Of The Worlds:
A survival guide to the big four Gold Coast theme parks.
You haven't done the GC until you've done the theme parks.
The Gold Coast's air of escapism and fantasy reaches its zenith in the four worlds – Seaworld, Movieworld, Wet'n'Wild and Dreamworld. (There was even very nearly a Dolly Parton World, "Dolly's Dixieland Stampede", in the heart of Surfers Paradise – although the idea of planting two enormous artificial mammaries in amongst all the other high-rises was apparently too much even for Gold Coast city planners.)
But … how many worlds in the war of the worlds do you go for? Well, how persuasive are your kids, and how far are you prepared to place their happiness ahead of your own mental health and financial well-being? For guidance, AT turned to a man we've dubbed the Theme Park King.
Not once but twice he's taken his wife and three children to not one … not two … not three, but four theme parks in the space of a two-week holiday. What motivates this sort of weird behaviour?
"The excitement starts when you're driving there," insists the King. "You've been on a plane; the weather's different. The kids know they're on a holiday. You're driving up the freeway and you see the signs coming up first with the huge caricatures. It's a sprint from the car park to the theme park. No-one knows where to run first."
Tip number one:
"You need a map," says the King. "And have a meeting place in case you lose the kids." He also advises researching the parks and booking the tickets on the net in advance. Internet bookings are a few bucks cheaper per head than the gate price, and can also be bought with Fly Buys and some other reward programs.
The King recommends the Superpass, which gives you entry to three parks (Movieworld, Seaworld and Wet'n'Wild) and allows you to go a second time to your favourite of the three, over a 14-day period. It's $155 for adults and $97 for children, or around $500 for a family of two adults and two children.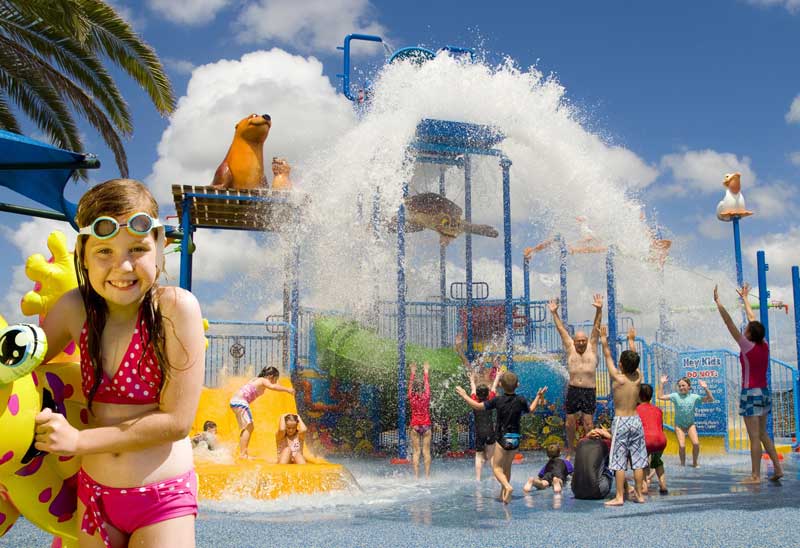 "You wouldn't want to do any more than that," the King counsels wisely. Dreamworld offers a two-day pass at $75 for adults and $53 for kids, which comes to $256 for a family of four.
How to choose your park
Your children's tastes and interests should determine which of the worlds you choose. Seaworld, the original theme park, is by far the most educational, with lots of interactive opportunities.
Snorkelling with friendly sharks, stingrays and tropical fish in a controlled environment is a real highlight, especially for kids who've never been up close and personal with sea creatures before. There are plenty of other animal exhibits and lots of info for serious kids to devour.
Movieworld is more about interacting with people: specifically, actors dressed as favourite film characters. There are heaps of rides and staged shows, the best of which is the Police Academy Stunt Show – definitely worth a laugh.
Wet'n'Wild Waterworld has a fantastic array of high-speed sliding sensations, while Dreamworld is the daddy of them all, combining all sorts of animal exhibits with "some of the tallest and fastest rides in the world."
"It's a tiring day, there's no doubt about that," says our park veteran. "The first time we did them all in a week, and the second week we just laid on the beach. The second holiday we spaced them out." Much better.
On the internet, you can check out in advance which rides your kids will be big enough to go on. "A lot of the rides have got a statue with a hand sticking out at the entrance," says the King. "If you fit under the hand you can't go on the ride, which is a bit disappointing for the kid. It's all done by height, not age. Use the internet to prepare your children."
Make sure it's sunny
Other tips?
"You've got to pick a sunny day for Wet'n'Wild. There's a lot of standing around (see: "Not Wild About It"), and if there's a bit of wind the family don't enjoy that."
As for the dangerous combination of sweet and fatty foods and gut-churning rides, and the risk of Mr Vom wanting to come out to play, the King reckons that's more of an issue for adults than kids: "My six-year-old will go round and round all day long. I'll go once and that's it. I can't go on that ride again."
The King reckons youngsters across the board will enjoy themselves. "They cater to all ages well. And every year they put in something new." Of course, some kids' ambitions will exceed their grasp when it comes to handling the really scary rides, and there are a few you've really got to think twice about as a parent.
Seaworld has the famous Corkscrew – Australia's first triple-loop roller coaster, maxing out at 70 km/h. Movieworld's Lethal Weapon tops that with five upside-down "experiences" at 85ks and pulling 4Gs. At least there's an observation area where you can cower in fear before deciding to give it a spin.
Wet'n'Wild's charms are self-explanatory: Mammoth Falls, Speed Coaster, Twister, Terror Canyon II etc. And Dreamworld's Big Five thrillers – Tower Of Terror, Giant Drop, The Claw, Wipeout and Cyclone – are heavy-duty enough during daylight. Nightime brings a new level of sensation, Dreamworld turns into Screamworld, and many a grown man has been reduced to a quivering blob of jelly. Be ready for it.
A final warning:
If you're making your way to the exit at the end of a long day, congratulating yourself for surviving with your sanity and budget intact, there's one last test awaiting you. "They've got the best toy shops in the world and the exit is always through the shop," warns the King. "There's no escaping it. With kids, it's physically impossible to get out without buying them something."
By Tim Baker and Greg Hunter