Your reef and island experiences in the southern extremities of the Marine Park can be summed up in one word: remote. But that means privacy is virtually assured, and the focus is on clear waters, fascinating wildlife and unforgettable dives. By Fiona Harper

For ease of delineation we'll consider the southern region of the Great Barrier Reef Marine Park to begin at the Capricornia Cays National Park, northwest of Fraser Island and east of Yeppoon. The CCNP is made up of 22 reefs and 22 coral cays (some of which are off limits to the public as they're designated Preservation Zones) in the Capricorn and Bunker Groups. Star attractions include Lady Musgrave, Heron and Wilson Islands, with Lady Elliot Island another standout. Lady Elliot is within the Bunker Group but doesn't come under the national park mantle – a mere technicality that won't concern most visitors. At the northern extremity of this region lie the little-visited offshore islands east of Mackay including Prudhoe, Digby and Penrith Islands.
Many islands in the southern part of the Marine Park are simple cays formed from crushed reef coral, while others – like the intriguing Curtis Island, which even has a working cattle station – contain substantial residential communities.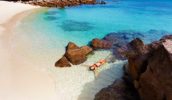 Significantly, much of the actual reef is far offshore and somewhat inaccessible. But this remoteness is actually an advantage; you're far less likely to see wave-piercing catamarans despatching hordes of camera-toting tourists onto remote slivers of sand, simply because it's too tedious a journey for day-trippers. With a few notable exceptions: Lady Musgrave is a popular destination for the day crowd, even though it's around 90min by boat from 1770, while the Keppel Group is an easy short hop from mainland Yeppoon. Most overnight visitors to offshore reef and islands, however, arrive either by seaplane, helicopter or on liveaboard cruises.
The remoteness ensures that diving, snorkelling and interacting with wildlife are main attractions, promising clear, unpolluted waters swarming with coral and marine life. The weather plays a major part in the quality of your experience, not just on the journey, but also once you're actually out on the reef. Strong winds whip up the sea, particularly if the southeast trades have been blowing relentlessly, reducing treasured water clarity.
For those who prefer their salt on margaritas, not on snorkel mouthpieces, there are plenty of opportunities for wildlife spotting above the surface of the water, either from the deck of your chosen vessel, or from an island base. Female turtles return to the mainland and island beaches of their own birth when ready to lay their eggs. Depending on their species, nesting occurs any time between late November and April, with hatchlings starting to appear around seven to eight weeks later. Humpback and Dwarf Minke Whales migrate through the area any time between April and November. Whale watching tours depart from Bundaberg, 1770 and Yeppoon, but you're also likely to spot them if you're staying overnight on the reef during this time.
The most common dolphins are bottlenose, but more obscure species include Indo-Pacific Humpbacks, Snubfin and Spinner Dolphins. Dugongs inhabit shallow protected waters and rarely venture far from the mainland coast, feeding in seagrass beds between Hervey Bay and Mackay. Seabird life is prolific, particularly on the outer islands.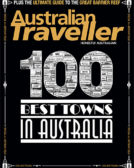 Enjoy this article?
You can find it in Issue 26 along with
loads of other great stories and tips.