Everything you ever needed to know about Australia's greatest natural wonder, the Great Barrier Reef, but were too overcome by its sheer size and scope to ask. By Fiona Harper
 
Welcome to the Ultimate Guide to the Great Barrier Reef Marine Park, an extraordinary ecosystem comprising more than 3000 individual reefs, as well as 900 coral cays and continental islands. Some, like Morris Island in the far north, are little more than a strip of finely crushed coral sand, grimly bound together by the roots of a solitary palm tree. Others, like vast Hinchinbrook Island, a lofty 1100m above the mangroves, could easily be mistaken for the mist-draped southern Tasmanian wilderness – were it not for the shimmering tropical heat.
Stretching 2300 splendid kilometres from Bundaberg in the south to Torres Strait in the north, and spanning up to 250km at its widest point, we've broken this Ultimate Guide up into three regions – the Southern, Whitsundays and Northern Regions – to make it easy for you to navigate through the Marine Park.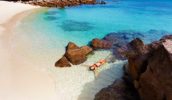 We've identified Bundaberg as the southernmost mainland town, even though it's not strictly in the Marine Park, simply because it's the jumping off point for Lady Elliot and Lady Musgrave Islands. The Southern Region then stretches north to mainland Yeppoon, offshore to Prudhoe Island east of Mackay, with all the islands and reef in between. The Whitsundays region includes mainland towns from Mackay in the south through to Bowen in the north, incorporating the islands and beyond, to outer Hook, Line and Hardy Reefs. And the Northern Region starts at mainland Townsville, continuing northwards beyond Cape York into Torres Strait, including the offshore islands and reefs between Magnetic and Poruma Islands. And so we begin our journey . . .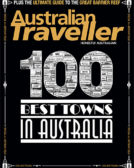 Enjoy this article?
You can find it in Issue 26 along with
loads of other great stories and tips.