Quentin Long reveals what it's like to honeymoon in complete privacy at Australia's most covetable romantic luxury resort, qualia on Hamilton Island. There are many theories about where the idea of the honeymoon originated. My favourite – and the least likely, in my opinion – is of Nordic origin. The legend says a honeymoon was the period when a blond hero hid his recently abducted bride from her searching tribe. When the search was abandoned, the blond hero would return to his village with his new and now well-trained wife.
Regular readers will have witnessed the Nordic part of my honeymoon in issue 33 of Australian Traveller (Jun/Jul 2010), where I 'adbucted' TWMBW (The World's Most Beautiful Wife) Wolf Creek-style and took her on a four-day road trip through the Outback. We went from the grandeur of the Barossa Valley to the luxury of Longitude 131° at Uluru via – shock horror – no-star roadhouses and caravan parks.

You might also remember that the only reason I was able to bargain for a rough-as-guts outback venture during our honeymoon was this: I promised my wife that in return I would take her to qualia, one of Australia's most decadent luxury resorts. The qualia experience is tailor-made for a honeymoon.

Now, for those about to jump to horny schoolboy fantasies of the ideal honeymoon, I will let you down gently. The honeymoon is not a period for marathon bedroom gymnastic sessions. In reality it is a well-earned rest for the bride, who has endured the very public torture and stress of organising the Big Day. The groom's role is to mope about with a hangdog look as his schoolboy fantasies are put on hold till the bride is well rested.

The brief for the ideal honeymoon is still pretty simple: it needs to be a self-indulgent, private, no-need-to-lift-a-finger, every-whim-catered-to destination. That's qualia.

Qualia is a 40-pavilion retreat on the northern tip of Hamilton Island. Don't let preconceptions of the horrible 'built for Japanese' Hamilton Island of the '80s and '90s cloud your judgment. A lot has changed since the Oatley family acquired the island in 2003. What was once viewed as a nasty, overpriced rip-off has been completely transformed into a sophisticated leisure isle. The signature developments to this evolution are the brand-new Hamilton Island Yacht Club, the 18-hole Hamilton Island Golf Course (actually situated on Dent Island) and qualia, the resort that truly captures the essence of the new Hamilton Island.

The bluestone and timber pavilions at qualia are simply amazing. Beyond the wide front door, you enter an open-plan sitting room with a small kitchenette. A comfy sofa and discreet TV are barely noticed in favour of magnificent views out to the Whitsunday Passage through a full glass wall.

All 40 of the villas are oriented in such a fashion that you feel like you're enjoying a private island owned by the love child of Coco Chanel and Giorgio Armani. It's sophisticated and indulgent without being ostentatious.

In the bedroom, a lusciously comfy king-size bed is positioned to take in those astonishing Whitsunday views. The bathroom features an egg-shaped bathtub, and marble floors and vanity. Aesop products are replenished every day after TWMBW mysteriously manages to use the entire supply…

Each pavilion also has a private outdoor area. An undercover day bed and breakfast table provide respite from the midday sun. For tanners, sun lounges are positioned for maximum melanoma creation. The private plunge pool is adequate in size for those not wishing to do laps, so there is no need to mix with other guests at the resort's main pool.

The facilities included in each pavilion are top-notch. Plug in your iPod and your tunes will be piped through all rooms, or you can select which rooms play your music and which ones don't. The minibar is
well stocked, and the complimentary bottle of Mumm for honeymooners well appreciated. All that is why for the first three days of our honeymoon we only venture outside the pavilion for meals. By day, I read by the pool while TWMBW sleepily mosies from the bed to the plunge pool to the day bed to the lounge to the bed again, in two-hour cycles, before it is again time to eat.

We do manage to leave our honeymoon bubble on the fourth day for a private picnic on the beach. And yes, it is as superb as it sounds. Snuggling on towels under a massive umbrella, we sip champagne, nibble fresh prawns and smoked salmon and wonder how on earth the rest of the world could live without such experiences and one of the world's most beautiful vistas. That picnic is one of the most memorable moments of our married life to date.

Ask TWMBW today what she remembers about the honeymoon and it's pretty straightforward: "It was just superb," she says. "Eat a magnificent breakfast then lie by the pool. Have a fantastic bottle of great wine over a beautiful lunch and lie by the pool. Shower and change for dinner, then enjoy another superb bottle of wine and a meal of at least one-hat standard. Then head back down to bed."

One other moment stands out for me. On the morning of our fifth day, TWMBW sits down to breakfast. After sipping on her fresh tropical juice and slurping on a skim flat white, she peers over the breakfast menu and sighs, "I just can't eat any more smoked salmon."
"Did you just hear what you said!" I splutter.
She gives me the smile that melts my heart, turns her beautiful profile to peer out over the magnificient Whitsundays Passage and says, "You could never tire of this."
The smoked salmon maybe. The place… never.
THE DETAILS:
About qualia: Most guests opt for stays of two to three nights. If you can afford it, four or five is even better. Spa treatments are in high demand: we were unable to book any spa treatments at all for the entire length of our stay, so make sure you book online before arrival, or enquire about availability as soon as you check in.
Notes: There are two standards of pavilions at qualia: Leeward, which do not have private plunge pools, and Windward, which do. Leeward pavilions cost $1200 per night; Windward pavilions cost $1750 per night. There's also a Beach House for $3500 a night. (Gourmet rates to March 31, 2012 include all meals and non-alcoholic drinks. Minibar and alcoholic beverages incur additional fees.) All island facilities are included in your room rate, but we doubt you'll want to venture out. Although you may want to check out the brand-new golf course on Dent Island, where guests at qualia have priority bookings and tee times. Qualia does not cater for children.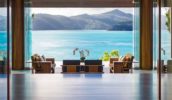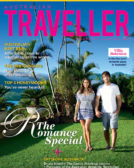 Enjoy this article?
You can find it in Issue 39 along with
loads of other great stories and tips.