These four island resorts are the very pinnacle of the luxury island experience. Some are well known, others less so. But, as Tom Barclay discovers, all are right here in Australian waters . . .
If John Dunne was right and no man is an island, we all sure as hell want to be on one.
In terms of pure holiday brag factor, the luxury island resort holiday is the pinnacle, any mention of which immediately conjures up images of swaying trees, empty stretches of sand, crystal lagoons and so much more. As conversational topics go, a luxury island resort holiday will stop a dinner party in its tracks.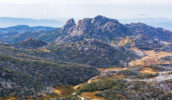 A luxury island resort holiday, to most of us, means a being cocooned from the rest of the world and having your will indulged, your desires fulfilled and your thirst for unique experiences satisfied.
In Australia we have plenty of luxury island resorts. However, there are four luxury island resorts that are far superior to the rest – and they're priced to match. They are world standard, sophisticated and truly elegant in conception and design. They are Lizard Island, Bedarra Island, Hayman Island and qualia on Hamilton Island, and they have the distinction of being the finest luxury island resorts in Australia.
Australian Traveller covered the Lizard Island, Bederra Island and Hayman Island extensively in our very first issue two and half years ago. So, for this luxury islands feature, we decided to drop in on the newest luxury island resort (and definitely most hyped), qualia.
QUALIA
Entering qualia is like something straight out of Jurassic Park. A stone wall with two enormous electronically activated doors stands before me. The golf cart traffic, a luxury island staple these days, is also reminiscent of the Spielberg blockbuster.
The wall and doors are far from ornamental. They're there, not to keep the velociraptors at bay, but to keep out the masses who've descended on Hamilton Island and maintain the exclusivity, privacy and calmness that is Qualia. It's like being ushered into a VIP room. It can't help but make you smile.
On the northern tip of the island and fenced off from the rest of the mini tourist town that takes over various parts of Hamilton, access to the retreat is for staff and guests only. The overwhelming qualia experience is as the name suggests – very difficult to define or explain. "qualia", a lofty term used by philosophers and coined by CI Lewis in 1929 (no, not the Narnia Chronicles guy; a different Lewis), is an attempt to describe one's sensory perception of things – the way things feel to us for no physical reason.
To me, qualia feels calm, grand and exclusive. "I haven't stopped walking around with this stupid grin," a guest from Melbourne exclaims at the Sunday cocktails with the general manager. "I've already told my husband we're coming back every year."
After being admitted through the gates, you pass by an expanse of standalone chalets (I learn later that they're pavilions) among manicured gardens. All are brand new. Exclusively all-inclusive Entering the main public area of the retreat, the Long Pavilion, you'll notice the architects have worked hard with the spectacular scenery to make an impression. With a majestic vista over the islands visible through wide open doors, the space is reminiscent of breezy Balinese structures. But qualia is quintessentially Australian; all building materials are local and include hardwoods and granite boulders from the surrounding areas.
Every guest has his or her own pavilion. Simply designed, the three rooms and outdoor area with your own plunge pool form a very large private sanctuary. Walking in, once again you can't help smiling – this place is all yours, and it is sooo ready for relaxing in oceans of comfort, like your own private beach house.
The entire wall facing the isles and straits of the Whitsundays is made up of floor-to-ceiling windows. The woodwork throughout is careful and of artisan standard. The finishing, as you would expect, is superb. The marble bathroom is huge; the centrepiece is the egg-shaped bathtub perched by the window. The furniture is modern, wooden and welcoming. From outside, the mix of granite stonework and woodwork is muted, private and completely inoffensive to the surrounding land. The pavilions are airy, light and cosy.
At three metres long, the plunge pool is no gimmick. With a ledge to perch on and watch the sailing ships go by, you can use it anytime of day – it has lighting for late-night dips. (Did I mention, no, you can't see into another pavilion and vice versa?)
The surrounding deck has an undercover day bed and tanning lounges exposed to the sun. Music is piped throughout, but if the soothing in-house tunes aren't to your taste you can plug in an MP3 player. Lying in the bathtub or perched in the pool listening to and watching the bush and water is so fantastically relaxing. There's absolutely no reason to leave the pavilion.
FINE DINING
Breakfast and dinner are served in the Long Pavilion. A delicious breakfast with these views is hard to beat. One of the two guest pools is on this ledge. Pebble Beach serves lunch and also forms the central pool area for the retreat, with a large and inviting horizon pool surrounded by lounges and small gazebos. (It's an appropriately named beach, too. Along with the pebbles, there's imported sand and sun lounges – but there are better beaches a sail away.) Lunch can be brought to you by the pool or you can stretch your legs for the 15m walk to the balcony – and a view the brochures will never do justice. If you have the energy, the staff at the service desk can take you for a sail or you can kayak out into the wilderness.
Balancing hot rocks on various parts of your body at the spa is surprisingly rejuvenating. The heady feeling after a 90min treatment will make any "I'm ready to be stoned" jokes beforehand seem less fiction than originally intended, but you're probably not immature enough to be making those jokes in the first place.
French-born Executive Chef Stephane Rio, formerly from Hamilton and Hayman Islands, has created some superb meals. The favourite has to be the ocean trout nori rolls, lightly fried and served for lunch at Pebble Beach. That trout also happens to be Rio's favourite produce from the local area (one day from ocean to plate). The Sunday night seafood BBQ on Pebble Beach is overflowing with crustaceans, some tastier than others. As with the early stages of any new resort (AT ventured forth just six weeks after opening), the kitchen is still putting the finishing touches on its food.
The involvement of the Oatley family – of Rosemount Estate fame – who own Hamilton Island and developed the entire resort (well, they spent the reported $80 million to build it at any rate) guarantees a superb wine list.
The staff at qualia are adjusting to their new surrounds. The challenge for any of these islands, particularly in the early days, is to find the right number of the right kind of staff. Qualia's currently tend towards the slightly tentative and lack a little confidence. Time will mend that. For now, Qualia remains the ultimate in private lavish holidaying. Perfect for couples who need time out and time together.
Details // qualia
There are two types of pavilion, Windward and Leeward. The Windward ($1600 a night) are north facing and have a private pool. The Leeward ($1400 a night) are south facing without a pool. All meals, non-alcoholic drinks and most activities included. Children are not catered for.
Pick of the Pavilions //
No.6 and No.5 are over the water with unbeatable views and privacy.
Getting there //
Qantas, Jetstar and Virgin Blue fly to Hamilton Island from Sydney Melbourne and Brisbane.
Contacts //
02 9433 3349 www.qualia.com.au
LIZARD ISLAND
Check any international "hot", "cool", "best of" or "must stay" list and Lizard Island is Australia's highest ranking representative. It's been on the CN Traveler Gold List since time began. And like most great Australian exports, we at home don't know it's there. It is THE Australian luxury island resort.
Lying 290km north of Cairns with the South Pacific looming beyond, Lizard Island is very remote. With just 40 rooms, there's a beach here for everyone. The wow factor of Lizard Island is its setting – a granite island in the middle of the reef. Nowhere else in Australia can you walk 15m from your room down a gently sloping, white, powdery beach, dive into the sea and within a few strokes be gazing at the gardens of coral. Its proximity to the reef is the envy of every resort in Australia.
Staff will organise a picnic at a secluded beach if you think you need it. No walls are required to keep the masses out as it's a single island resort – save for the weather monitoring, no-one else is there except for guests and staff. The food has long been renowned for its quality, particularly considering the remote nature of the place. The island is understated, relaxed and informal.
Hayman Island may be the most well known, but Lizard Island is the luxury island of choice for those in the know. When Tony Wheeler, founder of Lonely Planet, calls the place a "wonderful island", it's high praise indeed. Check out www.australiantraveller.com/lizardisland for more.
Details // Lizard Island
$1584 per night for the Anchor Bay rooms.
$1974 per night for the Sunset Point villa. All meals and drinks including alcohol are included, as are most of the activities.
Getting there //
Hinterland Airways flies from Cairns to Lizard Island, $398 per person return. Qantas, Jetstar and Virgin Blue all fly to Cairns.
Contacts //
1300 134 044, www.voyages.com.au
BEDARRA ISLAND
With only 16 villas, Bedarra Island is a special retreat for couples. Hidden in the rainforest, hardly visible when you arrive by boat from Dunk Island, the Bederra Island villas and pavilions are superb.
Popular with honeymooners (Bec and Lleyton to name-drop just two), Bederrra Island is an indulgent lazy holiday away from the rest of the world. Two beaches on either side of the island are distractions from the gaze of a loved one. Bedarra Island is an intimate, exclusive retreat accompanied by an outstanding food and wine list. Check out www.australiantraveller.com/bedarraisland for more.
Details // Bedarra Island
$1594 per night for the Hillside Villa rooms.
$1912 per night for a Villa. All meals and drinks including alcohol are included, as are most of the activities.
Getting there //
You can access Dunk Island from Mission beach or Cairns. Qantas, Jetstar and Virgin Blue all fly to Cairns. Hinterland Airways flies from Cairns to Dunk Island, $198 per person return, then boat transfer (included in booking) to Bedarra. Water taxi from Mission Beach $35 per adult return. Qantas, Jetstar and Virgin Blue all fly to Cairns.
Contacts //
1300 134 044, www.voyages.com.au

HAYMAN ISLAND
At 212 rooms, Hayman Island is the largest luxury island resort on this exclusive list of four. High in awareness among Australians, it's rare to hear a negative report on the resort. After many years at the top end, Hayman Island is like a well-oiled machine that continues to deliver. As opposed to the other luxury islands written about here, Hayman Island welcomes children and does offer excellent services to keep the kids busy so Mum and Dad can relax properly. Check outwww.australiantraveller.com/australia/australias-luxury-islands/ for more.
Details // Hayman Island
Cost //
$665 per night for a Palm Room, $800 Pool Room. Rates are room only, and there are many more styles of room.
Getting there //
You can access Hayman Island from Hamilton Island airport. Transfers are $410 per adult return. Qantas, Jetstar and Virgin Blue all fly there.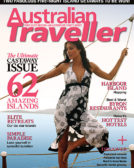 Enjoy this article?
You can find it in Issue 19 along with
loads of other great stories and tips.