Australian Traveller image Portfolio on Darren Jew and his recent Far & Wild exhibition at the Tasmanian Wilderness Gallery. Darren Jew
Underwater, on land, hanging from trees . . . it's all in a day's work for wildlife photographer Darren Jew. Here he captures some of Australia's most diverse creatures, great and small.
Former photographer for Queensland National Parks and Wildlife, Darren Jew was first inspired to crouch behind a lens by his father, who regularly travelled to Antarctica. His stunning imagery concentrates solely on introducing creatures of the wild to people who might not otherwise get that opportunity. "I don't want to just show you things in my photographs," he says. "I want them to take you there, to meet the creatures, to feel the landscape."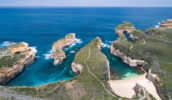 His award-winning work is currently hanging in the Wilderness Gallery at Cradle Mountain in Tasmania, perhaps our country's greatest and most prestigious nature photography exhibition space. From that series, entitled Far and Wild, we've selected our favourite of the Australian animals portrayed, and asked Darren to let us in on just what he was thinking as he was capturing them on camera for that all important creative moment. "Unlike movies, photography is not about reliving an experience in real time," says Darren. "The still image offers the chance to pore over the details of an often unrepeatable moment; to study the makeup of things that might otherwise be gone in an instant."
It's clear that Darren is an extremely environmentally conscious traveller and photographer, believing firmly in the edict that we could all strive harder to leave less of an impact on our surrounds as we move endlessly around this Earth. In fact, "Take Only Photographs" is the title of his regular column in Wildlife Australia Magazine. Interestingly, he's also one of those rare photographers who believes – or perhaps this is more of a personal style – in taking relatively few photos.
"No, I don't shoot a lot of images," Darren says. "Even though the temptation towards a shot-gun approach is there at times. I find a better method is to have patience with my subject and faith in my ability to capture exactly what I want, the way I want it. Images of wild creatures are mostly born from once-in-a-lifetime opportunities. Even though I spend a lot of time in the company of animals, those chances are few and far between, so when they do come, I need to make the most of them."
Call Living Image on (07) 3269 2059 or visit www.darrenjew.com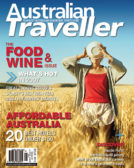 Enjoy this article?
You can find it in Issue 13 along with
loads of other great stories and tips.