No crowds, no high-end hotels, no advanced technology; just pure unadulterated nature. AT shows you how to get away from it all on these remote Aussie islands.

There's one sure way to avoid the crowds at popular holiday destinations around the country. Just cast yourself away. Avoiding luxury at all costs, Fiona Harper goes island hopping with one object in mind: to get herself marooned.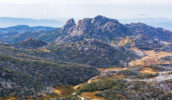 In a world becoming ever more technical and complicated, it's more important now than ever before to occasionally find a simple piece of paradise, slow down and actually smell the roses. Or, more accurately, sniff the salty scent of the sea at dawn. It's only when you awaken beneath a forest canopy to the sound of wildlife erupting into its own operatic chorus that you discover the carefree life of an island castaway.
Robinson Crusoe, Daniel Defoe's seminal English castaway, spent 28 years marooned on a remote tropical island. None of us has that kind of time to spare, but surely we can find a week or so to melt into an island existence, where internal clocks are set by the setting sun and rising tide. Where evenings are spent beneath the stars watching clouds skitter across the moon. Where shoes are discarded and the only footprints on the beach are likely to be your own. But with so many islands dotted off the coast of this island nation of ours, where do you start?
SOUTHERN SEAS
In 1802 a rather hungry explorer by the name of Matthew Flinders named Kangaroo Island after the animals harvested by his starving crew. Attractions for visitors today still include the prolific wildlife, but with a less tactile focus, and a historic Shipwreck Trail detailing 50 wrecks. The island's thriving 4000-strong community enjoys 450km of pristine coastline, ensuring there are plenty of isolated escapist holiday properties for rent. Connections are by ferry or air on daily scheduled services (www.tourkangarooisland.com.au).
Although it's something of a challenge to access the windswept Bass Strait islands, adventurers who enjoy salty maritime air with a dash of history need look no further than Flinders Island in the Furneaux Group (www.focusonflinders.com.au).
Perhaps part of a land bridge prior to the ice age, the Furneaux Group formed in the consequent melt. Today, access is available by sea or air from Launceston. Lodgings are mostly simple holiday cottages, but camping is also permitted, often right on the beach. Nearby Deal Island in the Kent Group is accessible only by private boat. Its lighthouse keepers' building has suffered in recent times from lack of funding and volunteers are always welcome to lend a hand maintaining it.
Heading deep into the Tasmanian wilderness, it's hard to get any further south than Maatsuyker Island without needing a passport. Lodgings here are in the lighthouse keepers' residence. Arriving by helicopter onto the rather small rock that constitutes Maatsuyker Island, be prepared to be castaway here for quite some time. Volunteer lighthouse keepers are required to commit to a three-month stay in this dramatically remote outpost, all while undertaking various weather and marine reporting duties.
Maria Island, on the east coast of Tasmania, with its historic penal colony ruins and rugged cliffs and mountains, has basic accommodation facilities at the old Penitentiary at Darlington. Basic meaning dorm- style rooms with no electricity and gas-operated hot showers. Camping is available at a number of sites for those wanting a little more comfort. Contact Parks & Wildlife Service Tasmania (03 6257 1420, www.parks.tas.gov.au). Daily ferry services depart from Triabunna. For castaways after a little more structure, the award-winning Maria Island Walk offers four-day guided walks for groups of eight guests with two local guides, gourmet dining and elegant lodgings (03 6227 8800, www.mariaislandwalk.com.au).
ROUNDING THE EAST COAST AND HEADING NORTH
Gabo Island is well known to seafarers, just off the Victorian harbour of Mallacoota Inlet a shade south of the NSW border. The island hosts Australia's second tallest lighthouse (erected in 1862), an elegant red granite building that was fully manned prior to automation in 1993. The old lighthouse keepers' residence can be booked for stays through Parks Victoria (www.parkweb.vic.gov.au).
Moving into the tropics, Queensland has such an abundance of island treasures it's impossible to list them all. North and South Stradbroke, along with Moreton and Fraser Islands, are all sand islands with scores of sweeping, isolated beaches. All are accessible by ferry, some with vehicular ferry options allowing for in-depth exploration, particularly Fraser Island.
Camping options are abundant, as are countless low-key resorts and holiday rental properties (www.queenslandislaunimpressed, describing the islands as having an appearance of barrenness rather than fertility. Castaways looking for seclusion and a clear ocean will find the Beach Shack appealing (www.greatkeppelisland.biz). Located on the same squeaky white beach as the resort, the Beach Shack is tucked in behind the coastal sheoaks, and is just 39 languid steps to the high tide mark.
Nearby Humpy Island is very popular with dedicated campers, while privately owned Pumpkin Island has five beachfront cabins for holiday rental (www.pumpkinisland.com.au). Get there by ferry from Yeppoon, and info on Qld camping permits can be found at www.qld.gov.au/camping.
Further north, the Percy Group is a favourite of the cruising fraternity, with Middle Percy Island ideal for those craving island solitude. On the crescent shaped western beach, boating visitors have decorated a welcoming A-frame hut, complete with coconut palms and deck chairs, with signage dating back half a century. Current sheep grazing lessees welcome volunteers to share their home and workload, providing board and lodging overlooking West Bay. Access is by private boat only, with volunteers known to hail down fishing boats to get on or off the island (www.percyisland.com).
Hinchinbrook, with its rugged mountain peaks concealing waterfalls amid the lush rainforest and mangrove-lined, creeks is an astoundingly beautiful island National Park. With 32km of trails, bushwalking is the predominant reason for visiting – but walker numbers are limited in order to preserve the pristine environment. Bunking for trekkers is at one of the many camping sites, either on coastal headlands or beneath the inland forest canopy. Eco-minded castaways can also find comfortable refuge at remote Hinchinbrook Wilderness Lodge (www.hinchinbrooklodge.com.au).
Dunk Island is well known for its post Cyclone Larry-refurbed Voyages resort, nestled beachside beneath tropical rainforest canopy. But what's little known is that the island welcomes campers and in fact recently built a beachfront bar/café to cater for castaways who enjoy a latte at dawn and civilised dining at lunch (www.voyages.com.au). Jump the ferry from Mission Beach, or by scheduled air service from Cairns or Townsville.
OVER THE TOP
Lizard Island, also a Voyages property, can be accessed by scheduled air services from Cairns. While wealthy tourists flock to the resort, castaways camp beachside beneath the dramatically peaked 358 metres of Cooks Lookout. The beachfront at Mrs Watsons Bay is lively and welcoming among boaties and campers with regular sunset gatherings beneath the sheoaks. Don't miss the Friday night sausage sizzle at the beachfront Marlin Bar (www.voyages.com.au).
Haggerstone Island in Far North Qld is for castaways who crave comfort and exclusivity and don't mind paying for the privilege. Indeed, the whole island can be booked for around $4000 per night, with various lodgings ranging from tree house to beach hut and lagoon hut. Charter a plane from Cairns to Hicks Island, then travel by boat to Haggerstone (www.haggerstoneisland.com).
Poruma Island, midway between Thursday Island and Papua New Guinea in Torres Strait, qualifies as a castaway destination simply because it's so challenging getting here. The thatched roof huts, white sands and casual laid-back nature of the Torres Strait islands adds to the Robinson Crusoe feel.
Deep down in the Gulf of Carpentaria lies Sweers Island Lodge (www.sweers.com.au). The main focus here is fishing, but its remoteness ensures that peace and tranquillity dominate the day's activities. Arrival is by private boat or by charter flights from Cairns or Darwin. Interestingly, Sweers Island was also the home of the Investigator Tree (which now resides in a museum in Brisbane), which bears the inscriptions Investigator, the name of Flinders' ship, carved there by the explorer in 1802.
Groote Eylandt in the northwest Gulf, the third largest Australian island, is the traditional home of the Anindilyakwa people. Would-be Crusoes can stay at the safari-style ET Escape Sportfishing and Wilderness Lodge, which has beachside elevated tented bungalows, or at the ultra-new home for castaways: Dugong Beach Resort, developed in consultation with local traditional owners to help showcase the art, culture and way of life of the Anindilyakwa-speaking people (https://www.grooteeylandtlodge.com.au/).
The Galiwin'ku on Elcho Island form a traditional Aboriginal community that welcomes visitors to experience communal village life. Shared accommodation is available in a guesthouse overlooking Mission Beach. Part of the Wessel Island group and therefore part of Arnhem Land, a permit must be arranged prior to visiting. An air service operates from Darwin via Maningrida (www.galiwinku.nt.gov.au).
SETTING COURSE FOR THE WEST
More than 2700km northwest of Perth and well out into the Indian Ocean you'll find Australia's most remote islands. The Cocos (Keeling) Islands are the quintessential postcard tropical isles, complete with white sand, palm trees, turquoise waters and coral lagoons. Expect to be mesmerised by the tropical beauty and casual lifestyle of the islanders, which revolves around the rising of the sun and the falling of the tide. Twice weekly flights depart from Perth (www.cocos-tourism.cc).
The Montebello Group is a maze of lagoons formed by more than 100 limestone islands between Onslow and Dampier. These picturesque islands are so remote they were deemed a suitable site for three atomic test explosions in the 1950s. Divers and fishermen regularly visit by private or charter boat, utilising their own onboard accommodation (www.montebellos.com). The only other lodgings are for workers at the permanently moored houseboat run by Faraday Pearls in Chianti Bay.
Often overlooked by travellers tempted by the heavily promoted nearby Ningaloo Reef, the Mackerel Islands are a little known haven for naturists, divers and fishermen. Beachside cabins are available on Thevenard Island, or you could hire the solitary house on Direction Island for an authentic castaway experience. Get there by boat or charter plane from either Onslow or Exmouth (www.mackerelislands.com.au).
Located smack bang in the middle of World Heritage-Listed Shark Bay, Dirk Hartog Island was the site of Australia's first recorded European landing. Accommodation at the Homestead is located within the century-old limestone shearers' quarters with gourmet meals all-inclusive. Travel here by boat from Denham (www.dirkhartogisland.com).
And for something a little too Robinson Crusoe, who could forget the nearby Houtman Abrolhos chain of 122 tiny islands offshore from Geraldton? This infamous group in the Indian Ocean has stood witness to the demise of more than 50 ships – including the most famous of them all, the Batavia, in 1629 (AT has written before about this horrific tale of mutiny and massacre, so check out issue #015 if you wish to know more, or visit www.australiantraveller.com).
So there you have just some of the myriad options in Australia for hopping an island and getting far away from it all. There's a plethora of escapes for would-be castaways – and really no reason not to get out there and find your own little piece of island paradise.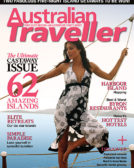 Enjoy this article?
You can find it in Issue 19 along with
loads of other great stories and tips.