Australian Traveller goes walkabout around the Northern Territory's Cobourg Peninsula, reaching the extremities of the 'Top End' in style. Words and photography by Georgia Rickard
Actually, it's the buffalos that scare me most," Dave says confidingly. "They're much less predictable than the crocs."
So far, we've been inclined to listen to what Dave McMahon has to say to our group of five travellers. With his bare feet, Akubra and khaki stubbies, he looks every inch the bona fide bush guide, though it's his seemingly limitless levels of knowledge – on local Indigenous languages, the area's history, the regional bush tucker – that gives him credibility.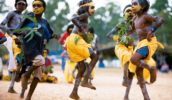 Alas, he has yet to convince us that the crocs 'round here aren't worth worrying about. "Honestly," he protests. "The main thing to know about crocs is, they're lazy."
It is day three on this safari through the Cobourg Peninsula, and thoughts of crocodiles – along with actual crocodiles – have accompanied us at almost every turn. Since arriving here, in this pristine area of wilderness some 570 kilometres north-east of Darwin, a handful of croc-friendly rules has been established: no getting closer than two metres to any shoreline. No hands over the side of boats. Absolutely no swimming. The croc-awareness also extends to our accommodation; semi-permanent tents positioned on the edge of a small cliff which are – in theory – too high for them to get to.
"You don't get to survive 200 million years without being smart," persists Dave. "And crocs are lazy. Unless you're in the water, or in a vulnerable position like a squat, you're too much effort to attack. It's the same reason why crocs will always take a child, instead of an adult."
The group remains silent.
"Wild buffalos, though…" he shakes his head. "They'll charge anything." He looks around at us, suddenly serious. "If you see a buffalo while we're here, you drop what you're doing, and get yourself behind the biggest tree you can find."
If ever you're planning a visit to this 2100 square-kilometre region of wilderness, things like this are good to know. Cobourg is protected by Gurig Gunak Balu National Park, the first in Australia to be managed jointly by the area's traditional owners, and thus has had the good fortune of remaining almost perfectly untouched since European settlement. No more than 30 people live in this entire region. There are no nearby towns. No mobile reception. Indeed, if you're planning to camp here – something only 20 cars can do at a time – you'll need to come well-prepared. There might be plenty of fodder for crocs in the area, but you'll find no fuel, no water supplies, and definitely no supermarkets.
Unless, of course, you're with Dave. The guy is a regular Bear Grylls, full of survival knowledge both worthwhile, and not so much ("look, mangrove worms! They're very high in iron… though they taste like rotting mangroves"), but he's also here as our guide with Venture North, the only luxury 4WD business – indeed, the only business at all – to have been given permission by the land's traditional owners to operate here. Only around 250 people get the chance to take this trip each year, co-owner Hugh Gange tells me later, and there are no intentions of ever increasing that number. A good thing; even if the ratio of buffalos/crocodiles/people seems somewhat alarming.
Close encounters
"We've got life jackets," drawls boating guide Jim Maywald, gesturing to a metal box at the back of the vessel, "but if the boat tips over, you probably won't make it back to shore."
To get to Cobourg, we must drive past the Mary River Wetlands System, arguably the Territory's most beautiful wetlands… and an area with one of the highest densities of crocs in the world. The cruise we've stopped to take along the Corroboree Billabong, with Wetland Cruises, is a worthwhile detour. These wetlands are a documentary in motion: thousands of birds squawking and fluttering about; hopping and feeding and mating with no regard for us.
We might be in Africa, if it weren't for Jim's Aussie twang. "One of the local crocs had to be removed recently," he growls from under his Akubra, "for marauding the local fisherman. They'd come in each morning to launch their boats and there he'd be, a great big croc, ready to hassle them as they launched their vessels."
Just then, a Black-Necked Stork (more commonly known as a Jabiru) comes into view. He's all bright red legs and pin-cushion body, and I scramble closer for a photo.
"Don't get too close," says Jim dryly, from behind me. I freeze. "There's a croc just to your right."
Indeed there is – no more than two metres away. He's dead still with gleaming eyes. Cripes.
God's country
On the way to Kakadu we slow down for a car with Victorian number plates, parked beside the highway. The driver is on the phone. "Probably calling 000 about the fires," Dave chuckles. The regular bushfires can take some getting used to for non-Territorians, but the fact that they're just that – regular – is precisely why they're nothing worth worrying about.
"It's a different attitude up here," nods Dave. "The Aboriginal people have always seen fire as a life-giving tool, rather than something destructive, and they've been burning the land for thousands of years. Down south fires burn at about 1000 degrees, but because it happens so regularly up here it burns so slowly, at about 110 to 120 degrees."
Even the animals have adapted. "Whistling kites have learnt to pick up bits of burning wood and use it to start new fires elsewhere, because they know that fire pushes lizards and snakes out of their hiding holes – which means food."
We stop en-route to Cobourg at the Maguk Pool in Kakadu. Dave keeps up the commentary as we get out of the car and start the one-kilometre trudge to the waterhole.
"Aboriginal people look here and see a supermarket, a tool shop, a pharmacy," he says, gesturing at the bushland. "Though 60,000 years of trial and error will give you that kind of knowledge." He grins. "We're in God's country now."
Too right. Giant pandanus trees tower above us like a prehistoric forest, making our small group seem toy-sized in comparison. Leaf litter is strewn in the palms high above us. It's hard to believe this was all underwater eight weeks ago.
At the end of our trek is a worthy reward. The waterhole is a black oasis, framed by a verdant green brow of pandanus, ending in a dramatic escarpment from which a waterfall streams down. If we're in God's country, then this must be His swimming pool. It smells like fresh rain and scorched sandstone. Diving in feels like silk.
"Maguk hasn't been open long this season," says Dave, on the walk back. "The crocs get in during the wet season, then can't get out. This year the surveyors found a three-meter croc here, removed it, then came back the next day to discover a monster four-and-a-half metre, who'd slipped through their first search."
"Thanks for letting us know that now," replies fellow passenger, 70-year-old Trish, dryly.
The cultural divide
Cahills Crossing, a concrete tidal bridge passing over East Alligator River into Arnhem Land, has a few stories to tell. In 1987, local Kerry McLoughlin was reportedly fishing here when his line snagged. With six American tourists watching – they were there to cross the river – Kerry waded into the river to retrieve his lure. Unfortunately, he never made it out. Tourist photos show he was decapitated by a five-metre croc. Only his lower half was recovered.
"There's always something to see at Cahills Crossing," agrees Dave, cheerily. "Usually it's someone trying to cross when the tide is too high. It's like a living, breathing David Attenborough documentary."
But Cahills is significant for another reason. As we drive through the water into Arnhem Land, we're crossing into a domain of Indigenous Australia; land that, for all purposes, is their home and not ours. Just to be here requires permission from the traditional owners.
It's also like crossing into the wild. Within five minutes of driving, big wild pigs appear on one side of the car. A herd of brumbies looks on from the other. Every animal is fat with health, everything around us is green. "Just another day in Arnhem Land," says Dave.
Spare change
With its dusty streets and slap-dash houses, the town of Gunbalanya (formerly Oenpelli) is a far cry from inner-city Sydney, but some of the artists here, who sit barefoot outside the Injalak Arts & Crafts centre, have art on display at the National Art Gallery. We pick up local man Ezariah Kelly who takes us walking up nearby Injalak Hill, where a veritable exhibition of historic rock art reveals his people's heritage.
There are paintings everywhere: on the bellies of boulders, on the ceilings of cliffs, on rock walls. After explaining these, he takes us to a small cave. There, deeply wedged in a back corner is a skull and a pile of bones, painted ochre and wrapped in the remnants of paperbark. There were more bones like these, Ezariah explains, but most others have long since been stolen by anthropologists. (It was only in 2011 that bones on display at the Smithsonian museum, in Washington DC, were finally returned to Gunbalanya; until then, the museum had refused to return them.)
As Ezariah leads us to the finale of his tour – a lookout with a 270 degree view of Arnhem Land – he tells us of his culture's struggles.
"We still try to go back. See our country. What's left. But we see our country, it's a different place. They old fella want to go back, they have… Problem." He stops for the right word. "Change."
The wind rustles through this place on the edge of the cliff, bringing sadness with it. I look at this young man, caught between two worlds, in his ordinary clothing, with his extraordinary history, and am lost for words. Change, indeed.
Camp country
To gain the permission required in order to bring people to their wilderness camp at Cobourg Peninsula, Venture North's co-owners, Hugh Gange and his brother Aaron, had a circus-full of hoops to jump. It took a year to work out the contract, Hugh says over a beer, when we arrive at the Cobourg campsite that day. No less than three different governing bodies were involved in granting him permission, as well as four Aboriginal clans. "They needed to know that we would look after the land," he says, simply.
Hugh is wearing a sling over one shoulder, from which a joey keeps popping out. The tiny creature is an inherited legacy, Hugh explains, when he unavoidably hit its mother earlier in the year. As a qualified wildlife carer, he felt responsible to rear the joey into self-sufficiency.
It is hard not to call him Bear Grylls, too. But Bear probably wouldn't have liked the campsite Hugh and his brother run here; it's far too comfortable. Meticulously clean, semi-permanent tents, outdoor showers among the eucalypts and an open wooden pergola and deck (with couches and a library in one corner) are among the highlights, though the champagne-ready, clifftop bar is the real standout. Before a roast dinner is served we watch dusk fall from the clifftop, sparkling in hand, while the fins of reef sharks slice through the water below.
The story continues
Over the next two days, Cobourg reveals itself to be a host of several unexpected idiosyncrasies. There is an old airstrip, built during World War II but never used. There is an obelisk, erected by the Royal Marines of Victoria Settlement in 1845, marking the Northern Territory's highest point. There is a band of Tibetan ponies, directly descended from Gengis Khan's horses, who still run about here… or so Dave swears.
And there is Victoria Settlement. This sobering spot is mostly forgotten by history; remote remains of a town, which tell of a desperate time when an early British settlement turned into a nightmarish tale of malnutrition and malaria. Much of the stone masonry still stands, including marriage quarters, the blacksmith's home and a kiln, though the hospital is by far the biggest building of all. "This was the busiest place in town," Dave nods.
"At one stage, there was only one person in the whole settlement who wasn't sick. He had to wake the surgeon up out of his fever, and ask him to talk through an amputation of an arm."
As with any other peregrination from urban life, being here is a leveller; a place where modern concerns seem irrelevant and the realities of survival are just that. Cobourg has no astounding monuments, no spectacular tourist-ready formations; but this pocket of wilderness lacks for nothing.
That night, as sleep drifts in through the gauze ceiling, I listen to the breeze; the soundtrack of peace. One can only hope that this land survives as the crocodiles have done.
The details
Getting there: Jetstar, Virgin and Qantas all fly to Darwin. Venture North will pick you up from your accommodation.
Staying there: You'll need to book accommodation for the night before and after the tour. We stayed at the Double Tree by Hilton, and it has generously-sized rooms, lots of natural light and friendly service.
Need to know: Cobourg is remote, but relatively accessible for the fit and able-bodied of all ages. (The average age on our tour was around mid-50s to mid-70s.) Don't forget a pair of sturdy walking shoes, sunscreen and a hat – it gets mighty hot.
There is no mobile reception or internet availability at the Cobourg camp. You may get some reception at Gunbalanya, but only if you're with Telstra. We recommend flinging your phone into a bag and forgetting about it.
If you like a drink at the end of a hard day's holidaying, you'll need to pack one. The Venture North tariff is 'all-inclusive' (permits, food, petrol, accommodation, etc)… but no alcohol. There is one small bottle-shop to be stopped at along the way but prices are higher than normal and the selection is limited. Pre-purchase in Darwin.
Bird watching: One third of all Australian bird species are found at Top End, and Cobourg is of particular significance; home to the first wetland in the world to be recognised for its global significance in the route of migratory birds. Some of the species we encountered were: the black-faced cuckoo, black-necked stork ('Jabiru'), plumed whistling duck, red-tailed black cockatoo, royal spoonbill, eastern curlew, sooty oystercatcher, pied oystercatcher, straw necked ibis, Australian white ibis, glossy ibis, orange-footed scrubfowl, rose-crowned fruit dove, spangled drongo, crimson finch, great-billed heron, osprey, pied stilt, whistling kite, black kite, brolga, little egret, intermediate egret, great egret, cattle egret and eastern reef egret.
Playing there: The Venture North five-day 4WD safari to the Cobourg Peninsula costs $3490 twin share.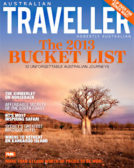 Enjoy this article?
You can find it in Issue 53 along with
loads of other great stories and tips.