Forget everything you think you know, because Surfers Paradise's more sophisticated neighbour has become even more irresistible over the last few years…
When I used to think of Broadbeach, part of me couldn't help but picture the Surfers Paradise I came to know when I holidayed there for my Schoolies celebration – and though those who did the same will nod along at the nostalgia – they'll also surely agree that fun though it was, chic it was not.
Unfortunately, neighbouring areas like Broadbeach and Mermaid Beach were tarred with the same teenager-attracting brush, and those seeking a weekend of rest and respite steered clear. I was one of those people, and I would opt for a Melbourne getaway with the girls or hubby instead – but after my recent visit to Broadbeach, it's safe to say I won't be staying away for long.
Here are four reasons you need to book a long weekend in Broadbeach, stat.
The food – and the mermaid lattes
During our weekend a-broad (get it?), we chose to dine at varied places, sampling different bites for dinner and sampling the coffee and breakfast at the local haunts each morning. I will say this with my hand on my heart and my eyes looking straight at yours (albeit through the screen) we did not have a single mediocre meal during our entire stay. That is no lie. So you'd do well to jot down the places we ate, because I would wholeheartedly recommend each one.
Dinner at Aloha Bar and Dining – incredible food, amazing atmosphere and some of the best cocktails going around. It took us a few minutes to find the bar, which resembles a speakeasy, given its hidden location down an alleyway that leads you to what looks like the back of a laundromat. Keep going straight when you see the illuminated pineapple and make a sharp left to be transported into one of Broadbeach's biggest secret hotspots, complete with nautical rope and pineapple adorned walls. My advice? Order a serve of dumplings and the wonton tacos and wash it down with a signature cocktail like the 'Oil Change' – you certainly won't regret it.
Breakfast at No Name Lane Coffee – a very trendy breakfast spot, where I ordered scrambled eggs, crispy bacon and avocado. Sounds average, but the result was anything but. The portion sizes were beyond generous, but not in a low-quality 'all-you-can-eat' kind of way. Hubby had dukkah-crusted avocado and bacon, and we couldn't work out who had the greater food envy.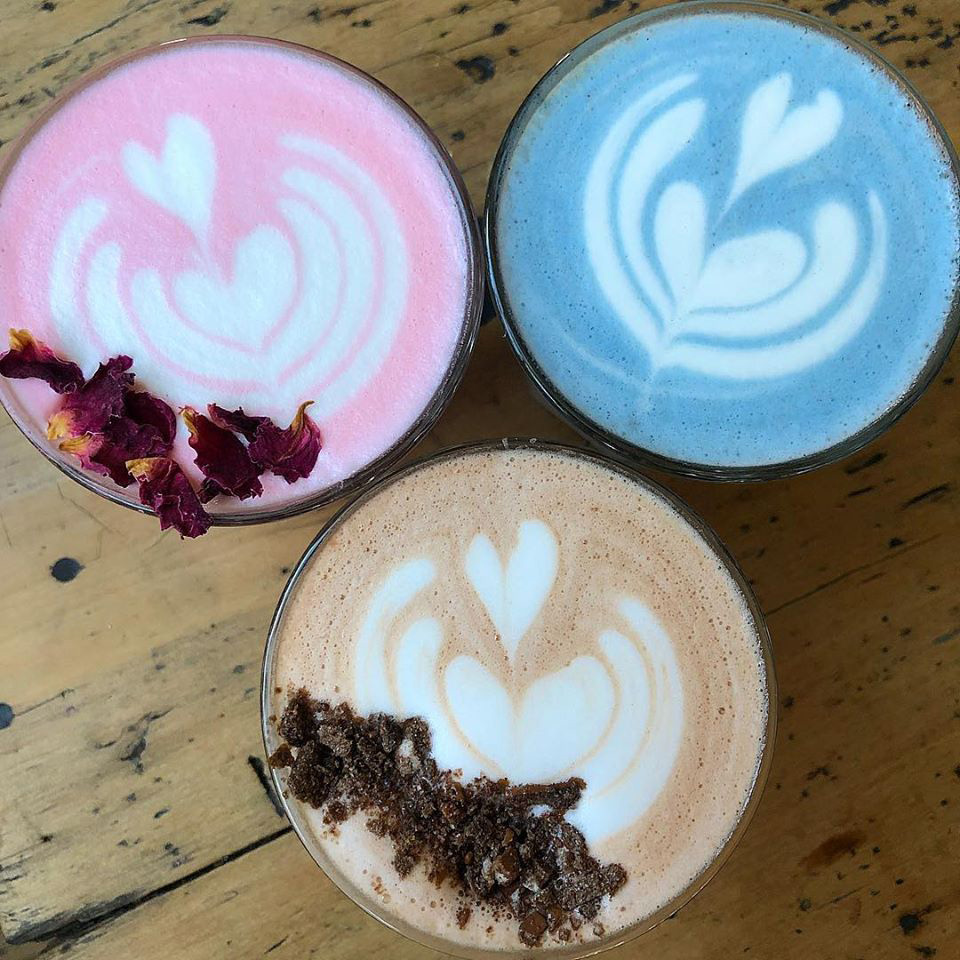 Lunch at Bam Bam Bakehouse – I'll be honest, I wasn't overly hungry by the time lunchtime rolled around, but as we sat down, the waiter insisted we try the nasi goreng. "From a bakehouse?" was my initial thought, before letting myself get swept up in his lead. I ordered a mermaid latte (because – why wouldn't you?), which was made with a blend of sea minerals, blue superfoods, adaptogenic herbs, Ayurvedic chai spices, creamy coconut milk and manuka honey – and apart from being completely Instagram-worthy it was also delicious.
The nasi goreng also made me wish we hadn't shared: I greedily used my fork to bat my husband's out of the way as I devoured more. As I looked around at the beach-set atmosphere, the open interior and the freshly baked pastries winking at me from the counter, I could absolutely picture why Margot Robbie, a born-and-bred Queenslander, chose it for her hens' party. It just oozed cool in a laid-back way. Not to mention the salted caramel éclair and the croissants were the best I've devoured in a very long time.
Dinner at Gemelli Italian – Nestled by the park, quietly tucked away just enough from the hustle and bustle of Broadbeach nightlife, is Gemelli Italian. Packed when we arrived, the aroma of crushed garlic on wood-fired bread had us floating to our seats. As we often do, we settled on the garlic focaccia that had tantalised us upon arrival, and a pizza and pasta to share. I chose the carbonara, so elegantly simple – yet packed full of flavour, and hubby chose a meat-topped pizza. The 'sharing' didn't happen as much as it should have, mind you. It's hard to claw a truly great carbonara from my grasp.
Breakfast at Elk Espresso – a true hotspot right near the sand in Broadbeach, this place was brimming with active people and families making the most of the sunshine. With a belly still full of pasta, I opted for a coffee and the bircher bowl, which came complete with a rainbow of fruit, half a passionfruit and honeycomb, and tasted as though I'd taken a bite out of summer – in winter. Yep, this was an August weekend away, but the bright sun mixed with the fresh fruit had us fooled into thinking it was January.
The awesome digs
It's no secret that there's no shortage of places to lay your head in Broadbeach. Hotel chains just love setting up camp anywhere there's a beach. But if you're after something a little smaller – a little more boutique and homely, I'd have to point you towards Avani Broadbeach Gold Coast Residences. Our room felt more like a mini apartment, with a full working kitchen, welcoming living room (a big change from most hotel living spaces) and the most comfortable bed I've slept in for years.
We felt at home from the second we stepped into the room, and our balcony overlooked the glistening hotel pool below us. Though it was a little too chilly to swim, we camped out in the nearby cabanas and read our books through the afternoon, determined to get at least some time poolside. It was also perfectly situated, a two-minute walk from the beach and just a few minutes from the restaurant precinct. We didn't have to order a single Uber.
The amazing weather
These Sydney folk were sniffling and coughing like no one's business upon arriving in Broadbeach, and no word of a lie, after a day flitting from cafe to bakehouse, to massage, to pool, we slept like absolute angels. I'll put it down to the generous dose of vitamin C we received walking around the beach, exploring the shops and hanging out in various sunlit eateries.
Talking to a few cafe-goers convinced us that this was not just a freak sun-filled August day. In fact, Broadbeach locals only experienced around 10 days of 'winter weather' before the regular warm weather was swiftly reinstated.
The multitude of things to do
During our stay, we indulged in a couple's massage and facial at the Endota Spa located only a few minutes from the beach. It was heavenly, to say the least. Our consultation started with our therapist showing us our skin under a specialised UV light, which highlighted dryness in the form of giant purple patches. A big wake-up call for this 'sometimes' moisturiser. We were then transported to a state of total zen with the most pampering hour-and-a-half you could imagine.
On the Sunday morning we were collected by Beach Bikes Gold Coast, who drove us to a cycling trail which began at a nearby Marina. For someone who hasn't mounted a mountain bike for years, it was scary for the first few minutes, until I got my head around the gears and really started to fly. The scenic tracks along the Gold Coast have you taking in the best of beachside nature, navigating through sand pits and zooming through picturesque parks before returning you back to your starting point. Exhilarating and satisfying, all in one hit!