It's been a long and trying year. Hotels have come and gone – as have travel magazines for that matter – and fortunes have been made and lost. So it's nice to have a few faves you can rely on. Here are AT's staff picks from around the country, as well as a look ahead to where you should be considering for 2010.
Greg Barton Editor

My 2009 Hot List
With a young son just a year old, my focus in 2009 has been on travels that keep me close to home, so short breaks have been very much the norm. From Sydney, my two absolute favourites would have to be Bannisters on the NSW South Coast overlooking pretty Mollymook Beach (www.bannisters.com.au); and Jonah's in Sydney's Northern Beaches overlooking absurdly wealthy Whale Beach (www.jonahs.com.au). It's no coincidence that both experiences revolve around the high quality of their food: Chef George Francisco is doing exotic French things to innocent seafood at Jonah's that are to die for; while Rick Stein, new to the Bannisters team this past October, is already drawing national accolades. Factor in the sublime Sea Plane ride over the harbour from Rose Bay to Jonah's and you've got easily one of the top five experiences in the country, hands down.
My 2010 Wish List
The brand new six star (six!) Emirates Wolgan Valley Resort & Spa (www.wolganvalley.com) in the Blue Mountains promises to rival any high-end experience in the southern hemisphere. Big call. But at only three hours drive from Sydney, it's an escape that's close to home and hearth.
Quentin Long Managing Director

My 2009 Hot List
The idea that I have to choose just one place is excruciating. How can I ignore the charms of the red cedar homestead at East Kunderang in Oxley Wild Rivers National Park? Or the rock star life at the surprisingly unpretentious Palazzo Versace? But my final two contenders offer something so unique and contrasting it's hard to split them. The private tented luxury at Longitude 131° is the ultimate way to experience the journey around our red heart, but if I have to choose one it must be Hamilton Island's qualia. Set in one of our most beautiful regions, the Whitsundays, the 60-pavilion private retreat is what a rejuvenating and ultimately relaxing stay should be. Each pavilion is exquisitely finished, from Australia's most comfy resort beds to the bathtub you want to drag home with you, and every meal would be "hatted" in the CBD.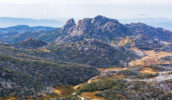 If you liked the furniture in the Penthouse of Sydney's Four Seasons Hotel, you can come and visit it in its new home!
My 2010 Wish List
I can't wait to drop in on two of the most exciting openings in recent times, Southern Ocean Lodge on Kangaroo Island and Emirates Wolgan Valley in the Blue Mountains. Then there's the reopened Arkaba Station in the Flinders Ranges, the Baillie Lodges' plans for the Remarkable Lodge in Tasmania and, if rumours are true, the Anthology Collection will have some exciting plans for a new retreat in the NT. What a year ahead.
Nigel Herbert Director

My 2009 Hot List
I love the outback and I love a bargain. But the one place that really stands out for me is the Bourke Riverside Motel in Bourke, NSW (www.bourkeriversidemotel.com, 02 6872 2539). It ticks both boxes beautifully. Staying the night by the banks of the Darling River in these fabulously appointed rooms comes as a welcome change from outback NSW's red brick hotels. Groaning under the weight of antiques and eclectic décor, this place is a real surprise with its two acres of manicured gardens. And if you liked the furniture in the Penthouse of Sydney's Four Seasons Hotel, or at the Sheraton on the Park, you can come and visit it in its new home! Much of it was cannily purchased by Riverside's owners John and Sipha Hickson when they bought and substantially renovated the place in 1999. My pick is the Fred Hollows suite, which costs $145 a night but is worth every cent. If you're travelling in outback NSW, make this place your overnight stop. I guarantee you won't be disappointed.
My 2010 Wish List
It has to be Wilson Island on the Great Barrier Reef (www.wilsonisland.com.au). No gaudy restaurants, casinos or pools to share with 300 other guests. It's about a complete escape and living in a well-appointed "tent" on a tiny island that you share with only 11 others. It's very private, very isolated and comes with the full food and service from a quality resort in the communal dining tent. All that's missing is a giant "Do Not Disturb" sign.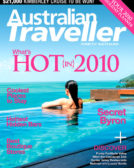 Enjoy this article?
You can find it in Issue 30 along with
loads of other great stories and tips.