Planning and permits, restrictions and red tape didn't put off AT reader Jane Fraser from visiting one of Australia's toughest destinations. Was it worth it?
Home to many Aboriginal communities and a mining town at Nhulunbuy, Arnhem Land is in the remote top left-hand corner of the Northern Territory, and can't be accessed without a permit. My husband and I organised our permit with the Northern Land Council months in advance and we picked it up in Katherine, 90km north of the road leading into Arnhem Land. Tourism restrictions are tight here – they only allow 24 hours to travel up the Central Arnhem Road to Nhulunbuy. You must stay on the track and not make any diversions. Caravans are not permitted, so we bought a rooftop camper specifically for the trip.
We planned to bush camp for two weeks and obtained a general camping permit from Dhimurru. A Liquor Permit let us buy alcohol as we were in an Aboriginal 'dry' area.
We booked Wonga Creek and Memorial Park for an extra fee, and I can understand why they limit visitors to these beautiful areas. The water was pristine, the scenery beautiful and the weather was warm; we couldn't believe our luck having these places all to ourselves. Goanna was another lovely spot, like a mini Cobbald Gorge where you can float in a rock pool and coat your skin with white clay to have a body scrub.
We had some friends living in Nhulunbuy and they took us out on their yacht around the Gove Peninsula, where we swam and fished. The waters were aquamarine, warm and clear. Heaven. One morning after sleeping in the bush we drove our car a few hundred metres and had breakfast on the beach. Looking out over the calm waters, we thought how lucky we were. Other days were spent exploring bush tracks, visiting the Aboriginal Gama Festival and swimming in yet more rock pools.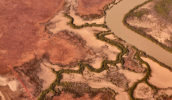 We organised a visit to Murwangi Station on the Top Road and they issued our group a permit to drive on that road for a specific day only. We'd been warned the mozzies were big up here so we didn't camp, instead booking a room in a donga with flyscreens and air conditioning. The bar, the only one in the area, works on an honour system, where you write what you've consumed on a whiteboard and pay at the end of your stay. It was a great place to talk to locals; life is very different up here.
We arranged an Aboriginal tour and were taken to places we'd never have gone on our own. We visited Bula Bula Arts and Craft Centre in Ramingining, which supports local Aboriginal artists by giving them materials. It then sells their work all over the world. We also took a leisurely boat cruise on the Glyde River. Some of our group even caught a few fish!
The next morning was our last, and we were greeted with an amazing sunrise that rose above the fog. We headed down to the river to fish from the bank, keeping our eye out for dangerous wild buffalo. We did see one; he wasn't happy to see us, so we kept our distance. A huge crocodile had come out of the water behind us and lay in the sun under a tree about 10m away, his mouth wide open, soaking up the warm morning rays. We hadn't heard him move, and even though I was told where he was I couldn't see him at first as he blended so well into the landscape. You need to be alert in this part of the world. We were very lucky.
If you love four-wheel-driving, camping and fishing, then Arnhem Land should be on your list of must-see destinations.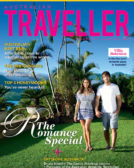 Enjoy this article?
You can find it in Issue 39 along with
loads of other great stories and tips.